Skip Bayless Had One of the Worst Takes on Patrick Mahomes After Kansas City Chiefs QB Threw 400-Plus Yards in a Win: 'The League Has Figured Him Out'
There's no doubting the fact that Kansas City Chiefs quarterback Patrick Mahomes has been "off" at times this season. There's a time and place for everything, though, and talking head Skip Bayless picked the absolute worst time to reveal a terrible take on the Kansas City quarterback.
Fresh off 34-28 overtime win of the Los Angeles Chargers, a game between two of the most explosive teams in the league featuring two of the most exciting young quarterbacks in the league in Mahomes and Justin Herbert, Bayless pulled out one of his spiciest hot takes.
It may have been hot out of the oven, but it wasn't well done.
Skip Bayless gave Patrick Mahomes a C+ grade for win over Chargers
Look, was Mahomes perfect? Absolutely not. Even the most ardent Kansas City superfan would tell you that he left some plays on the field.
He missed on a few throws, was tipped and picked off near his own goalline in what should have been a routine pass into the flats, and he even missed a wide-open Mecole Hardman on 4th-and-1 from the Chargers' two-yard line that would have been a walk-in touchdown. Mahomes never got a good handle on the ball and threw it right into the dirt.
With that said, he still threw for 410 yards and three touchdowns, including two touchdown passes in the fourth quarter in big responses to two LA touchdown drives. He also threw the game-winning touchdown pass to Travis Kelce in overtime.
Still, Bayless wasn't impressed.
"I'm going to give Patrick Mahomes, who once upon a time not that long ago was the MVP of this league, and he was the Super Bowl MVP, so I'm going to grade him by a little higher curve….I'll give him a C+ for last night, and I'll give him a plus because he did close [the game]," Bayless said on "Undisputed", to his co-host Shannon Sharpe. "The problem was, I wasn't blown away by either of these young gun quarterbacks last night. I'm sorry, I just wasn't. Both of them were off as much as they were on. Patrick Mahomes, as usual, as he's been much of the year, was often off."
Bayless provided an absolutely terrible take on Mahomes
Nobody is going to dispute the fact that Mahomes hasn't been otherworldly good this season.
He has thrown 4,052 yards and 30 touchdowns but also has 13 interceptions and has thrown a pick in three of his last four games. That's the funny thing about it, though. In terms of both yardage and touchdowns, he's still right up there in the top five of both categories league-wide. Yes, he's been "off", but his poor play is still better than 90% of the quarterbacks in the league.
That's what made Bayless' take so head-scratching.
"It shakes me. It [jarred] my eyes because he has lost some confidence. He has lost some swagger. He's definitely lost some accuracy, and some faith in the system that used to make him a superstar…as in no-look, behind the back, left-handed between the legs kind of passes," Bayless said. "He doesn't quite have the faith in those throws that he used to because the league has figured him out."
Mahomes missed a few throws against the Chargers, but he still made multiple plays that only he and Aaron Rodgers can make in this league. He made numerous great throws while on the run and not set in the pocket. He flashed his huge arm downfield, which is something that has never gone away, even despite his struggles. He was even Kansas City's leading rusher on the night with 32 yards, averaging 10.7 yards per rush on three carries.
Mahomes finished the game completing 31-of-47 passes for 410 yards, three touchdowns, and the interception. He had a passer rating of 105.8. Including his runs, he accounted for 442 of Kansas City's 496 yards on offense.
Those aren't the numbers of a quarterback who has been figured out.
The Kansas City Chiefs are rolling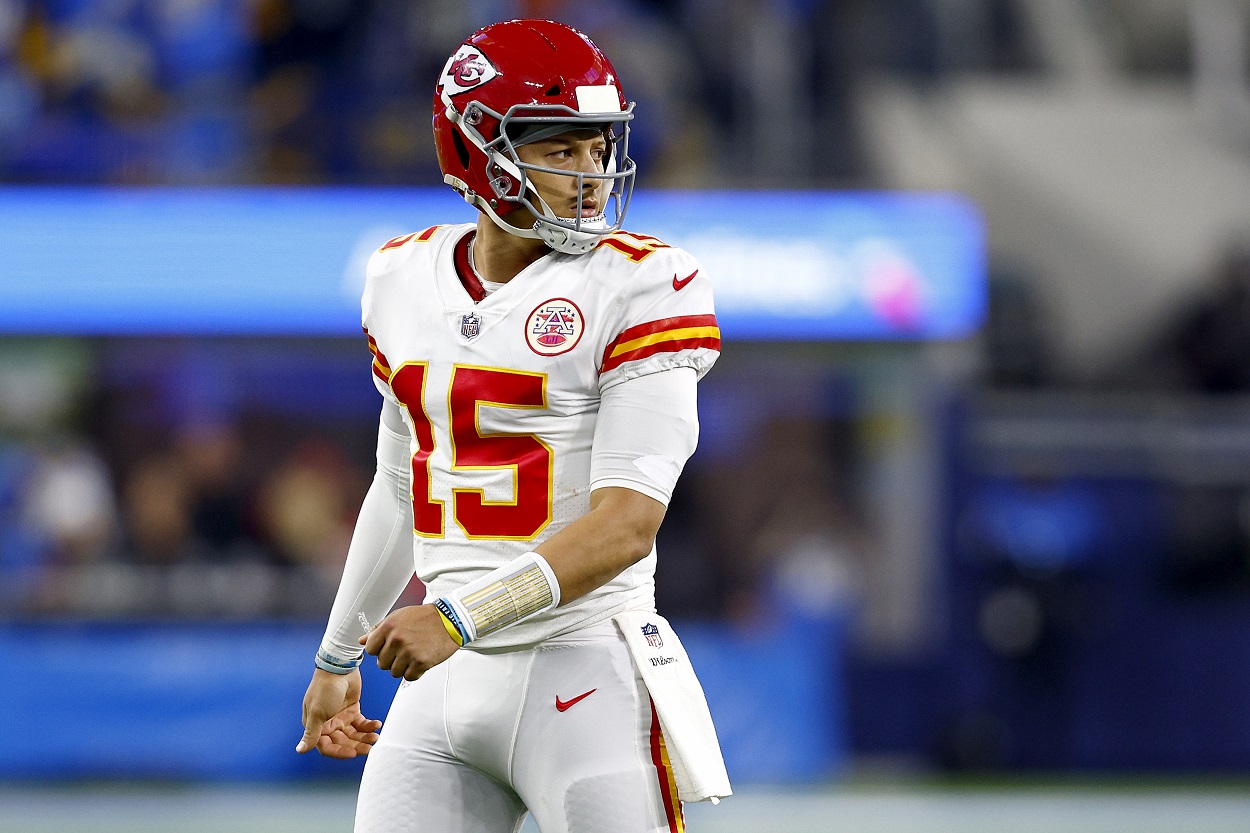 The Chiefs have now gone to two-straight Super Bowls, winning one, and would anybody be surprised if they did it again this season?
The scary thing is that yes, Mahomes has been off, but Kansas City is still rolling. Kansas City is 10-4 and two games ahead of the 8-6 Chargers in the AFC West. Now winners of seven-straight, they currently boast the top seed in the AFC playoffs after the Patriots lost to the Colts on Saturday. The seedings will likely jostle around over the next few weeks, but without a doubt, Kansas City is in a great spot at this point of the season.
The Chiefs started the season off 3-4 and looked far from the juggernaut that we've grown used to over this stretch of elite play spearheaded by head coach Andy Reid and Mahomes. Kansas City certainly looks to be back into contending form, though.
The Chiefs' final three games are against teams on the playoff bubble in the Steelers, Bengals, and Broncos. It won't be easy to close out the season with 10 games won in a row, but at this point, who would be willing to bet against Kansas City?
Bayless is wrong. The league has not yet figured out Mahomes. He may not be an MVP candidate this season, but all but a few teams in the NFL would love to have him as their quarterback as the playoffs approach.
Stats courtesy of ESPN and Pro Football Reference. Contract information via Spotrac.