NBA
5 Sleeper Picks for the NBA MVP Award
A few NBA teams are off to a great start. Some players surprised us with performances, both good and bad. And the Golden State Warriors have completely embraced their role as the villains of the league. But what about the MVP award? Las Vegas suggests a few dark horses to keep an eye on; players you may not have suspected just a few weeks ago. Here are our top five sleeper picks for NBA MVP.
1. Anthony Davis
Odds: +2000
If the New Orleans Pelicans weren't so bad outside of power forward Anthony Davis, critics may be able to take his NBA MVP candidacy more seriously. Davis is otherworldly this season, averaging 31.3 points, 10.8 rebounds, and a league-leading three blocks in 10 games for the Pelicans. The unfortunate reality? His team is just 1-9 in those games.
It's not Davis's fault. Tyreke Evans is dealing with a knee issue and won't return until the end of November at the earliest. Point guard Jrue Holiday has been away from the team since the summer as he deals with a personal matter — although he should return soon. The second-highest scorer on the team behind Davis is guard E'Twaun Moore, who is averaging 12.5 points per game. If Davis can continue playing at his torrid pace and the wins start to pile up for the Pelicans, then "The Brow" may be a serious NBA MVP candidate.
2. Chris Paul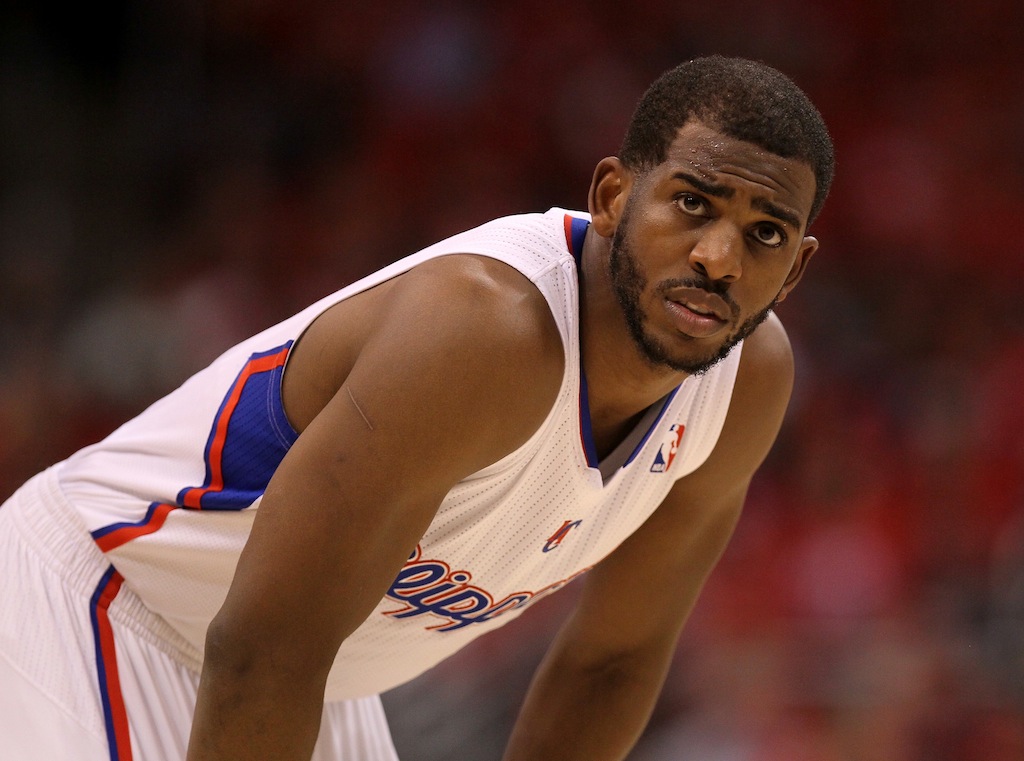 Odds: +2000
Just a quick glance at Chris Paul's numbers, and you wouldn't think anything is out of place. In fact, he's having a year much like every other. The point guard for the Los Angeles Clippers is averaging 19 points and 8.5 assists with a league-best 2.7 steals per game. He has also improved his three-point shooting to a career-high 44.9% thus far. Paul is experiencing a strong season; but it's nothing absurdly different from what he does on a yearly basis.
The contrast, however, is the Clippers' hot early start to the season. The team is 9-1, with quality victories on the road in Portland, San Antonio, and Oklahoma City. Paul serves as the leader of the team as well as their best player, which means he will receive NBA MVP consideration if they can continue their successful pace and lead the Western Conference in wins. If the Clippers rank toward the middle of the pack, or somewhere around No. 3 or No. 4 in the West, you can cross Paul off the list.
3. Damian Lillard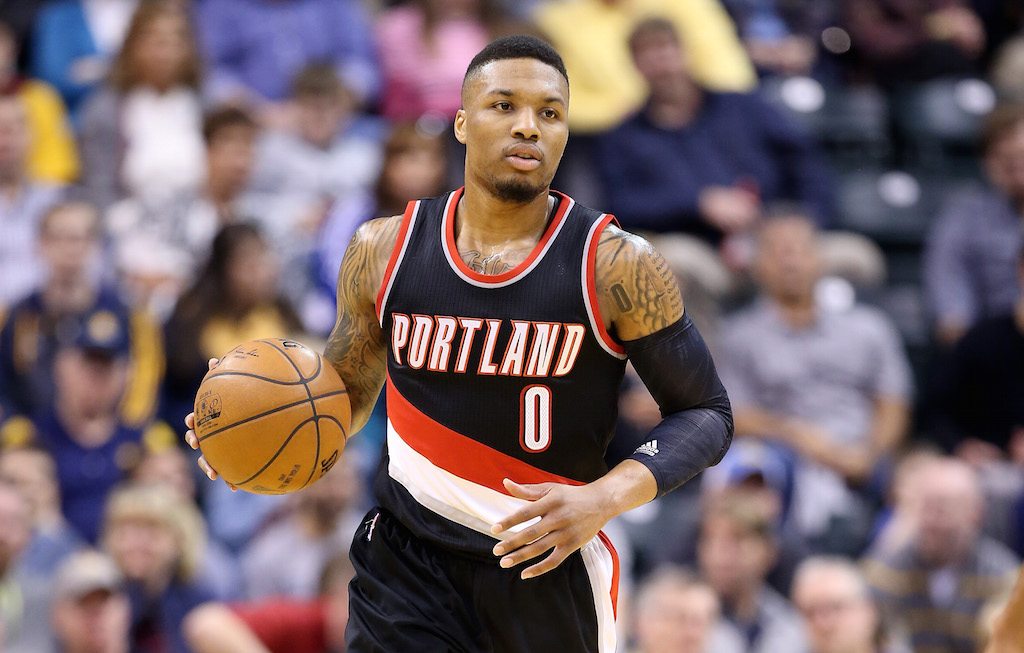 Odds: +1500
Damian Lillard, the 26-year-old point guard for the Portland Trail Blazers, continues where he left off last season as he elevates his game. After setting multiple career-highs last season, including scoring with 25.1 points per game, he's improved yet again — averaging 30.1 points through the first 11 games. Along with shooting guard C.J. McCollum, the Blazers' starting backcourt makes up nearly half the points the team scores on a nightly basis.
The factor working against Lillard is the Blazers' status in the Western Conference. They're off to an excellent 7-4 start, which is good for No. 4 behind the Clippers, Warriors, and San Antonio Spurs. The Blazers have experienced stretches of inconsistency in the early portion of the schedule, recently struggling to put away the Sacramento Kings with a large lead in the fourth quarter. More consistency, and by extension rising in the standings, would help Lillard's case quite a bit.
4. DeMar DeRozan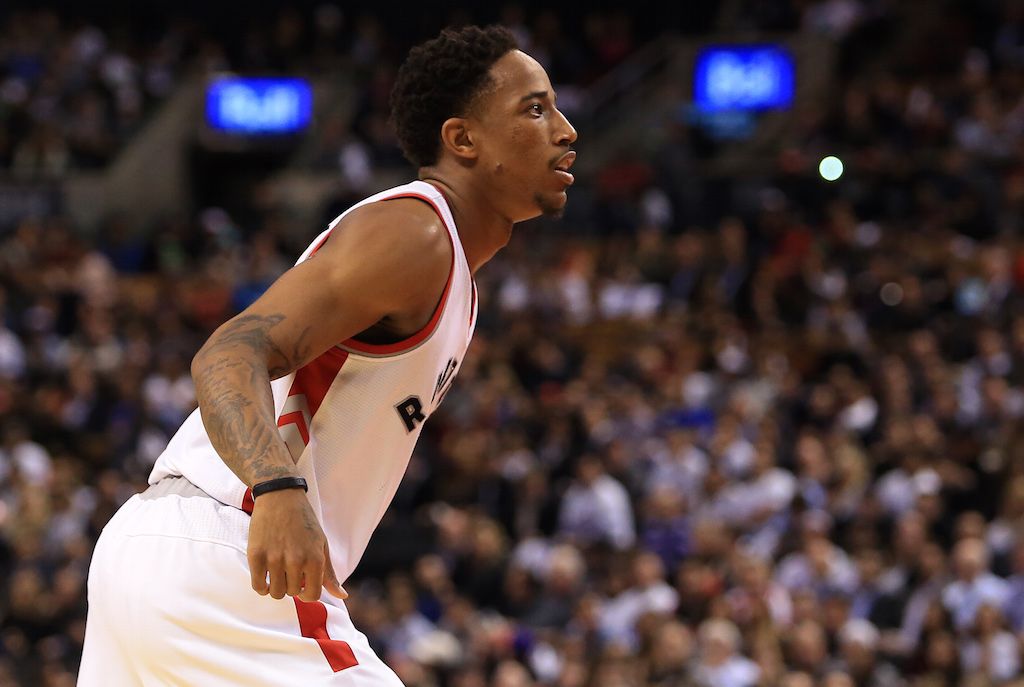 Odds: +1200
The Toronto Raptors are off to an excellent 7-2 start, despite poor shooting from point guard and team leader Kyle Lowry. So what's been so great for the Raptors? It's all about shooting guard DeMar DeRozan. He's hitting 52.8% from the field — much higher than his career mark of 44.9% — and is taking advantage by jacking up a jaw-dropping 24.8 shots per game.
That's resulted in DeRozan leading the NBA in scoring at 34 points, which includes two 40-point efforts in victories over the Detroit Pistons and Washington Wizards. It's hard to imagine DeRozan keeping up this kind of pace over a full season. Michael Jordan, for example, only hoisted more than 24.8 shots per game in a full season twice over his entire career. However, if DeRozan can keep the shots coming while the field-goal percentage and point average remain high, DeRozan will make an interesting case for the NBA MVP.
5. James Harden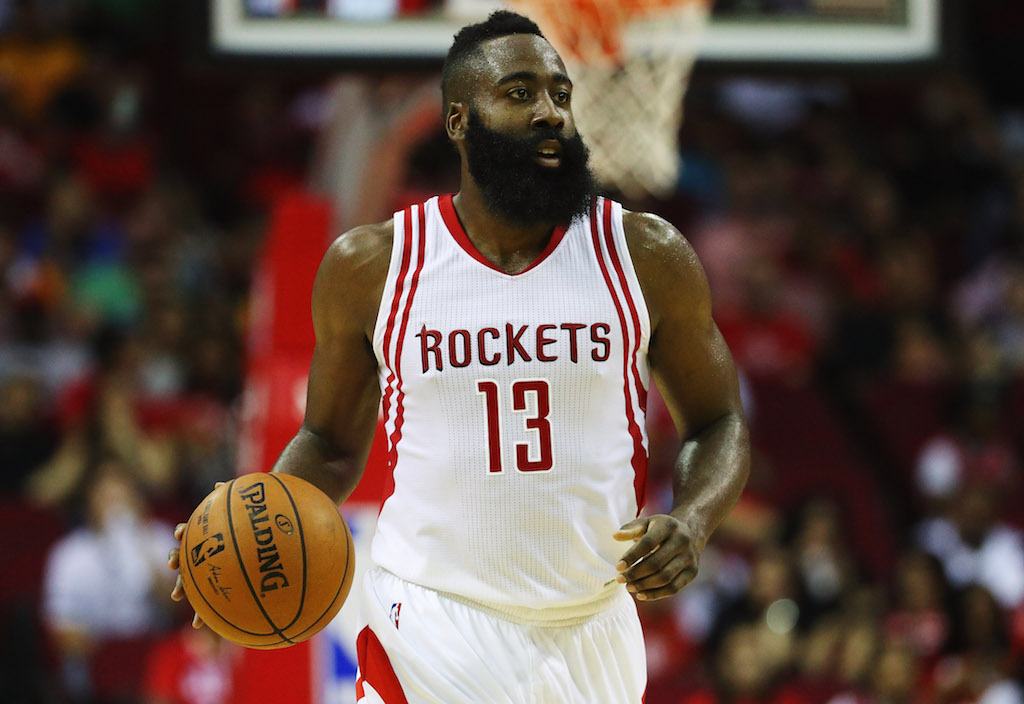 Odds: +300
Houston Rockets point guard — and former shooting guard — James Harden isn't as much of a dark horse MVP candidate now as he was a few weeks ago. New head coach Mike D'Antoni made him the point guard of the coach's famed quick-shot offense, which led to a solid 5-4 record to start the season. This is especially true when considering the high number of road games Houston has faced so far.
Harden is averaging 30 points, 8.1 rebounds, and 48.5% shooting from the field — all over his 2015-16 totals. But the big one? His 7.5 assists per game has jumped to 13, which leads the NBA. If he finishes with those numbers, he'd be the first player since Tiny Archibald in 1972-73 to average more than 30 points and 10 assists per game in a full season. Thunder point guard Russell Westbrook also has a chance at accomplishing the feat this season, which is a big reason why he's the favorite for the NBA MVP award at the moment. But don't count out Harden.
Statistics courtesy of ESPN and Baseball-Reference.