So You Want Your Favorite NFL Team to Take a First-Round QB?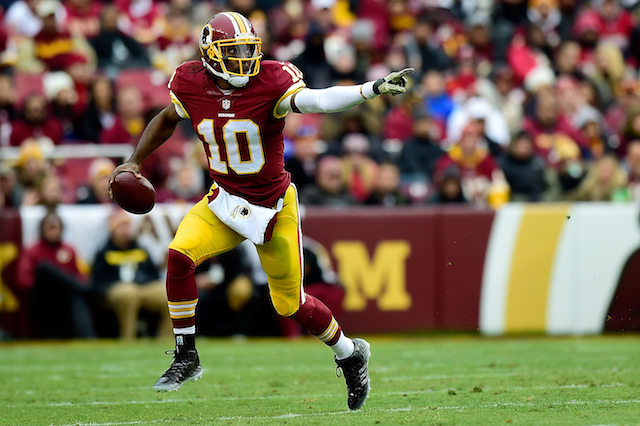 With this week's news that Washington has benched Robert Griffin III (pictured) for Colt McCoy (yes, the same Robert Griffin III that Dan Snyder's team traded four draft picks — including three consecutive first-rounders — to move up and grab in 2012), we were reminded once again that taking a quarterback early in the draft is anything but an exact science. For every superstar, there's a bust (or three). Or, to put it bluntly: For every Peyton Manning, there's a Ryan Leaf.
It's a ritual of springtime: General managers fall in love with the latest, greatest can't-miss prospect and ignore more pressing needs (or worse, in Washington's case, mortgage their entire future) to take a QB that has no real guarantee of panning out. Even though some of the best quarterbacks in the league invariably come from later rounds (such as second-round pick Drew Brees, third-round draftee Russell Wilson, and sixth-round selection Tom Brady, just to name a few), rest assured that when the 2015 draft comes along, your favorite team is still likely going to (at the very minimum) flirt with the idea of spending its first pick on a signal-caller.
That begs the all-important question: If the franchise you cheer for does in fact take a quarterback, what are his odds of succeeding? Is drafting a QB in the first round a prerequisite to future success, or perhaps the complete opposite: Could selecting a first-round quarterback mean your team probably won't reach the promised land?
We looked back at the last 10 NFL Drafts (2005-2014) to evaluate how the first-round quarterbacks (and the teams that selected them) fared over that span. Here's what we learned. (All statistics come from Pro-Football-Reference.com.)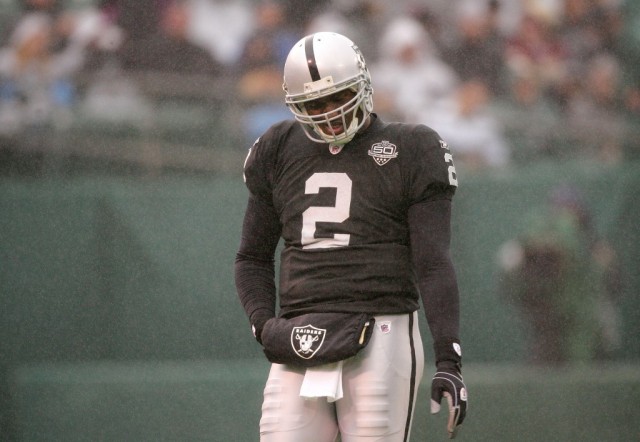 The list:
Arizona Cardinals: Matt Leinart (2006)
Atlanta Falcons: Matt Ryan (2008)
Baltimore Ravens: Joe Flacco (2008)
Buffalo Bills: EJ Manuel (2013)
Carolina Panthers: Cam Newton (2011)
Cleveland Browns: Brady Quinn (2007), Brandon Weeden (2012), Johnny Manziel (2014)
Denver Broncos: Jay Cutler (2006), Tim Tebow (2010)
Detroit Lions: Matthew Stafford (2009)
Green Bay Packers: Aaron Rodgers (2005)
Indianapolis Colts: Andrew Luck (2012)
Jacksonville Jaguars: Blaine Gabbert (2011), Blake Bortles (2014)
Miami Dolphins: Ryan Tannehill (2012)
Minnesota Vikings: Christian Ponder (2011), Teddy Bridgewater (2014)
New York Jets: Mark Sanchez (2009)
Oakland Raiders: JaMarcus Russell (2007, pictured)
San Francisco 49ers: Alex Smith (2005)
St. Louis Rams: Sam Bradford (2010)
Tampa Bay Buccaneers: Josh Freeman (2009)
Tennessee Titans: Vince Young (2006), Jake Locker (2011)
Washington Redskins: Jason Campbell (2005), Robert Griffin III (2012)
And the verdict is…
The takeaways
NFL teams drafted 27 quarterbacks in the first round in the last 10 years.
Only once in the last 10 years did less than two quarterbacks go in the first round (Buffalo's EJ Manuel was the only one in 2013).
20 different NFL teams selected at least one first-round quarterback in the last decade.
Of those 20 teams, six have taken more than one first-round QB over that span, led by the Browns (three first-round quarterbacks since 2005).
Of the 27 first-round QBs on this list, just 12 are expected to start in this weekend's NFL games, with only nine playing for the team that drafted them.
Eight of the 27 quarterbacks have won a playoff game to this point in their careers.
Eight of the 27 quarterbacks have been selected for at least one Pro Bowl.
Two of the 27 quarterbacks have won a Super Bowl for the franchise that drafted them: Aaron Rodgers (pictured) and Joe Flacco.
Of the nine Super Bowls played since the 2005 NFL draft, only three were won by teams that took a first-round quarterback in the last decade.
So what do you think? Would you advise an NFL franchise to draft a quarterback early knowing the odds are less than 1-in-3 that he'll make a Pro Bowl, win a playoff game, or even be starting for your team a few years from now? Or, would a ball club be better off strengthening other parts of its roster with a first-round pick and then looking for a quarterback on Day 2 or Day 3? For many teams, chasing the next star quarterback in the draft seems to be somewhat of a vicious cycle: Cleveland, Jacksonville, Minnesota, Tennessee, and Washington aren't exactly perennial powers in the modern NFL. (And, while Denver, the other team to take multiple first-round signal-callers in the last decade, has had some recent success, we believe that's more due to free-agent signing Peyton Manning than Tim Tebow or Jay Cutler.)
Bottom line: The track record says a first-round quarterback probably won't be worth the chance your team took on taking him that early. And, while every position has hits and misses, success stories and busts, the first-day draft picks under center have a worse chance than most players of never living up to that much-hyped springtime potential. So, general managers, we advise you to look elsewhere. Or else, well, just hope you beat the odds.