Someone Should Warn the Dallas Cowboys That Good Teams Don't Blame Officiating: 'You're Playing Two Teams. You're Playing the Refs and the Other Team'
Jerry Jones was not happy after his Dallas Cowboys lost to the Las Vegas Raiders on Thanksgiving, but it had more to do with the referees and less to do with the fact that his team didn't come away with a win. He wasn't the only one feeling that way.
In the national spotlight and a big-time spot, the Cowboys fought hard to force overtime but could ultimately not get past a Raiders squad that entered the game having lost three straight.
Dallas lost, 36-33, in overtime. As a result, the Cowboys have now lost two in a row, as well as three of their last four.
But let's talk about flags.
Dallas Cowboys owner Jerry Jones and head coach Mike McCarthy blasted the officiating after the game
Dallas was penalized 14 times in the game, which equated to negative 166 yards against the Cowboys.
"I call it 'throw up ball,'" Jones said after the game, via Michael Gehlken. "This will arguably be the most-watched game other than the Super Bowl. I hate that it got down to just throwing the ball up and getting the penalties to get you big plays."
McCarthy was even more open regarding his disdain for the officiating.
"We thought it might come down to a (bad-call) penalty," he said, according to Richie Whitt.
"Twenty-eight penalties — I don't really know what the hell you want me to say," McCarthy said, via ESPN. "Write whatever you want, I'm all for it."
Dallas players also took aim at the officiating after the loss
The thing about all the complaining from Dallas is that it's not as if the flags were one-sided. The referees, led by Shawn Hochuli, called a whopping 28 penalties in the game. The Raiders were penalized 110 yards themselves, making the grand total of yards lost to yellow flags 276.
For those paying attention, this shouldn't have been a surprise. Hochuli's crew had thrown 153 flags heading into the contest, which was fifth-most among NFL officiating. His crew also boasted the third-highest penalty yardage, and that's a number that's bound to go up after this Thanksgiving affair.
McCarthy did at least acknowledge Dallas had a feeling the flags might be flying.
"It was obviously frustrating," McCarthy said. "The game was herky-jerky from start to finish. Give our guys credit to continue to focus and battle. The numbers are absurd, definitely understand that. But just like everything in this game there is trends and patterns, and we anticipated this game being officiated this way.
Somebody had to win the game, and both teams were being equally penalized. To Jones' credit, he did give the Raiders props for adapting to the way the game was being played. Not everybody felt the same way, though.
"You're playing two teams. You're playing the refs and the other team," wide receiver Michael Gallup said after the game.
The Cowboys were clearly steamed about the officiating. That, along with McCarthy's statements, was about as blunt a statement about officiating as you'll see from a coach or player after the game.
Even Dak Prescott commented on the officiating.
"It's obvious. They definitely affected the game," he said, according to ProFootballTalk. "But we've got to self-reflect and keep the officials out of the game. One way or another, we've got to be better. We've got to be disciplined. We've got to focus on controlling what we can control. Obviously, they're going to happen. Feel like we're targeted a little bit, but in the same instance, yeah, we've got to be better on our end to try to keep them out of the game."
The Cowboys have bigger problems than officiating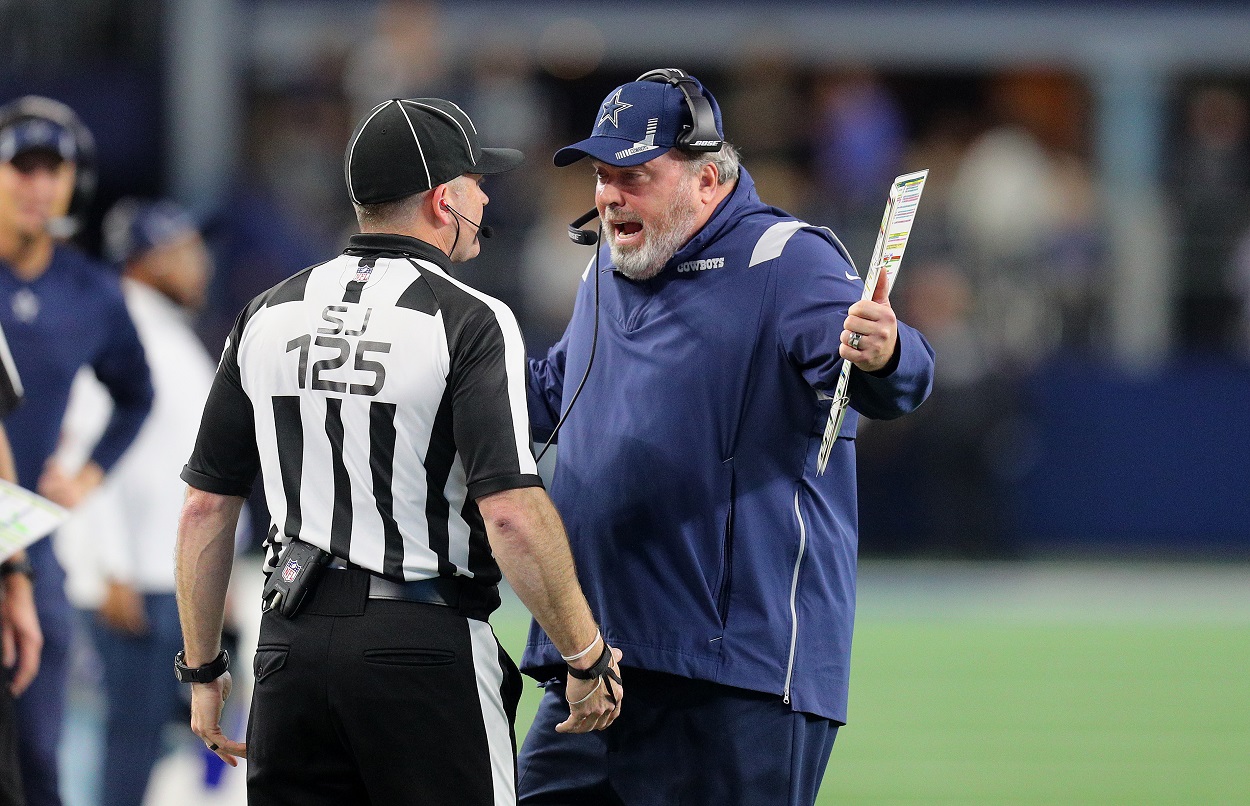 Prescott is right in his assessment of the team and less so in his evaluation of the officiating. It would be one thing to say Dallas was "targeted" by the officials if they had their 14 penalties compared to only, let's say, five from the Raiders. That wasn't the case, though. Yes, the refs were terrible, but they were awful for both teams.
Prescott is right in saying that team needs to self-reflect because yellow hankies aside, this was a game the Cowboys needed to win. Yes, the refs played a role. Dallas also didn't show up when it mattered most, though.
Other than officiating, here are a few different reasons Dallas didn't win:
The Cowboys gave up 509 total yards of offense to the Raiders. They allowed Derek Carr to go 24-of-39, passing for 373 yards and touchdown.
The Cowboys gave up 143 yards on the ground to Las Vegas. Josh Jacobs rushed 22 times for 87 yards and a score. Even backup quarterback Marcus Mariotta got in on the action down near the goal line for an RPO keeper for four yards and a touchdown.
Ezekiel Elliott did score a touchdown, but he rushed nine times for just 25 yards, gaining a measly 2.8 yards per carry. The last time he's rushed for over 100 yards was in Week 5. In fact, his rushing totals from the past three games don't even equal 100 yards. That's a big issue for Dallas, and it has nothing to do with flags.
The Cowboys went 3-of-13 on third-down conversions and lost the time of possession battle by well over 10 minutes, 39:02, 26:30.
Heck, the Raiders didn't even seem like they wanted to win the game, but Dallas couldn't take advantage of that either.
Leading by as much as 11 at one point, the Raiders had an eight-point lead, and the ball, with just over seven minutes, to go. They ended up punting it back to Dallas with 3:55 on the clock. They even went up by three points with 1:52 to go in the fourth and still allowed a 10-play, 48-yard scoring drive from the Cowboys to take the game into overtime.
The Raiders did everything they could to basically gift wrap the game to Dallas, but the Cowboys couldn't capitalize.
In three overtime plays on the offensive side of the ball, the Cowboys gained a total of six yards. That's not on officiating.
Here's the ugly truth for Dallas: Good teams don't complain about officiating, no matter how bad it is.
Good teams put their heads down and do their jobs no matter what. Good teams don't allow officiating to rattle them. Even more so, good teams don't let the game get to a point where the referees can make a difference. A couple of flags, even 14 of them, won't bug you much if you're already up by a few scores.
This is not to say Dallas isn't a good team. Dallas is still a playoff team, and it's still a squad you don't want to match up with. When they're "right," the Cowboys are a very tough out.
The issue here is that Dallas hasn't been "right" for a while now, and complaining about officiating isn't going to fix that.
Stats courtesy of ESPN and Pro Football Reference.