South Florida Legend Lamar Jackson's Homecoming Has Deja Vu Written All Over It For Brian Flores and the Dolphins
Lamar Jackson's roots have molded and shaped him into the player he is today. The Baltimore Ravens superstar quarterback returns to South Florida to take on the Miami Dolphins in Week 10's Thursday Night Football matchup. If the Ravens enjoy some more home cooking, Brian Flores and company might be in big trouble.
Lamar Jackson grew up about 30 minutes from Miami's Hard Rock Stadium
Lamar Jackson is South Florida through and through. He grew up in Pompano Beach, Florida, about a half-hour away from where the Ravens will meet the Miami Dolphins in Week 10.
The former MVP battled in the youth football ranks, and legend has it that he was a beast then, too. According to ESPN's Jamison Hensley, Jackson won multiple MVP awards at a young age.
Then, the Ravens' signal-caller played high school ball at Boynton Beach Community High School.
247 Sports rated Jackson as a three-star prospect coming out of high school. He garnered scholarship offers from several major college football programs, but he opted to play at Louisville. There, he turned himself into a household name outside of Broward County and won the illustrious Heisman Trophy.
South Florida natives who watched Jackson climb the football as a youth aren't surprised by his success in the NFL.
"You can go back and see tape where he would do certain things as a youth," said Van Warren, his youth football coach. "I'm not really surprised when I see him on TV."
Lamar Jackson came from humble beginnings, but he's remained true to himself despite the fame. Behind his leadership, the Ravens are perennial contenders.
The Ravens trounced Brian Flores' Dolphins in 2019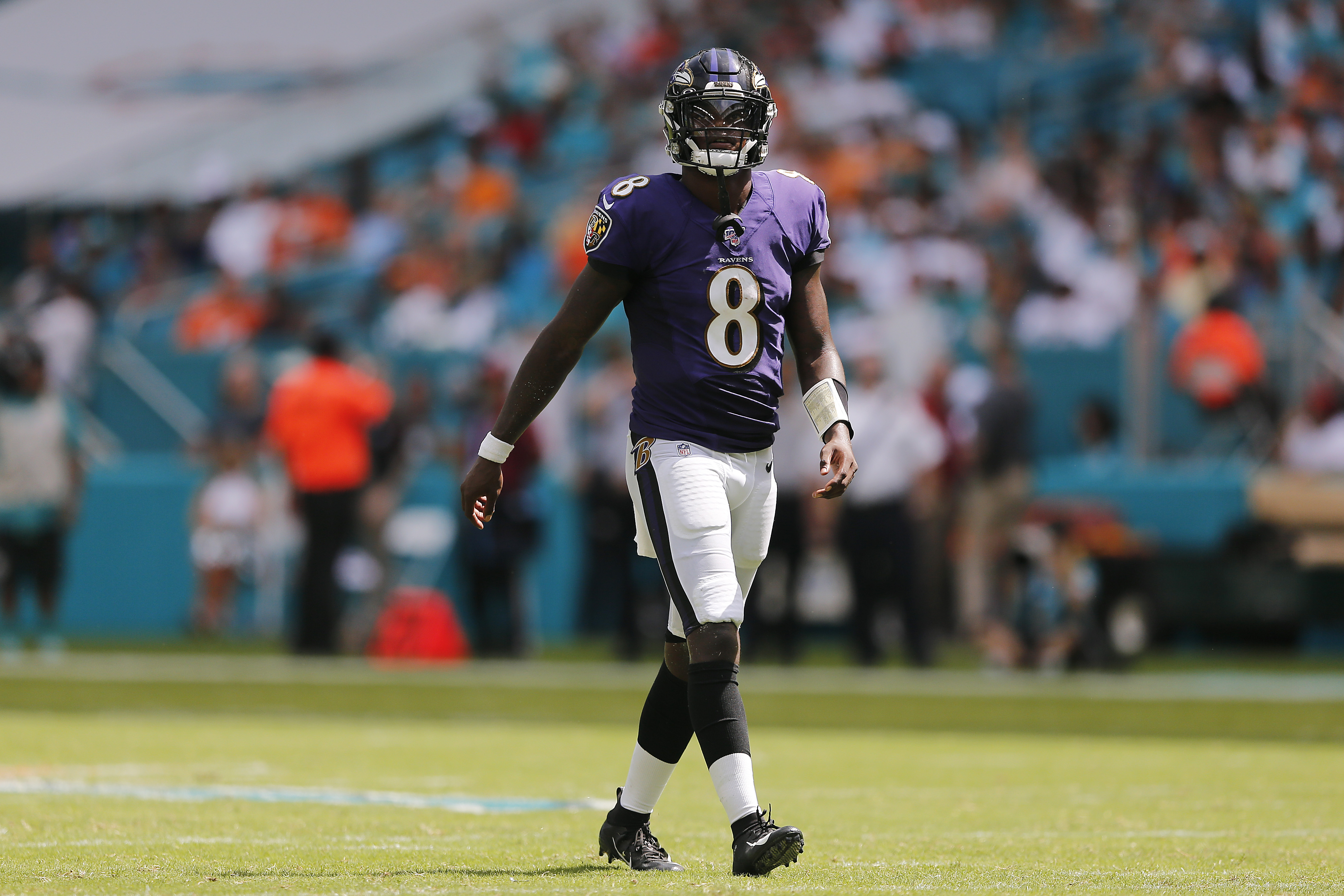 Miami Dolphins head coach Brian Flores probably still gets nightmares about Lamar Jackson's first regular-season NFL game in South Florida.
On Sept. 18, 2019, Jackson and the Ravens lit the Dolphins up 59-10 in the season opener. The Louisville product was in his first full season as the starting quarterback in Baltimore, and he dazzled for the hometown crowd.
Jackson completed 17 of 20 pass attempts for 324 yards and five touchdowns. He responded to the criticism of his passing skills by doing all of his damage through the air. "Not bad for a running back," he said after the game.
The Ravens' offense had its way with the Dolphins' defense, and the game was never in doubt.
Two years later, the legend returns to South Florida once again. Jackson and the Ravens appear locked in. "I'm ready to play, especially in South Florida, for sure," he said per the Ravens team website.
Baltimore has battled several devastating injuries in 2021, but John Harbaugh's squad is resilient. The offense is averaging 427 yards and 27 points per game.
Brian Flores' defense ranks near the bottom of the league and allows 391 yards and 27 points per game. A repeat of the 2019 meeting could be in store if the unit doesn't show up against a motivated MVP candidate in Lamar Jackson.
Baltimore has several ties to South Florida
While Lamar Jackson dominates the headlines, there are multiple other Baltimore Ravens' players who will enjoy a homecoming game against the Dolphins.
Jackson's favorite target and close friend Marquise "Hollywood" Brown is from Hollywood, Florida. He and his quarterback competed against one another in youth football.
The third-year wideout is currently having the best season of his career. Brown has recorded 46 receptions for 682 yards and six touchdowns in eight games. He ranks sixth in the NFL in receiving yards.
Veteran running back Devonta Freeman grew up in Miami. He's made surprising contributions to this football team after three runnings backs suffered season-ending injuries before the regular season started. Backup quarterback Tyler Huntley is also from Broward County.
"We have guys here on this team from South Florida – not just myself," said Jackson. It means a lot because we know what we've faced down there. We know what we've seen and know how it is down there. We like to put on for where we come from and let other guys and little kids see us and have them wanting to do the same things we're doing in a positive way."
Baltimore will try to put on a show under the lights in South Florida.
All stats courtesy of Pro Football Reference.