Sports
March Madness: 3 Biggest Upsets From Thursday's Games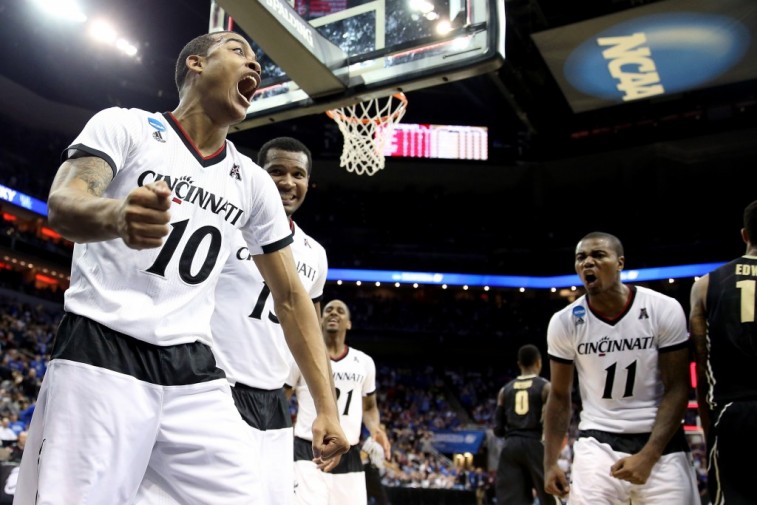 The 2015 NCAA Tournament just started, and already it's shaping up to be a classic.
While many of the favorites have managed to avoid being sent home early from the dance, the same can't be said for everyone. At this point in the year, it's no longer safe to merely rest on your laurels. It doesn't matter the record. It doesn't matter the conference. It doesn't matter the reputation. When it comes to March Madness, the upset bug can strike at any time. And on Tuesday, boy were some heavy hitters bit.
Although there were a fairly good amount of surprise results, these are the three biggest upsets from Thursday's games.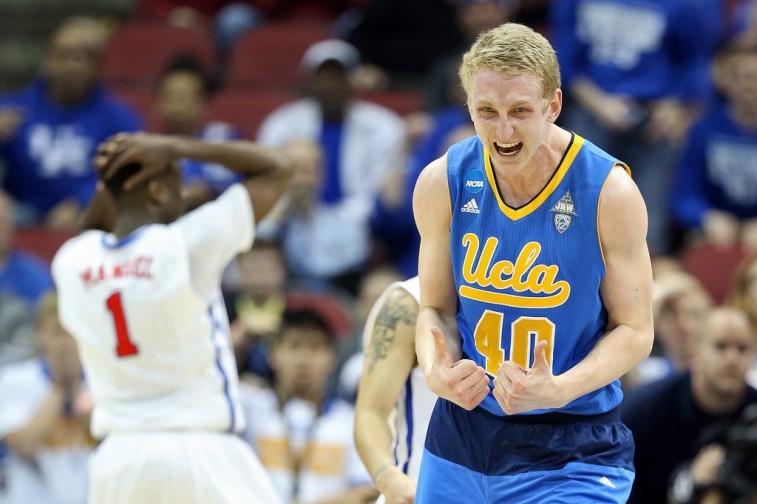 1. (11) UCLA Bruins 60, (6) SMU Mustangs 59
Region: South
Location: Louisville, Ky.
If we were just going off name recognition alone, then No. 11 UCLA's 60-59 victory over the No. 6 SMU Mustangs wouldn't seem like that much of an upset. But this was a year in which many felt that it was because of their name that the Bruins managed to snag a spot in this year's Big Dance. So it became all the more important for UCLA to prove they belonged in the field. This win certainly silenced a lot of critics, albeit it did come with a bit of controversy.
With 13 seconds left in the game, and the Bruins down by two, UCLA guard Bryce Alford launched a three that appeared to be heading wide of the rim. Fortunately for him, Mustangs' center Yanick Moreira grabbed the ball as it approached the basket and was subsequently called for goaltending on the play. The shot would count and Alford was credited with the basket that would send the Bruins to the round of 32. This capped an already unbelievable performance for the 6-foot-3 guard, who would finish the day with 27 points on nine three-pointers. In the end, none would prove to be as important as the one that technically didn't go through the net.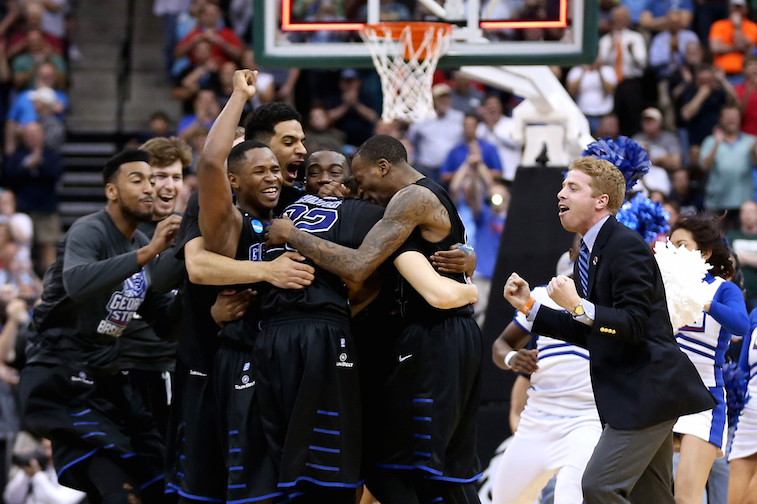 2. (14) Georgia State Panthers 57, (3) Baylor Bears 56
Region: West
Location: Jacksonville, Fla.
Despite being down 56-44 with 2:54 remaining, the 14th-seeded Georgia State Panthers never panicked. Instead, they would go on a 13-0 run to end the game, and subsequently knock off the third-seeded Baylor Bears 57-56. The hero of the game for the Panthers was R.J. Hunter, who just so happened to be the coach's kid. Hunter would finish the game with a team-high 16 points, but it was his final bucket that had the place rocking.
With just 2.7 second left in the ball game, Hunter connected on a contested three-pointer from the top of the arc that would knock his father right off his chair. Granted coach Ron Hunter was wheeling around on a stool because he tore his Achilles tendon while celebrating Georgia State's Sun Belt Tournament victory, but nothing was going to keep him from going crazy over his kid's life-altering shot. By committing 21 turnovers in this contest Baylor didn't exactly help itself. However, it was Georgia State that took advantage of these miscues and, in the end, that's why they're the team moving on.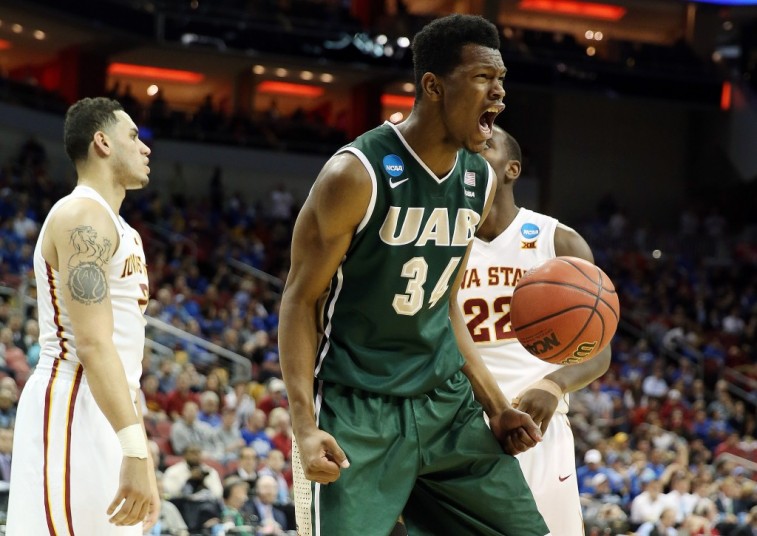 3. (14) UAB Blazers 60, (3) Iowa State Cyclones 59
Region: South
Location: Louisville, Ky.
The No. 3 Iowa State Cyclones came into the NCAA tournament riding a lot of momentum after winning the Big 12 Conference tournament. The 14th-seeded UAB Blazers were not impressed. With guard Robert Brown leading the way with 21 points, the Blazers would pull of the first upset of the day by defeating the Cyclones. 60-59.
Despite being considered a potential Final Four team, Iowa State didn't play with same intensity that saw the team enter the tournament on a five-game winning streak. But where the favorites really suffered was on the glass. With UAB outrebounding Iowa State 52-37 (including 19 offensive rebounds), it became apparent which team wanted it more. In the end, coach Fred Hoiberg and Iowa State have no one to blame but themselves. This was a year where they could've made a real run at a championship. Unfortunately, it's another early exit for a Cyclones team, and we're left to wonder, "what if?"
All statistics are courtesy of SR/College Basketball and ESPN.go.com.
Want more great content like this? Sign up here to receive the best of Cheat Sheet delivered daily. No spam; just tailored content straight to your inbox.