Sports
North Carolina vs. Clemson: Do the Tar Heels Have a Chance?
The North Carolina Tar Heels are known for being really good at basketball. It makes sense; the school has won 25 conference tournament titles, reached 18 final fours, won five national championships, and has produced players like some guy named Michael Jordan.
This season, UNC's basketball team is expected to be great once again, but here in the first week of December, it's the guys taking the gridiron in Chapel Hill that are receiving the attention of the nation.  With 11 straight victories following a season-opening loss, the Tar Heels football team is gearing up to face top-ranked Clemson in the ACC Championship game this weekend in one of the biggest games in the history of their program.
A win against the Tigers would elevate UNC's status in the College Football Playoff conversation (they're ranked 10th this week), but nobody expects that to happen, as Clemson is a big favorite to gain their 13th victory of the season. Ignoring point spreads, how good of a chance does UNC have to pull off the massive upset? Well, they need a few things to happen in order for the upset to occur.
Run the ball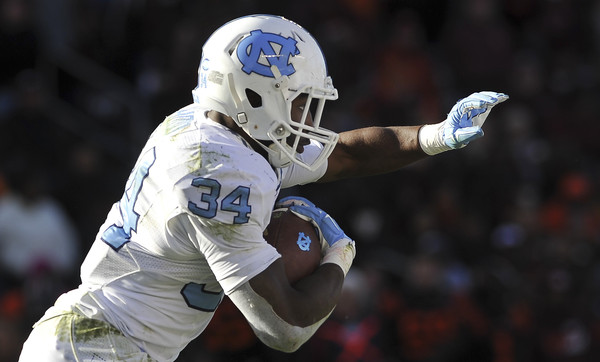 The Tar Heels have run the ball extremely well this season, which has been critical to their 11-game winning streak. In fact, their rush offense ranks 15th in the nation. So, against Clemson, why would they do anything but grind out the game on the ground? North Carolina's rushing attack isn't limited to one man, which is probably why they are so effective in that area of the game.
Running back Elijah Hood has been superb, running for 1,280 yards and 6.6 yards per carry to go along with 16 touchdowns. He's the main threat, but QB Marquise Williams is excellent on the ground as well, gaining 786 yards with his legs to support his 10 touchdowns. UNC can throw multiple other players in there as well, which could give Clemson headaches all day long.
When you look at the fact that Clemson gives up over 125 yards per game on the ground, the Tar Heels should have some success with this game plan. They have to stick to the ground game even if they struggle, because Clemson has a pass rush that can get after Williams if he is trying to sling it all over the place (the Tigers are eighth in the nation with 36 sacks on the season).
Keep Deshaun Watson under control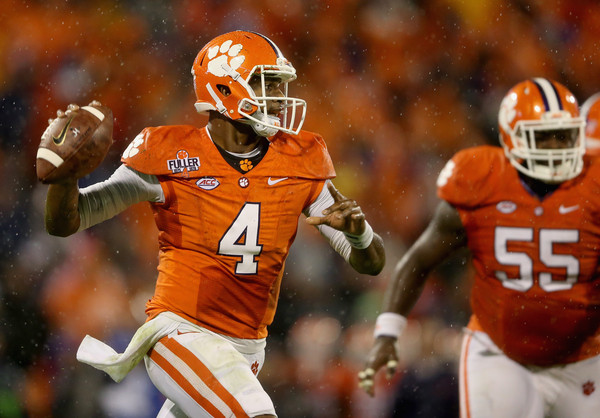 This year, Deshaun Watson has turned into one of the best quarterbacks in the nation, garnering Heisman attention in the process. He's a dynamic passer, throwing for over 3,200 yards and 27 touchdowns on the year (to go along with just 10 picks and a 70.4 completion percentage). Of course, Watson can beat you with his legs too, as shown by his 756 yards and nine touchdowns on the ground this season. He is the most important player on this undefeated Clemson team, and if North Carolina can't keep him under control, it will be a long day.
UNC does have a pretty good defense, so they may be able to find some success against Watson and the offense. They've only given up an average of 186 yards through the air to go along with just 20 points allowed per game. However, their rushing defense is suspect, giving up more than 200 yards per game. Further, the Tar Heels haven't faced a player of Watson's caliber all season long. They'll need all hands on deck to keep him in check. We'll see if they're up to the challenge.
Maintain contact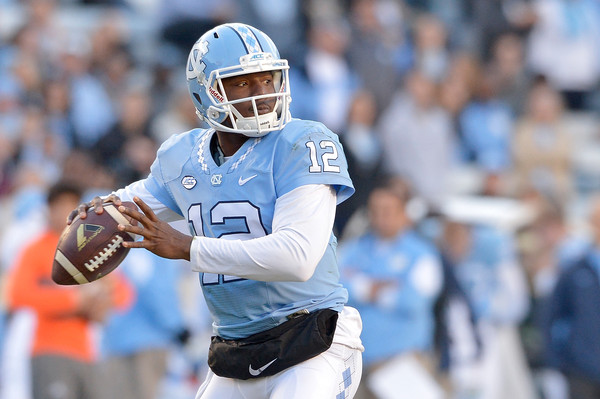 Anytime an underdog team tries to pull off a major upset, the key is to stay within shouting distance of the other team. The case is no different for the Tar Heels against the Tigers. If Clemson jumps out to a two-touchdown or even a 10-point lead early in the game, UNC's confidence could be crushed.
Sticking to the ground game and maintaining control of the ball will allow North Carolina to stay within a short distance throughout the game. Even if they do fall behind early, they can't get into a shootout with the Tigers. Watson is too good with the ball in his hands, and they must limit the number of opportunities he has to work his magic.
With that, UNC beating Clemson wouldn't be the most unbelievable result ever, but it is clear that Clemson has the edge. The Tar Heels should be able to keep it close for a while before the Tigers ultimately win by two scores.
Prediction: Clemson 28, UNC 17
All statistics courtesy of Sports-Reference.com and ESPN.com
Want more great content like this? Sign up here to receive the best of Cheat Sheet delivered daily. No spam; just tailored content straight to your inbox.