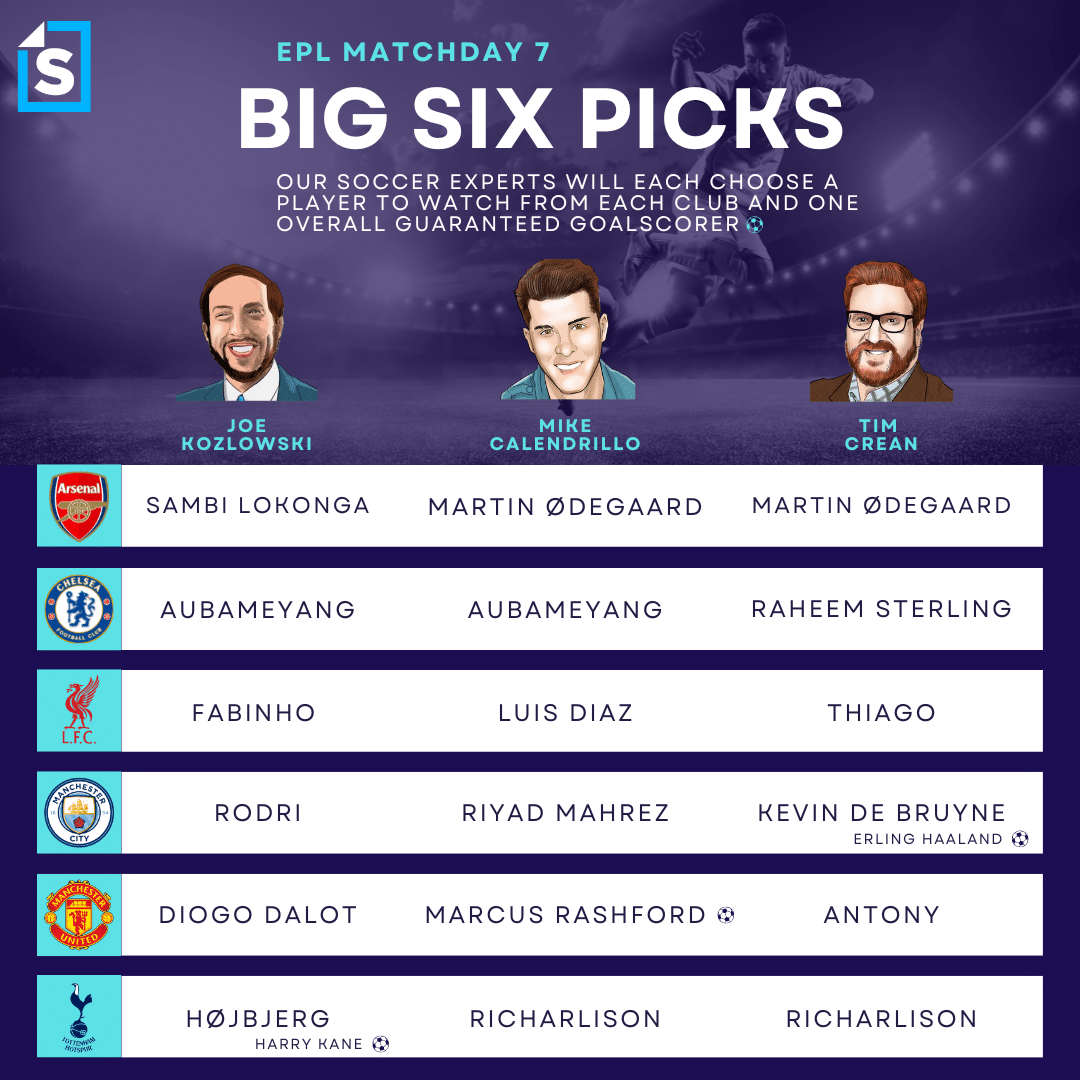 Sportscasting Big 6 Picks: Premier League Matchday 7
The Premier League season continues on as Champions League and Europa League kick-off. Here's what to look for in Matchweek 7.
NOTE: Following the death of Queen Elizabeth II, the Premier League has postponed the Matchday 7 fixtures. In a statement, the EPL said, "To honour [Her Majesty Queen Elizabeth II's] extraordinary life and contribution to the nation, and as a mark of respect, this weekend's Premier League match round will be postponed, including Monday evening's game."
The international soccer season is officially in full effect with the 2022-23 UEFA Champions League and Europa League group stages kicking off this week. The English Premier League waits for no team, though, as the domestic season chugs along, despite European play commencing.
Matchweek 6 was a tough one for the Premier League's Big 6. While Tottenham, Chelsea, and Manchester United came away with three points apiece, Manchester City and Liverpool suffered disappointing draws. However, those were better results than Arsenal found, as the clubs took and L to the Red Devils on the weekend.
For (now former) Chelsea manager Thomas Tuchel, the Premier League win vs. West Ham last week wasn't enough to avoid a sacking after a UCL loss to Dinamo Zagreb.
As we get ready for the Premier League's Matchday 7 fixtures, here are Sportcasting's soccer experts' Big 6 Picks.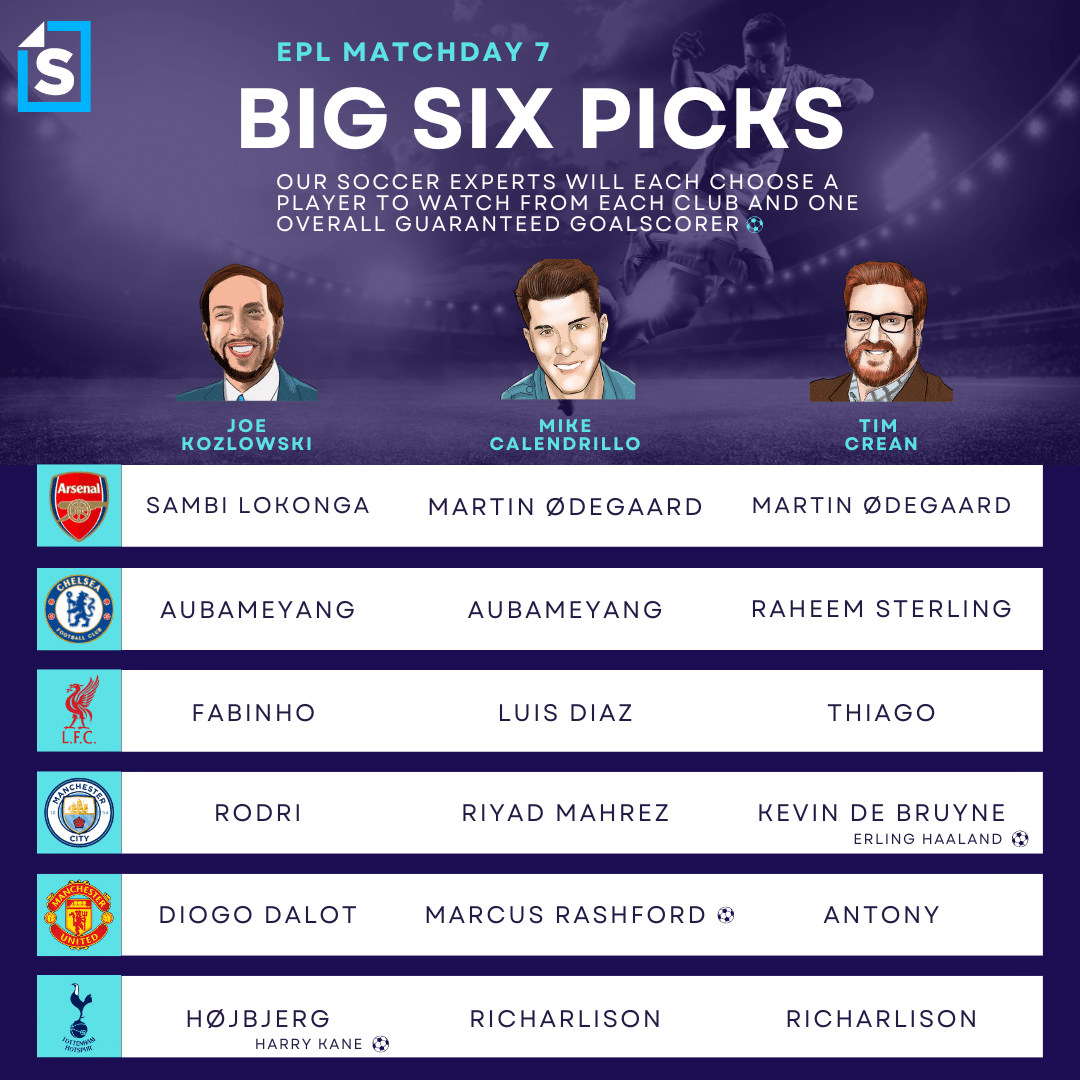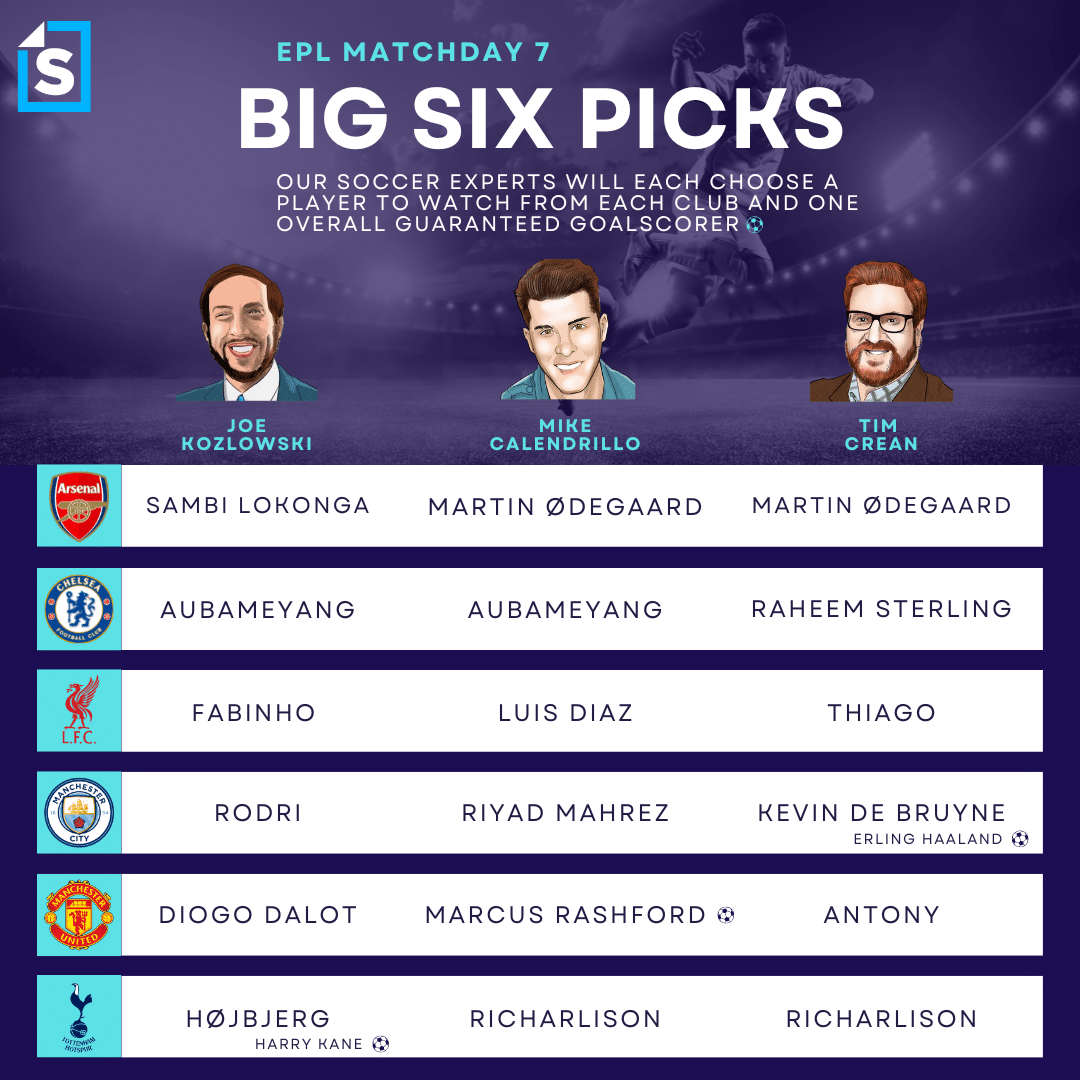 Manchester United at Crystal Palace
Joe Kozlowski: Diogo Dalot – I've used this underlying logic before, but whoever is responsible for marking Wilfried Zaha is in for a long day at the office. That's especially true for Diogo Dalot, as Crystal Palace have a tendency to burst the bigger teams' metaphorical bubble.
Mike Calendrillo: Marcus Rashford – Who's excited for Europa League action?! No one? Well, winning the secondary UEFA tournament is one way to secure a Champions League spot next year, and offers another launching point for Marcus Rashford to grow into the No. 9 United need him to be. However, Man U supporters want him to deliver in the league, and while Antony got much of the plaudits for his first goal last weekend, it was Rashford's slick pass that set the Brazilian up. Facing a Crystal Palace backline that has allowed nine goals in six matches should continue Rashford's renaissance, having already scored three times with two assists.
Tim Crean: Antony – Manchester United paid a staggering $104 million to bring Erik ten Hag's boy Antony over from Ajax. While not a bargain (and $38 million more than Erling Haaland) he scored 35 minutes into his United debut, so that's pretty good. If Antony can become a reliable sorcerer for the Red Devils, Ten Hag might be able to turn this around at Old Trafford faster than it initially seemed. 
Liverpool vs. Wolves
Joe: Fabinho – While the Brazilian probably won't have to take on too many defensive responsibilities against Wolves, Liverpool have been at their worst when they've fielded a mismatched midfield. I want to see how Fabinho holds things together, dictates play, and drops into the back line. If he fills that role without missing a beat, the Reds could start to look a bit more like their old selves and right the ship.
Mike: Luis Diaz – Getting blown out of the water by Napoli 4-1 in the opening group stage of the Champions league is bad. Drawing 0-0 in the Merseyside Derby to a dreadful Everton side might be worse. With the plethora of injuries striking Liverpool, especially in the midfield, and Jürgen Klopp's insistence of trotting out 101-year-old James Milner, the onus is on the front three to push the pace and pepper the opposition's keeper. Against a pesky Wolves side, Luis Diaz will need to add to his 3-goal tally, especially with Jota not at 100%. 
Tim: Thiago – Jürgen Klopp said it himself after the 4-1 Champions League demolition by Napoli, the offense looked completely out of whack until Thiago came on the pitch. Klopp should learn from this and give the slick-passing Spanish national the start vs. Wolves. 
Arsenal vs. Everton
Joe: Albert Sambi Lokonga – Although Everton should be an easier match than last week's date with Manchester United, Albert Sambi Lokonga will be central to Arsenal's success. With Thomas Partey and Mohamed Elneny still sidelined, the young Belgian is tasked with anchoring the midfield. The Toffees don't have the most dangerous attack around, but he'll still have to snuff out the danger and get the Gunners moving up the pitch.
Mike: Martin Ødegaard – Was Arsenal's 3-1 loss to United last week a sign of things to come? Keeper Aaron Ramsdale wasn't fully healthy coming into the match and it showed. The defensive backs were slow to the ball and eventually subbed off. Nonetheless, Martin Ødegaard scored a match-worst 3.9 rating, and for the Gunners to keep possession and move the ball up the pitch to Jesus, the Norwegian International needs to take control of Everton right from the opening whistle. 
Tim: Martin Ødegaard – Arsenal's slip against Manchester United was just that, a momentary lapse, and the club should get back on the good foot against a struggling Everton. The key here is getting Ødegaard back to his dangerous attacking and distributing form from earlier in the season. If he can set up Gabriel Jesus, Bakayo Saka, and Gabriel Martinelli for some nice chances on Sunday, that young trio will take care of the rest. 
Chelsea at Fulham
Joe: Pierre-Emerick Aubameyang – This one becomes even more interesting after the firing of Thomas Tuchel. The Gabonese striker came back to Chelsea to reunite with his former manager, but that opportunity lasted less than a week. With that change looming large, can Auba make a compelling case to stay in the starting 11 under the new manager? Or will he know his days could be numbered and let his head drop?
Mike: Pierre-Emerick Aubameyang – Whether or not Graham Potter will be in the dugout as Chelsea's new manager remains to be seen. But whoever sets the starting XI needs to change the formation, because Tuchel's 4-2-2-2 resulted in only 1.3 goals per game. And so, it'll be interesting to see how the players respond to the club shakeup, none more than Pierre-Emerick Aubameyang who came to Chelsea in part to play for his former Borussia Dortmund skipper. Fulham aren't pushovers, so if Auba plans to make an impression in his second match back in the Premier League, he'll need to turn back the clock against Tim Ream and company. 
Tim: Raheem Sterling – Now that Thomas Tuchel is gone, it's time for the leaders in the Chelsea locker room to step up. Raheem Sterling left Manchester City after winning a boatload of trophies because he wanted a bigger role and more responsibility. Now that the Blues are in crisis, Sterling needs to step up and lead from the front by pumping in a goal or two vs. Fulham. 
Manchester City vs. Tottenham
Joe: Rodri -We know that Antonio Conte's Tottenham love to play on the counter, which places a heavy burden on Rodri. Can he anchor the midfield and, more importantly, avoid picking up a yellow card too early in the match? Once he's walking that tightrope, Spurs' front line will be licking their collective lips.
Mike: Riyad Mahrez – Manchester City get their first true test of the new campaign versus Tottenham. Following City's 1-1 draw against Aston Villa and Bernardo Silva's awful 4.9 match rating, it's likely Pep will rotate a fresh Riyad Mahrez or Jack Grealish to counteract Conte's 3-4-2-1 formation. While Mahrez has yet to find the back of the net or rack up and assist this season, Pep trusts the 31-year-old Algerian when in a crunch. If Mahrez is unable to get off the snide, it will be time to give Grealish more minutes. 
Tim: Kevin De Bruyne – KDB has produced moments of brilliance this season but has been inconsistent. Tottenham is Man City's first real test this season and De Bruyne needs to bring his best midfielder in the world pants, not his pass-happy, wild shooting boots. If KDB can boss the midfield and pass Erling Haaland into chances, City wins. 
Tottenham at Manchester City
Joe: Pierre-Emile Højbjerg – In a similar vein to what I wrote about Manchester City, Pierre-Emile Hojbjerg will be a central player for Tottenham. While he might not make all the headlines, the Danish midfielder plays an important role anchoring Spurs' defensive structure. With City's constant movement, five-wide attack, and world-class striker, he'll certainly have his hands full.
Mike: Richarlison – You love him if he's on your team and hate him if he isn't. Richarlison was incredible against Marseille in the Champions League midweek match – scoring two headers – the second was poetic. The Brazilian brings a nastiness to Spurs that the North London club have long lacked. So, while we wait for Son Hueng-min to rediscover his goal-scoring ways, I would be surprised if Richarlison isn't penciled into the starting XI over Dejan Kulusevski. 
Tim: Richarlson – This can also be Dejan Kulusevski, depending on who starts up front for Spurs. The point is, Tottenham and City are both going to score goals in this game. Right now, if it comes down to Erling Haaland vs. Harry Kane, City wins. If Kane can get a running-mate, like Richarlson or Kulusevski, and put in three or four goals, Spurs can take it. 
Guaranteed Goalscorer – Premier League Matchweek 7
Joe: Harry Kane – While I know this one isn't exciting (I might as well pick Erling Haaland), Kane has a knack for scoring in these sorts of matches. City, no matter how dominant they may be on the day, will hand Spurs at least one chance, and it's safe to bet on Kane converting it.
Mike: Marcus Rashford – How could I not pick Rashford after calling this season "Rashford's Renaissance" (patent pending). 
Tim: Erling Haaland – He scores when he wants/He scores when he waaaaants/He's Erling Haaland/He scores when he wants.
Like Sportscasting on Facebook. Follow us on Twitter @sportscasting19 and subscribe to our YouTube channel.