Spurs Coach Gregg Popovich Might be the Most Generous Person in the NBA
In April 2019, Spurs coach Gregg Popovich became the winningest NBA coach following his 1,413th victory, including both regular season and playoff games. Popovich has been the head coach of the Spurs since 1996, and since then, the team has won five NBA championships, and Popovich has earned three coach of the year awards. That also makes him the NBA head coach with the longest tenure with one team. In addition to his other accolades, you might also call him the most generous person in the NBA. Coach Pop has something he does that helps to bring his team together: dinners out on him.

Gregg Popovich splurges on team dinners
Even though many of his players earn more than him, Gregg Popovich pays for team dinners at top restaurants around the country. The cost adds up to about seven figures each year. In addition to the dinner, Popovich also pays for quality wines, and he is a generous tipper for restaurant staff.

One restaurant owner told ESPN that the coach would often leave a $10,000 tip for the staff, even on a "nothing meal." He'd also order wine for the kitchen staff to enjoy. The dinners include players, coaches, management, and ownership. Popovich also pays for players' meals when he bumps into them eating at the same restaurant as he is.

Popovich loves food and wine
Popovich never shies away from talking about his love of food and wine. In 2013, when asked about his coaching legacy, Popovich joked, "Food and
wine. This is just a job." He's also well respected by sommeliers and restaurateurs for his knowledge. ESPN quoted Chef Wolfgang Puck as saying, "[Popovich] knows wine."

Bonding through meals
While food and wine might be his passion, the dinners help to unite the team. His legendary dinners are the backbone of the culture he's built for the Spurs. Danny Green, a former Spurs guard, told ESPN, "dinners help us have a better understanding of each individual person, which brings us closer to each other — and, on the court, understand each other better." Pau Gasol, a former center, agreed, saying, "I haven't been a part of that anywhere else. And players know the importance of it as well — and how important it is to 'Pop.'"

Chad Forcier, a Spurs former assistant coach, described how Popovich used one of his dinners as an opportunity to re-energize his players after a difficult loss to the Miami Heat in the 2013 finals. He said the coach gave "the most amazing display of leadership." He spoke with players around the room and rubbed their shoulders. For a coach known for being intense and demanding, this entirely different setting gives him space to be supportive and generous. The dinners help Popovich unify the team and show that he cares about them as people, not just as basketball players.

College team dinners
The tradition of team meals began when Gregg Popovich was a Division III coach at Pomona-Pitzer College in California in the 1970s and 1980s. There the team ate together in the dining hall on game days and ate together when they traveled for games. Popovich and his wife, Erin, even cooked meals for players who stayed on campus during Thanksgiving and Christmas.

Gregg Popovich shares his wealth and generosity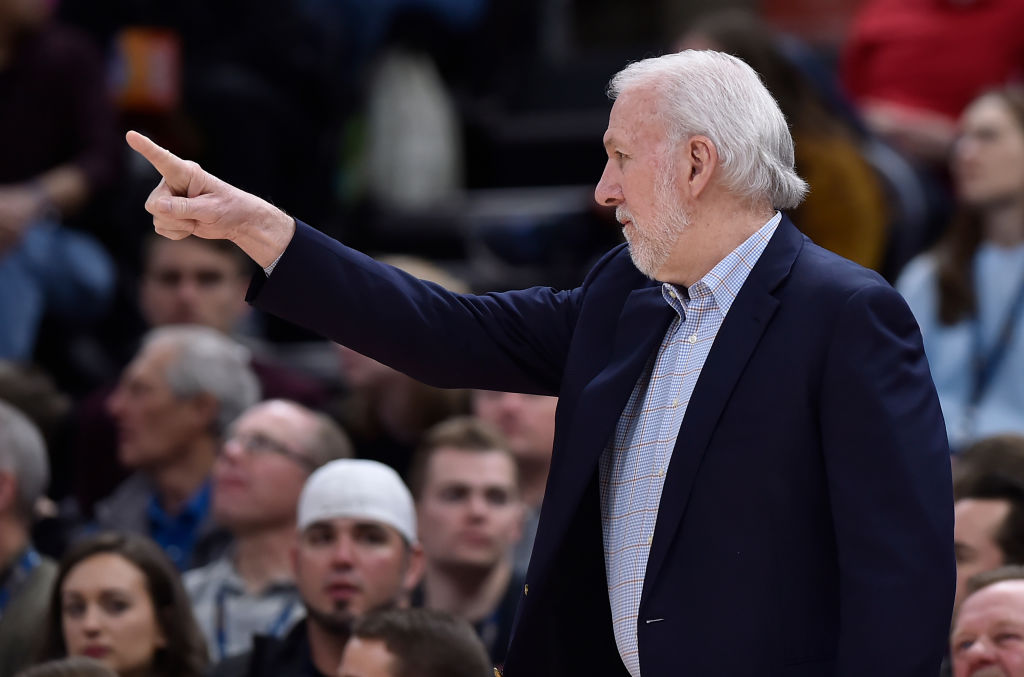 Popovich is undoubtedly able to afford these extravagant dinners these days. He reportedly makes an $11 million annual salary, which makes him the highest-paid NBA coach. He uses his wealth to be generous outside of the Spurs team and the staff at restaurants they visit.

In 2017, when asked why charity was important to him, he said, "Because we're rich as hell, and we don't need it all, and other people need it." In addition to helping local nonprofits, including the San Antonio Food Bank, he has worked with Shoes That Fit and the Innocence Project, donating both time and money. He has also made sizable donations following natural disasters in multiple locations.