A Spurs Legend and Future Hall of Famer Is on the Short List to Replace Gregg Popovich as Head Coach in San Antonio
San Antonio Spurs head coach Gregg Popovich is no stranger to superstars. He's been the franchise's head coach since 1996 and has seen the likes of Tim Duncan, David Robinson, Tony Parker, and Kawhil Leonard come and go. But at some point — likely within the next few seasons — Pop will step down and make way for a new leader of the Spurs.
Several possible candidates have surfaced over the last few years, but one name that hasn't yet popped up is San Antonio legend Manu Ginobili. At least until now.
Ginobili played his entire career under Popovich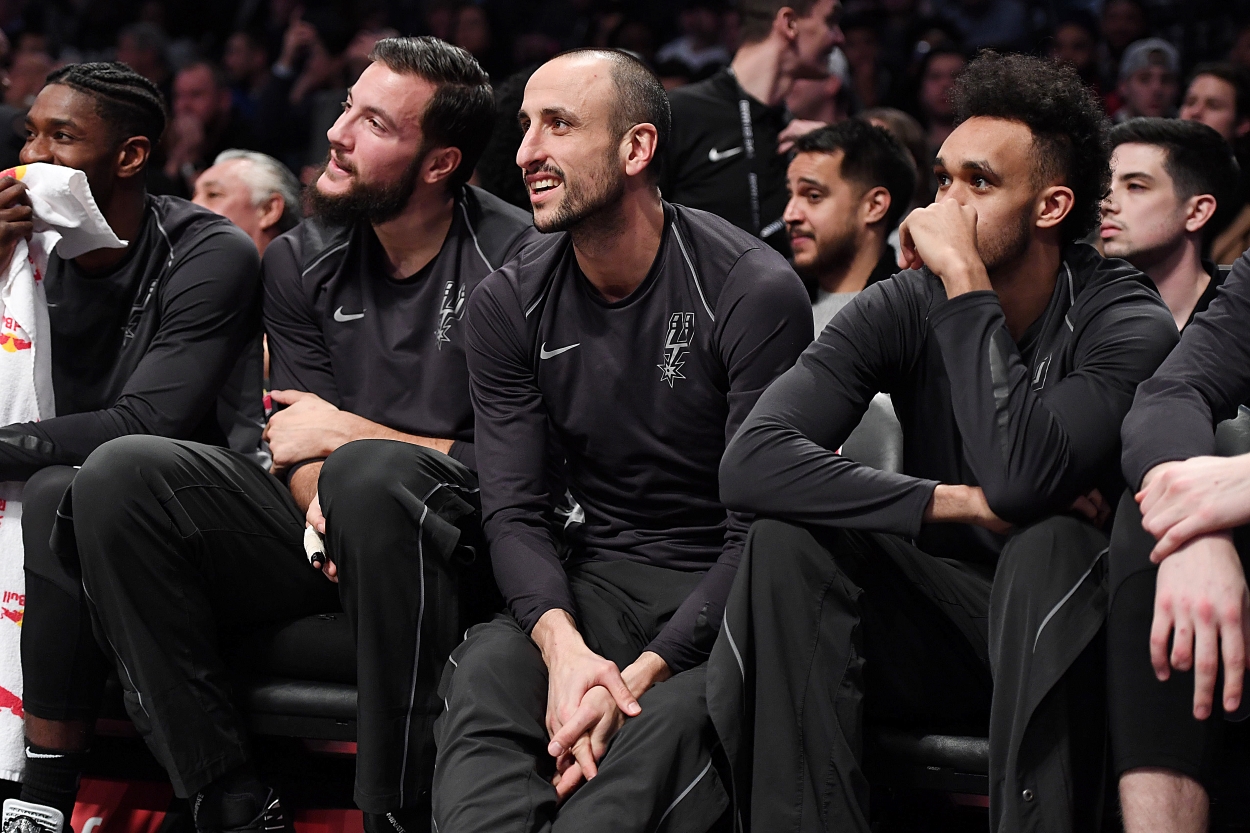 Manu Ginobili arrived in the NBA in 2002 from Italy. He was the 57th overall pick in the 1999 NBA Draft. Ginobili played 16 seasons with the Spurs, most often in a sixth-man role that allowed him to run and star on San Antonio's second unit.
The Argentinian has career stats of 13.3 points, 3.5 rebounds, 3.8 assists, and 1.3 steals per game with shooting splits of 44.7/36.9/82.7. He scored a career-high 17.4 points per game in 2011 when he started 79 of a possible 80 games.
Ginobili was a two-time all-star, two-time All-NBA player, a member of the 2002-03 all-rookie team, and won the Sixth Man of the Year Award in 2007-08.
He and Pop won four of San Antonio's five NBA championships together, teaming up for titles in 2003, 2005, 2007, and 2014. Ginobili retired in 2018 and is a surefire Hall of Famer once he becomes eligible.
The now 44-year-old recently returned to the organization as a special adviser to basketball operations, a role in which Popovich said his former pupil would "do everything." But reportedly, Ginobili could be in line for a much more critical position.
Ginobili is a candidate to replace Popovich as head coach
San Antonio's championship window under its legendary head coach has slammed shut. The Spurs have finished with a losing record the past two seasons and have finally decided to blow everything up after 22 consecutive playoff runs. DeMar DeRozan, LaMarcus Aldridge, and Rudy Gay — the team's three veteran mainstays who accounted for more than 50% of the team's scoring the last few seasons — have all moved on. It's youth, youth, and more youth now for the Spurs.
The franchise also went young — literally — in the 2021 draft, taking Alabama guard Josh Primo with the 12th overall selection. It was the biggest shocker of the night, and Primo was the youngest prospect in the entire class.
According to RealGM, San Antonio's roster this season will have an average age of 25.3. Popovich is 72.
Although it's not a coach-in-waiting scenario — and there has been no word of when Pop will retire — his age, combined with the franchise's position, points to that being sometime in the near future. Will Hardy, Brett Brown, Becky Hammon, and now Ginobili comprise the list of top candidates to step in whenever Popovich finally leaves, according to Zach Lowe of ESPN.
Manu would bring continuity to the franchise if he becomes its next head coach
Ginobili was always an intelligent player and has plenty of experience, both in the NBA and internationally. And it wouldn't be the first time an ex-player with no coaching experience becomes the leader of a franchise. Jason Kidd went from playing one season to coaching a star-studded Brooklyn Nets team the next.
On the outside, he seems qualified enough, but Lowe referenced in his story the idea that Manu has never even mentioned coaching as a possibility post-retirement. He may not be interested in taking the job at all, and the other candidates on Lowe's list are more experienced and ready to fill the role. But Ginobili would bring a certain sense of calm and stability to the Spurs, especially since San Antonio has been under the leadership of one man for more than two decades.
Plus, if he does return to the sidelines, we all get to hear Charles Barkley's "Ginobili!" screams again.
All statistics courtesy of Basketball-Reference.
RELATED: Bill Russell Once Told Tim Duncan He Was His Favorite Player in the NBA: 'You've Played Hard, Played Smart, and Won Championships'