Stan Van Gundy and TNT Need to Find a Social Media Compromise if He Rejoins the Company
Former New Orleans Pelicans head coach Stan Van Gundy may not need to wait long for his next job.
The longtime NBA head coach has already been linked to rejoining TNT, his employer before he spent a year coaching Zion Williamson and friends. But if Van Gundy does begin negotiating with Turner Sports, both sides need to have a frank and open discussion about his social media accounts.
Stan Van Gundy has a history of being outspoken on social media
When Stan Van Gundy joined Twitter in July 2020, it wasn't just so he could break down a 2-3 zone or tweet pictures of dogs.
The longtime NBA head coach has spent the last year tweeting about politics and criticizing both major parties. Former President Donald Trump became a frequent target of Van Gundy's tweets, especially leading up to the 2020 election. He also often tweets about Florida Governor Ron DeSantis. 
In a tweet on March 28, Van Gundy described himself as a "staunch Democrat" and a supporter of President Joe Biden and Vice President Kamala Harris.
Through June 2021, the vast majority of his tweets and retweets involved politics. On June 1, the then-Pelicans head coach tweeted that he was "proud to support" Nikki Fried, the Florida commissioner of agriculture who is a candidate in the state's 2022 gubernatorial election.
TNT and Van Gundy need to reach a social media compromise if they rehire him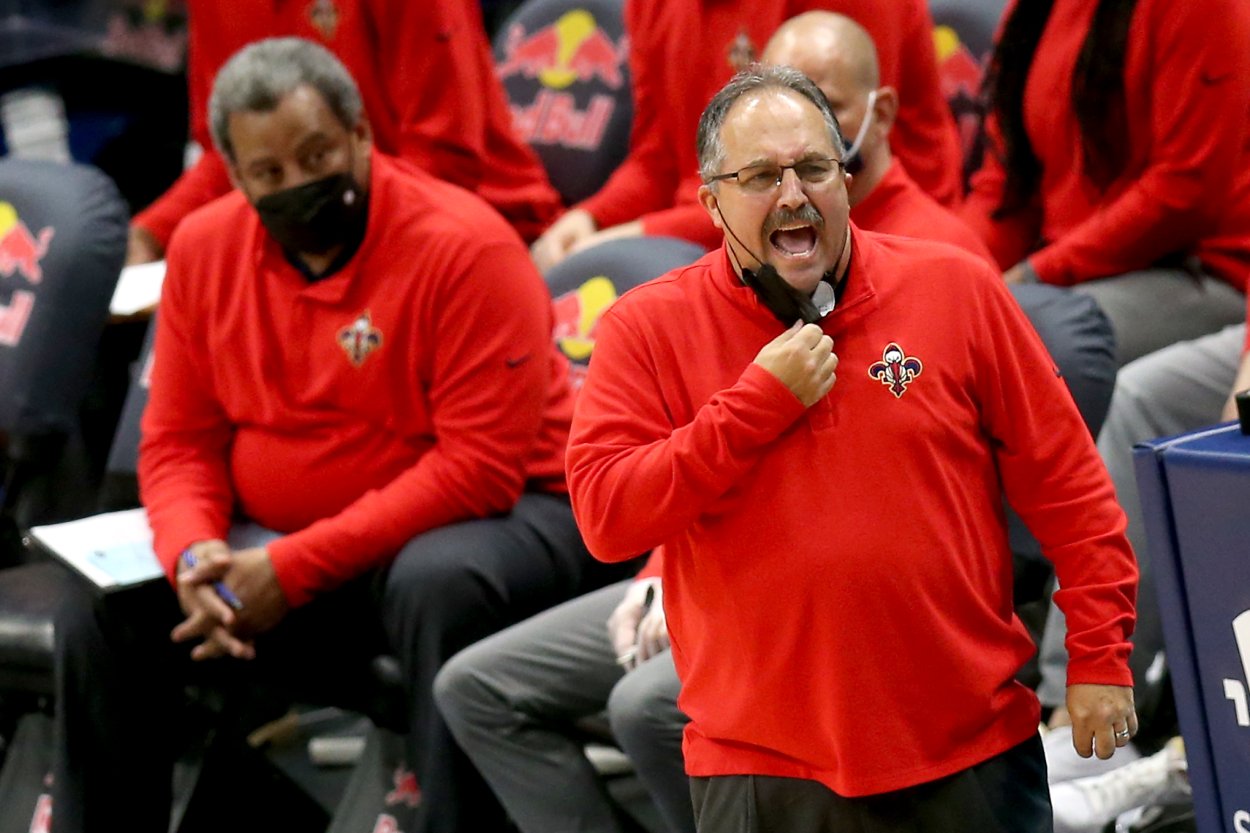 Van Gundy decided long ago that he wasn't going to keep quiet on injustice, and he should be commended for using his platform to fight for what he believes in sharing.
If TNT truly wants Van Gundy back on the air, they need to find a middle ground on how and when he uses social media. Some fans might argue it'd be in everyone's best interest if he tweeted less about Trump and more about superteams.
To be clear, TNT — or any other company which hires Van Gundy — should not outright censor him or prevent him from using social media. Frequently, his issue is not what he says but how he says it to represent him and his employer.
Van Gundy has an established presence on social media as an outspoken NBA figure who will criticize anyone regardless of their political allegiance. And if TNT suggested a compromise involving social media, he might turn the job offer down out of a desire to have freedom and control of his social media.
A compromise might also be an example of the network protecting Van Gundy from himself. Continued engagement with other social media users about politics may act as an added deterrent for a 61-year-old who has posted losing records in four of his last five seasons as a head coach.
Charles Barkley implied that TNT's standards are changing
If Van Gundy and his fans don't think TNT would say anything to him about his commentary, they should just ask Charles Barkley what he thinks.
During a recent episode of Inside the NBA, Barkley revealed that network executives had told him and his colleagues to watch what they say. The NBA legend said he could no longer continue joking about the "big ole women" in Texas.
Granted, there is a clear difference between discussing women's weight and tweeting about needing to vote a politician out of office. But Inside the NBA is as popular as it is because the show embraced Barkley and Shaquille O'Neal providing outrageous commentary.
If TNT or the NBA feels Barkley's jokes are too much, it suddenly doesn't sound so unrealistic to believe that social media could be next on their agenda. And if TNT does appear open to censoring social media, Van Gundy should turn his attention to creating a podcast or joining another network. It isn't worth it for the longtime head coach to give up fighting against injustice just to earn a paycheck.
Like Sportscasting on Facebook. Follow us on Twitter @sportscasting19.
RELATED: Charles Barkley Stopped Biting His Tongue Early in His Playing Career and Still Hasn't Stopped: 'I Can Live With That'