MLB
Do We Need to Start Worrying About These 7 Struggling MLB Stars?
The first half has yet to complete, but the contenders and pretenders are beginning to formulate in MLB. It's also starting to become apparent which players are having great seasons and which players are having lackluster ones. Do we need to start worrying about these seven struggling MLB stars?
Jacob deGrom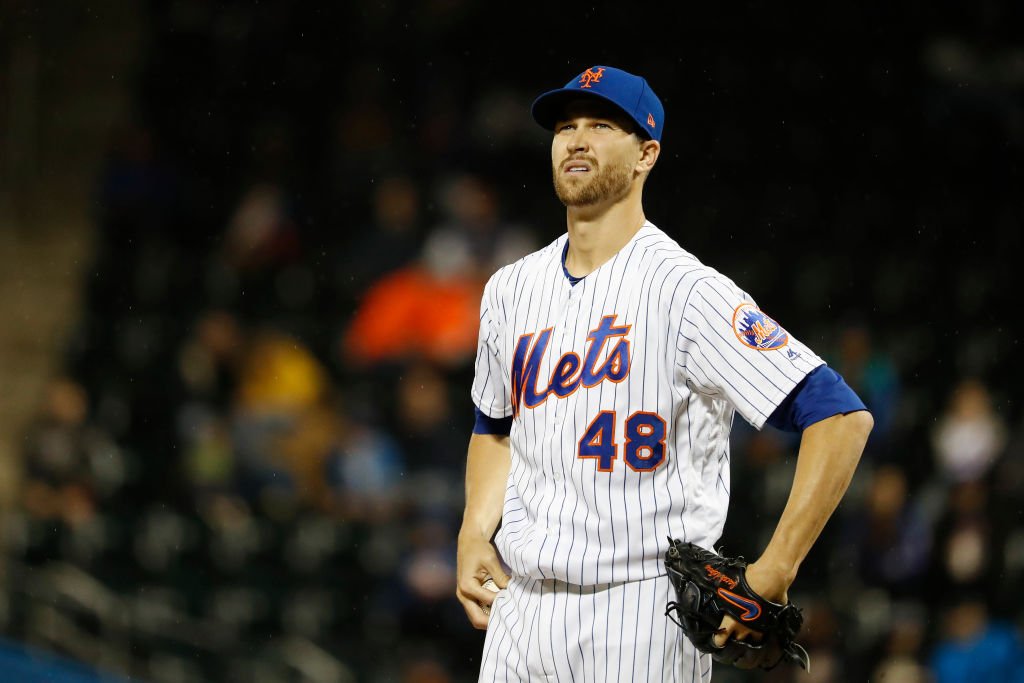 In past seasons, deGrom's been widely regarded as one of MLB's best pitchers with absolutely nasty stuff. This year? Not so much. The Mets' star has only a 3-5 record in 10 starts. His rotation mates Noah Syndergaard and Jacob Wheeler haven't fared much better: so far this season, the three have a combined ERA of 4.46. That won't win any Cy Young Awards, and it won't help the Mets crawl back into contention.
Joey Votto
In today's MLB, few teams are as synonymous with their team as Joey Votto is with the Cincinnati Reds. The opening day stalwart hasn't played for any other team but the Reds. That's why his numbers this year have been so confounding for the club. In 46 games, Votto had a paltry .208 average, a far cry from his career .309 mark. His low average wouldn't be as much of a problem if his power numbers were better, but he only has four home runs and 10 RBIs.

Votto is the franchise's most beloved player, but if he remains among the struggling MLB stars for much longer, he may force Cincinnati to ask some difficult questions about his status with the team.
Jose Ramirez
In 2017 and 2018, Ramirez was nothing short of a star for the Cleveland Indians. Take a look at his totals:

2017: 29 home runs, 83 RBIs, 17 stolen bases, .318 batting average, .374 on-base percentage, .583 slugging percentage
2018: 39 home runs, 105 RBIs, 34 stolen bases, .270 batting average, .387 on-base percentage, .552 slugging percentage
That is an All-Star to MVP-level caliber player trajectory. That's why this year's numbers are so confusing:

2019: 4 home runs, 15 RBI, 12 stolen bases, .198 batting average, .300 on-base percentage, .302 slugging percentage
Ramirez has regressed almost completely across the board, and his disappointing play is hurting the team. The Indians' lineup has struggled this year, and Ramirez's struggles are a big reason. If they want to contend, they'll need Ramirez to fix his issues fast.
Blake Snell
Every preseason ranking would have had either the Yankees or Red Sox in first place in the AL East. While the Yankees have moved into the top spot recently, for much of the first half, it's been the upstart Tampa Bay Rays leading the pack.

The Rays' ace, Blake Snell, has not been as big a part of their success as one might think. Snell went 21-5 last season on his way to the AL Cy Young Award, which earned him a spot among the game's best pitchers. This year? He's 3-4. His ERA is a respectable 3.31, so it may just be a lack of run support, but so far Snell has yet to capture the dominance he displayed in 2018.
Bryce Harper
Harper was the biggest catch of 2019's free agent class. He's had expectations so big, it would be difficult for anyone to live up to them in only half a season. That tends to happen when you sign a contract that, for a time, was the largest in baseball history. While it will take more time to evaluate Harper, he's underperformed so far, and Phillies fans might be starting to worry about it.

It's difficult to tell if Harper is suffering from the jitters associated with being in a new city or if this is evidence of a dip in production that started in 2018 with the Nationals. Either way, Harper and the Phillies have 13 more seasons together to figure out which it is.

Jose Altuve
With a 33-18 record through 51 games, the Astros and their powerful offense are well in control of the AL West. One unexpected occurrence for them, however, has been a slight dip in production from their best hitter: Jose Altuve. Altuve, the 2017 MVP and six-time All-Star, has only 21 RBI. He's also hitting .243 with an on-base percentage of .329. Both are his lowest totals since 2013. Many players would love to see those kinds of numbers, but for Altuve, it makes him one of the struggling MLB stars in 2019.

Bottom line? The Astros are still doing fine without Altuve having to dominate. But if they want to contend for a championship, they'll likely need their star to progress from having a down year to his usual high level of production.