Steelers' Alex Highsmith Will Complete Journey From Walk-On to Elite NFL Pass-Rusher
Alex Highsmith is a player that football NFL fans may not have been familiar with during the 2020 NFL draft. Highsmith won't need long at the next level to properly introduce himself.

Pittsburgh used the 102nd pick of the 2020 draft on Highsmith, a two-time All-Conference USA defender.
Here's why Highsmith, who turned into one of college football's most dangerous defenders at the University of Charlotte, stands to become a fearsome player in the NFL.
Alex Highsmith had a fascinating college journey
Alex Highsmith wasn't the typical under-recruited player who thrived at a mid-major program. Highsmith only joined the Charlotte 49ers as a walk-on because a rival high school's head coach's son was a GA at Charlotte.
Highsmith redshirted in 2015 and spent the 2016 and 2017 seasons as a reserve.
Then came 2018. Charlotte hired veteran defensive coordinator Glenn Spencer to the same role and Highsmith flourished. Highsmith emerged from nowhere to finish with 18.5 tackles for loss and three sacks.
Spencer took the same role at Charlotte's Conference USA rival, Florida Atlantic, weeks after the 2018 season ended. When new head coach Will Healy moved the 49ers' defense to a 4-2-5 scheme, Alex Highsmith totaled 21.5 tackles for loss and 15 sacks and helped Charlotte to its first-ever bowl game.
Highsmith will prove the doubters wrong in the NFL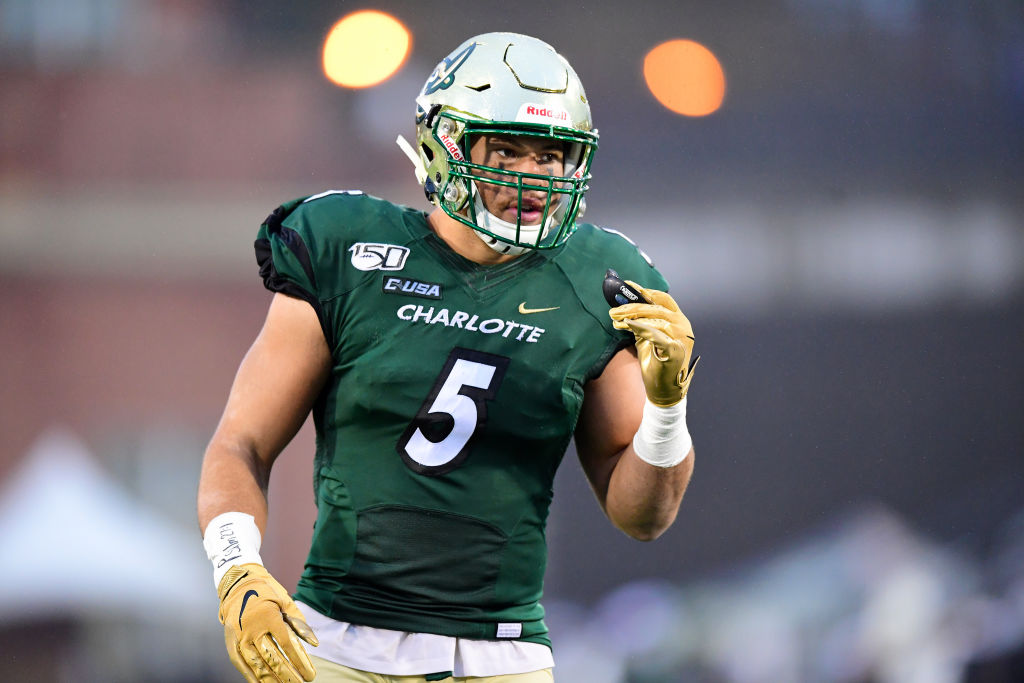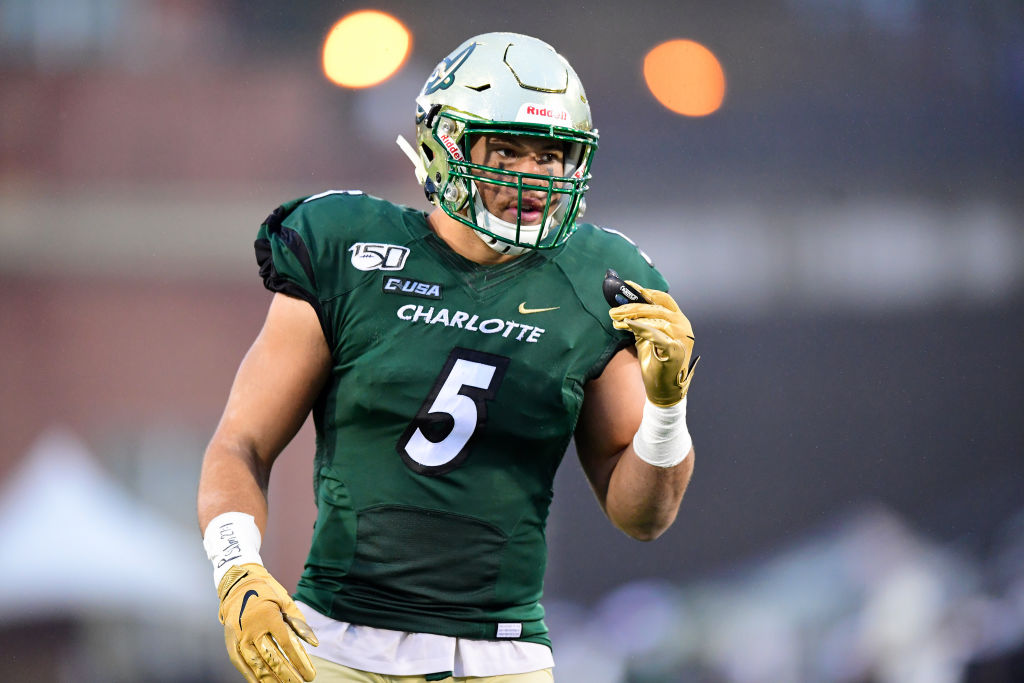 At 6-foot-3 and 248 pounds, Alex Highsmith enters the NFL with favorable size for a Group of 5 player. Pittsburgh thought highly enough of him to invest a third-round pick on the former walk-on.
Still, Highsmith's time at a mid-major leaves him open to concerns. NFL Media's Lance Zierlein believed Highsmith will be a backup and special teams player in the NFL. Zierlein wrote Highsmith needs to become "more violent" and leaves himself too vulnerable.
Zierlein praised Alex Highsmith's "jaw-dropping production jumps" and his athleticism. If Highsmith continues on the rapid development pace he showed at Charlotte, Zierlein wrote, the 6-foot-3 defender could become an intriguing NFL player.
"He's clearly put in work when it comes to creating a diverse inside/outside rush attack that has a chance to keep growing if he can weaponize his hands and improve his speed-to-power attack. His play is more finesse than physical and may not be ready for early downs in the NFL. He currently projects as an NFL backup but his ascending play and production could push him into a bigger role if he can get bigger and stronger."
Pittsburgh is grateful they drafted Alex Highsmith
The Pittsburgh Steelers took a far different route in their evaluation of Alex Highsmith. Steelers GM Kevin Colbert told reporters he expects Highsmith to play immediately. Head coach Mike Tomlin called Highsmith a "football junkie."
Tomlin noted Highsmith faces an adjustment as he moves from college football to the NFL. That transition will be made harder given Highsmith is going from Conference USA to the same division as Lamar Jackson.
Pittsburgh has five teams on its 2020 schedule that made the postseason last year. The Steelers need Highsmith, who may move to a more traditional linebacker role in the NFL, to catch on early and give the Steelers defense a needed boost.
Alex Highsmith has already completed the hardest part of his football journey. He went from under-recruited walk-on to one of college football's best defenders and an NFL draftee. His development on a talented Steelers defense will be one of the team's more noteworthy storylines next season.