Steelers All-Pro Minkah Fitzpatrick Slams Cris Collinsworth's Take on Defenseless Receivers in the NFL: 'It's a Violent Sport'
The Tampa Bay Buccaneers suffered a significant loss when wide receiver Chris Godwin went down with a knee injury during their Sunday Night Football loss to the New Orleans Saints. NBC Sports analyst Cris Collinsworth was not a fan of the hit and voiced his opinion. Pittsburgh Steelers safety Minkah Fitzpatrick took offense to the comments and slammed him for the controversial take.
Cris Collinsworth urges NFL to do more to protect defenseless receivers
The Tampa Bay Buccaneers suffered a crushing injury blow when Chris Godwin went down with a knee injury during the Week 15 loss to the New Orleans Saints.
The Pro Bowl wideout caught a pass across the middle of the field, but Saints defensive back P.J. Williams upended him. The low hit led to a season-ending ACL injury for Godwin.
Former NFL wide receiver and NBC Sports commentator Cris Collinsworth chimed in after he watched the hit by Williams. He suggested that those types of hits are legal by the book but that the league should ban them from the game.
"If that's not a defenseless receiver, I don't know what is," he said on the NBC Sports broadcast.
Collinsworth spent eight seasons as a wide receiver in the NFL and knows firsthand how difficult it can be for receivers to take hits while trying to catch a pass at the same time.
The league will almost certainly be reviewing its rulebook again after the 2021 season.
Steelers safety Minkah Fitzpatrick disagrees with the NBC commentator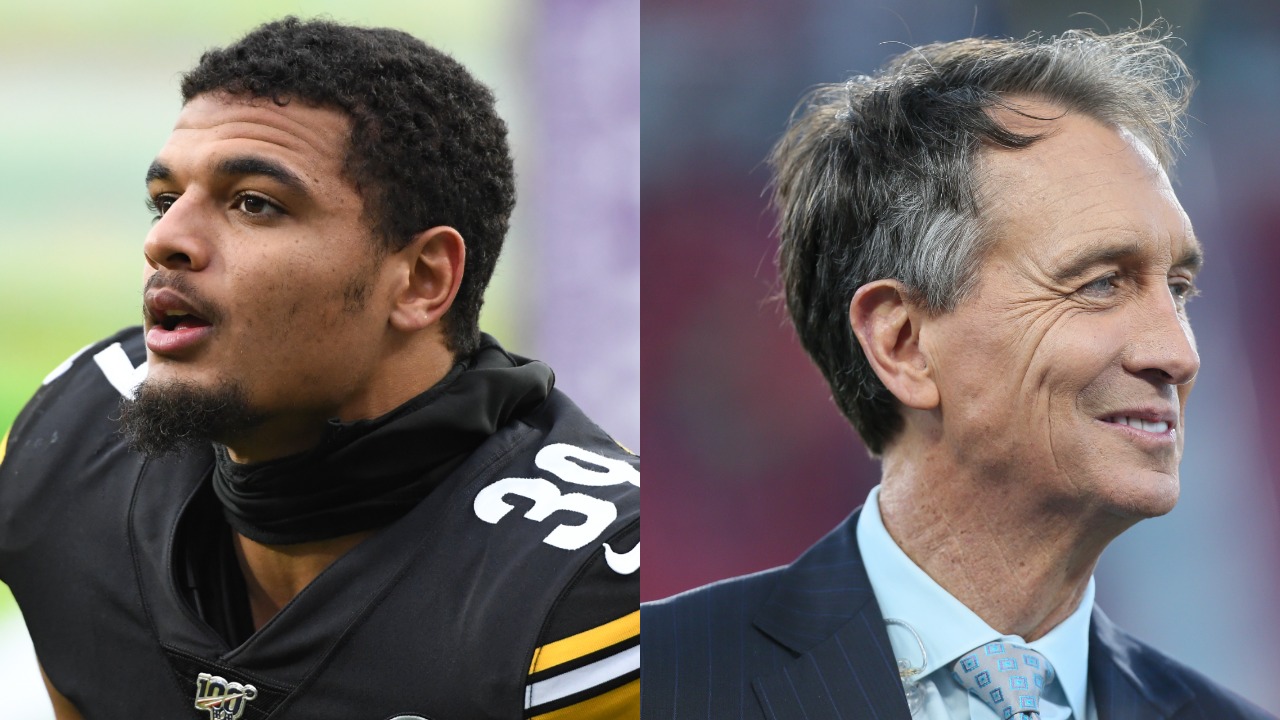 Player safety has become such a polarizing topic in the NFL over the past few seasons. The league has made changes to make the game safer all around. However, not everyone is on board.
Pittsburgh Steelers safety Minkah Fitzpatrick is all for protecting players as much as possible. Still, he doesn't agree with Cris Collinsworth's take on defenseless receivers.
The two-time Pro Bowler recently joined The Rich Eisen Show and spoke on the hot-button issue.
"C'mon, man," Fitzpatrick said while laughing. "I don't know what they expect us to do. You obviously don't want to get anybody hurt."
Fitzpatrick also recalled a penalty that referees called on him during the Week 14 game against the Minnesota Vikings. He got called for an unnecessary roughness penalty, which was the wrong call because he made contact with the receiver's shoulder pads.
"What are we doing, man?" the Steelers safety added. "A part of football is that it's a violent sport. People are going to get hit hard legally. People are going to get hurt. You don't want that, but it's part of the game."
Many of the league's rule changes make the game more difficult for defensive players
Minkah Fitzpatrick is one of the best defensive backs the NFL has to offer. He possesses natural talent, but he feels that he has to overthink how he plays.
"I have to think about how I'm hitting this person rather than going for the ball," he said. "I'm obviously not trying to take your head off. But I'm going to let you feel me. I'm not just going to let you catch the ball and make you feel comfortable catching it. I want to make you uncomfortable. It's part of the game."
Cris Collinsworth does make a valid point. Chris Godwin was a defenseless receiver in that instance. He's worried about making the catch and cannot avoid the hit.
On the flip side, P.J. Williams was trying to make a play. As the defender, only he can attest to what his intentions were. However, the NFL has left a gray area for what's acceptable when hitting a ball carrier.
The league has emphasized protecting quarterbacks and linemen from those types of blows. However, no defined rules are in place for defenseless receivers in those instances.
The NFL has tried to shift defensive players like Minkah Fitzpatrick away from administering hits near the head and neck area. As a result, many players have aimed lower. If the NFL removes hits below the waist from the game, it would further narrow the margin for error.
It's easy to say players should be able to adjust. However, they have to make a split-second decision in the middle of a play, which isn't the easiest thing to do.
Player safety must be a focal point, but it's impossible to eliminate the highly physical nature of football.
All stats courtesy of Pro Football Reference