Steelers Captain Cam Heyward Isn't Ready to Give Up After Ugly Loss to Chiefs: 'I'm Not Ready to Throw in the Towel'
The Pittsburgh Steelers have been one of the most inconsistent teams in the NFL this season, and Week 16 proved that once again.
As Mike Tomlin's team headed to Arrowhead Stadium for a huge matchup with the Kansas City Chiefs, this was undoubtedly a must-win contest for the Steelers. However, it was all Patrick Mahomes and the defending AFC champs on Sunday as the Chiefs destroyed the Steelers, 36-10.
Despite Pittsburgh's playoff hopes taking a massive hit, they aren't ready to give up just yet.
The Steelers fall flat against the Chiefs and drop further down the AFC playoff race
This game was all Kansas City from start to finish. The Chiefs' defense was dialed in again, Mahomes threw three touchdown passes, Byron Pringle (yes, Byron Pringle) caught a pair of scores, and they did all of this without star tight end Travis Kelce.
The Steelers, on the other hand, had a forgetful afternoon in Missouri. Ben Roethlisberger threw for just 159 yards with a score and an interception, and Mason Rudolph even appeared late in this game with the score clearly out of reach.
Najee Harris was the lone bright spot — finishing with 93 yards on 19 carries and adding another five catches for 17 yards. It was a discouraging effort from the Steelers, who dropped to 7-7-1 on the season to make their playoff chances even slimmer.
Yet, the Steelers aren't ready to pack it in, not yet.
Cam Heyward and Ben Roethlisberger aren't ready to give up just yet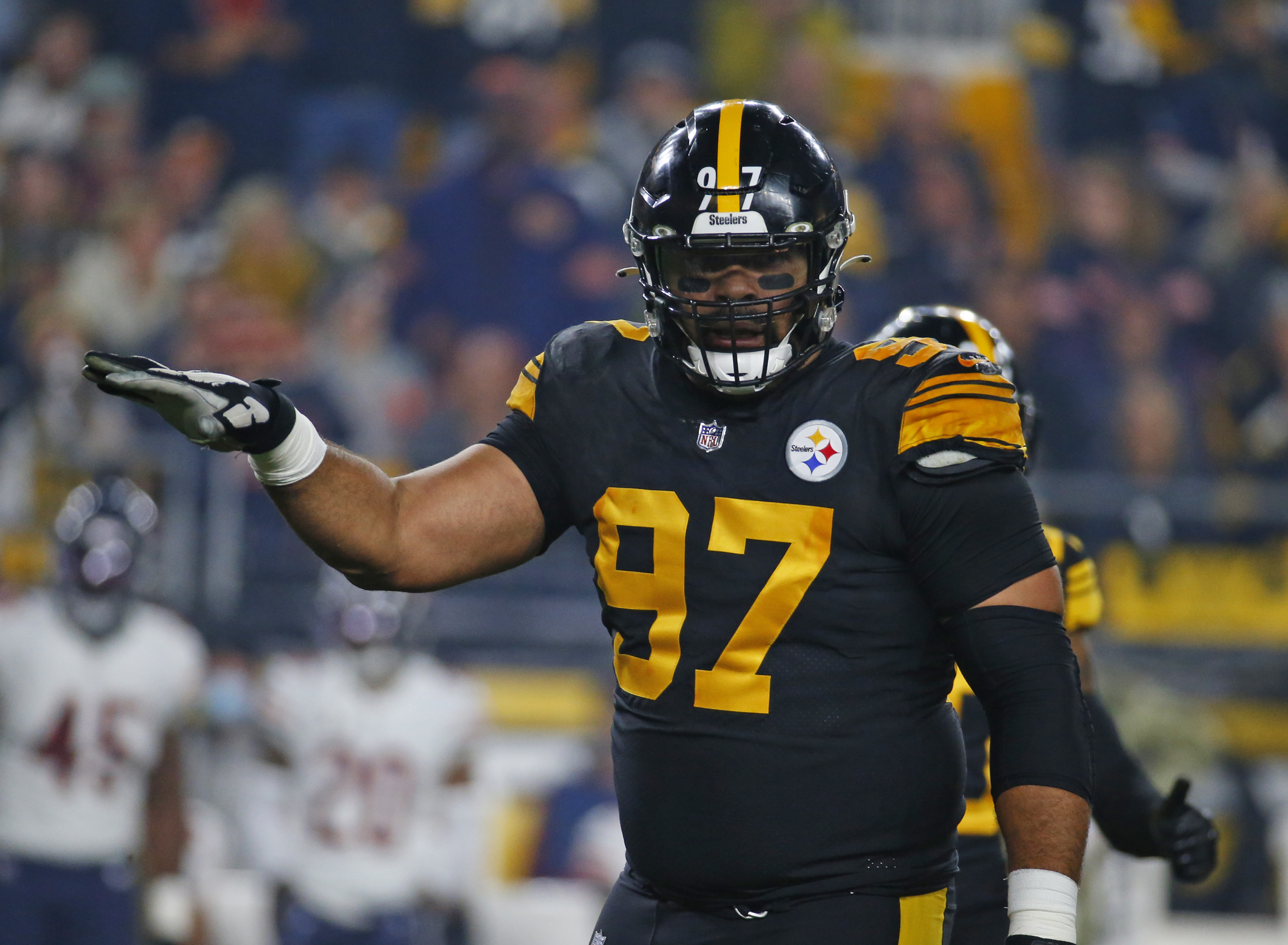 In the Steelers' last seven games, they have a 2-4-1 record. That isn't promising, and the fact they tied the Detroit Lions is even less encouraging.
However, the season isn't over, and Pittsburgh captain Cam Heyward wants to do everything in his power to not end on a sour note (h/t Ed Bouchette of The Athletic).
"It breaks my heart, not only letting our fans down but our team down, to go out like that. But, man, I'm not ready to throw in the towel."

Cam Heyward
With two games left, the Steelers will fight until it is officially over, and why wouldn't they?
Roethlisberger issued his thoughts as well as the legendary quarterback approaches the end of another season — and perhaps his career in the NFL.
"We got to get one win coming home. Big game Monday night. Let's focus on this one. That's going to be my message: Let's focus on one game, one opponent, try to get one victory and let's see what happens after that."

Ben Roethlisberger
Can Pittsburgh find a way to salvage this disappointing stretch and sneak into the playoffs?
It sure won't be easy, but at least they will go out swinging.
The Steelers playoff hopes are slim but definitely not unreasonable
The Steelers can forget this awful performance with a massive AFC North showdown against the Cleveland Browns — on Monday Night Football, nonetheless.
Going into Week 17, Pittsburgh is behind the Baltimore Ravens, Los Angeles Chargers, and the Las Vegas Raiders. The Miami Dolphins victory over the New Orleans Saints gave Tua Tagovailoa's team the No. 7 spot in the AFC, but a lot can change over the next two weeks.
The Steelers have to win these next two games to have a shot. Forst things first, the Browns, who themselves are in a must-win scenario at 7-8 and still clinging onto an outside attempt to sneak into the playoffs.
After that, the Steelers finish out with the Ravens. The good news? Pittsburgh has defeated both Baltimore and Cleveland this season.
The bad news? This team has a lot of issues, especially on offense, and has struggled to find ways to score.
But, there's a chance, and they aren't going to call it quits just yet.
Stats Courtesy of Pro Football Reference