Steelers Captain Slams Chase Claypool's Immature Plan to Save the Season Amid Struggles: 'I Hope He Was Kidding'
The Pittsburgh Steelers are in uncharted territory right now. The franchise hasn't posted a losing season since Mike Tomlin has been at the helm. With the 2021 NFL season winding down, the streak is becoming dangerously close to coming to an end. After Pittsburgh's most recent loss, Chase Claypool made a bizarre suggestion, which he believes will turn the season around. The Steelers' defensive captain, Cameron Heyward, disagrees.
The Steelers are reeling after embarrassing division loss
The AFC North is still up for grabs, but the Pittsburgh Steelers didn't do themselves any favors in Week 12.
The Cincinnati Bengals gave Pittsburgh a beatdown, winning 41-10 to sweep the season series. The Steelers struggled mightily on both sides of the football in this one.
Ben Roethlisberger and the offense mustered up just 301 yards of total offense. They couldn't get anything going against the much-improved Bengals defense. It was a rough day for Big Ben, who threw two interceptions and lost a fumble. Cincinnati also sacked him three times.
Defensive coordinator Keith Butler's unit had its hands full as well. The Bengals did most of their damage on the ground as they gashed Pittsburgh for 198 rushing yards and three touchdowns. Joe Mixon accounted for 165 yards and two scores on 28 carries.
The Steelers' defense couldn't stop a cold against Cincinnati. It spells trouble as they prepare for Lamar Jackson and the Baltimore Ravens.
Cameron Heyward isn't a fan of Chase Claypool's suggestion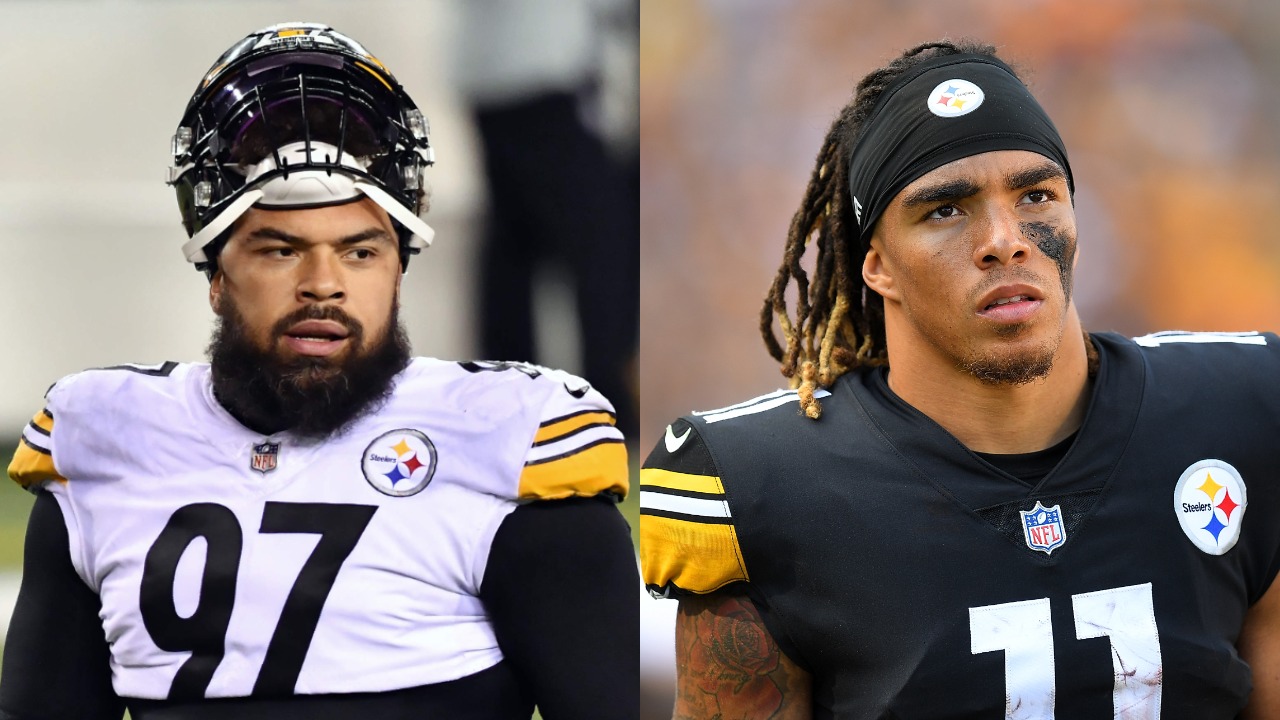 After the loss to the Bengals, the team agrees they need to make changes, and it starts with practice. When reporters asked Steelers wide receiver Chase Claypool about specific changes, he gave an interesting answer.
"We have music in warm-ups and that, so it's fun," said Claypool per Steelers Wire. "People are dancing, having fun. So I think maybe music would make practice more fun and a little more uptempo."
Surely, if the Steelers blasted music at practice to prepare for the Bengals, the outcome would've been different, right?
Four-time Pro Bowl defensive end Cameron Heyward didn't like Claypool's suggestion.
The defensive captain appeared on iHeart Radio's WDVE Morning Show to discuss the team's recent struggles.
"I hope he was kidding," said Heyward. "Because as soon as he said it, I was literally about to rip the speaker out. That is not what we need right now. It's Xs and Os, and it's execution."
The show's hosts suggested that Claypool wasn't kidding. Heyward responded, saying, "Well, he's going to be in shock because there's not going to be anything played during practice.
Heyward has played in Pittsburgh for 11 seasons, and he's been a part of some really good teams. He knows that Claypool's idea is not the answer.
Mike Tomlin needs to reel his team in
Cameron Heyward wasn't the only person in the Pittsburgh Steelers locker room who didn't care for Chase Claypool's remarks. Head coach Mike Tomlin weighed in as well.
"Claypool plays wideout, and I'll let him do that," said Tomlin per ESPN. "I'll formulate the practice approach, and I think that division of labor is appropriate."
Tomlin has a career 150-83-2 record as the head coach of the Steelers. He has a particular way of running things in Pittsburgh, but Claypool hasn't yet realized that.
Other NFL teams play music at practice, and if it works for them, fine. But, the Steelers have bigger issues than just musical entertainment at practice.
Claypool mentioned listening to music before games helps the team get up. Well, it clearly didn't work against Cincinnati.
The Steelers are known for being a tough and rugged football team. The 2021 version is anything but tough. Losing is not the standard for a Mike Tomlin-led squad. He needs to reel his players in quickly if Pittsburgh is to right the ship.
The Steelers are still in the playoff hunt, but they'll be out of it soon if they don't work on their mental toughness.
All stats courtesy of Pro Football Reference