Steelers' Joe Haden Intercepted His Childhood Idol — Then Got a Nice Surprise
Joe Haden, like plenty of kids in the 2000s, grew up admiring Atlanta Falcons quarterback Michael Vick. Unlike the majority of those kids, Haden eventually had a chance to play against Vick in an NFL game.
Before he became a Pro Bowl cornerback, Joe Haden was still a young player finding his way when he intercepted childhood idol Michael Vick. But even Haden, then with the Cleveland Browns, couldn't predict what happened next.
Joe Haden has had an impressive NFL career
RELATED: Baker Mayfield Is Already the Best Quarterback in Modern Browns History
It seems hard to believe that just a couple of years ago, there were genuine concerns that Joe Haden's career was nearing the end. The seventh overall pick from the University of Florida in 2010, Haden is one of the Cleveland Browns' top first-round picks in the last 20 years.
Haden snagged six interceptions as a rookie and made his first Pro Bowl four years later. An extremely physical corner, Haden broke up at least 18 passes in four of his first five seasons.
As with all players who suit up for the Cleveland Browns, though, the magic eventually wore out. Injuries limited Haden to just five games in 2015 and the Browns released him in August 2017 for financial reasons.
Haden signed with the rival Steelers immediately after the Browns cut him. After two decent seasons in Pittsburgh, last year was one of Haden's best years as a pro.
Joe Haden intercepted five passes, broke up another 17, forced a fumble, and recovered a loose ball last year. Pro-Football-Reference measured his approximate value at 11, his highest since 2013.
Haden grew up a huge Michael Vick fan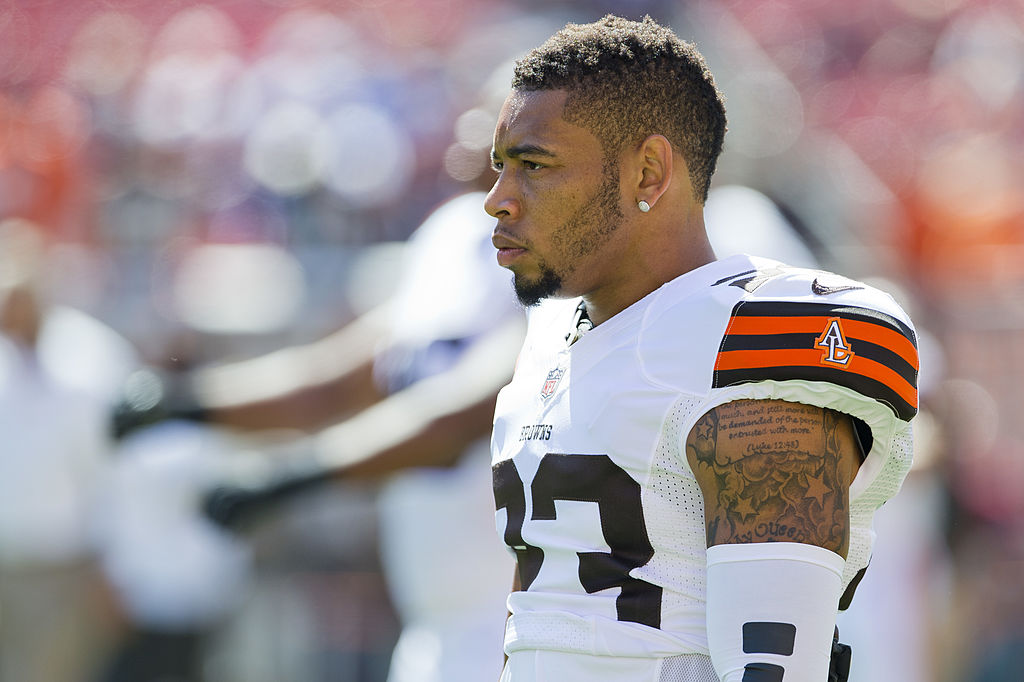 RELATED: Should Michael Vick Earn Hall of Fame Consideration?
Before he was infamously involved in a dog fighting scandal, Michael Vick was one of the NFL's most popular players. Vick was an electrifying dual-threat quarterback with a rocket for an arm and an elusiveness that running backs would kill for.
The No. 1 overall pick in 2001, Vick completed 56.2% of his passes for 133 touchdowns and 88 interceptions. He also ran for 6,109 yards and 36 touchdowns on seven yards per attempt.
Vick became the first NFL quarterback to run for over 1,000 yards in a season in 2006.
Football fans also loved Michael Vick for how dangerous he was in the Madden football video game series. Gamers considered Vick a "cheat code" because of his high ratings, both passing and rushing.
After a prison sentence, Michael Vick returned to the NFL in 2009. By 2012, Vick was the Philadelphia Eagles' starting quarterback and Joe Haden had a key role in the Cleveland Browns' future.
Joe Haden intercepted Michael Vick in 2012
RELATED: Kellen Winslow Jr.'s Frightening Fall From Browns Star to Convicted Rapist
There's a saying: 'Never meet your heroes, because they're sure to disappoint you.' Joe Haden may not have been disappointed when he played Michael Vick, but he was definitely surprised.
Cleveland hosted Philadelphia in the 2012 season opener. Philadelphia led 10-6 and had the ball at Cleveland's 36-yard line late in the third quarter. Vick threw a short pass that Joe Haden snagged after a deflection.
The speedy Haden had plenty of space to potentially score a touchdown. Joe Haden recently recalled the surprise he got after the interception.
"I went to start running it back and [Vick] tackled me. I was running, I moved someone — and he's so fast, though. … It was just all crazy."
Philadelphia escaped with a 17-16 victory despite Vick's four interceptions. The two spoke after the game and exchanged pleasantries.
Not only did Joe Haden meet his hero, but he walked away with a positive experience he'll never forget. For once, happiness happened in the Factory of Sadness.