With Steelers Wideout JuJu Smith-Schuster Out for the Season, the Diontae Johnson Show Is Ready for Primetime
The 2021 NFL season has been a rough one so far for the Pittsburgh Steelers, and the hits keep coming. JuJu Smith-Schuster, once thought destined for superstardom, is likely going to miss the rest of the season with a shoulder injury.
His loss will be felt by an offense that is scoring only 18.8 points per game, led by a quarterback in Ben Roethlisberger who looks to be a few seasons over the hill.
Things look bleak, but there could be some hope left remaining in the Steel City.
The bad news: There will be a loss of production without JuJu Smith-Schuster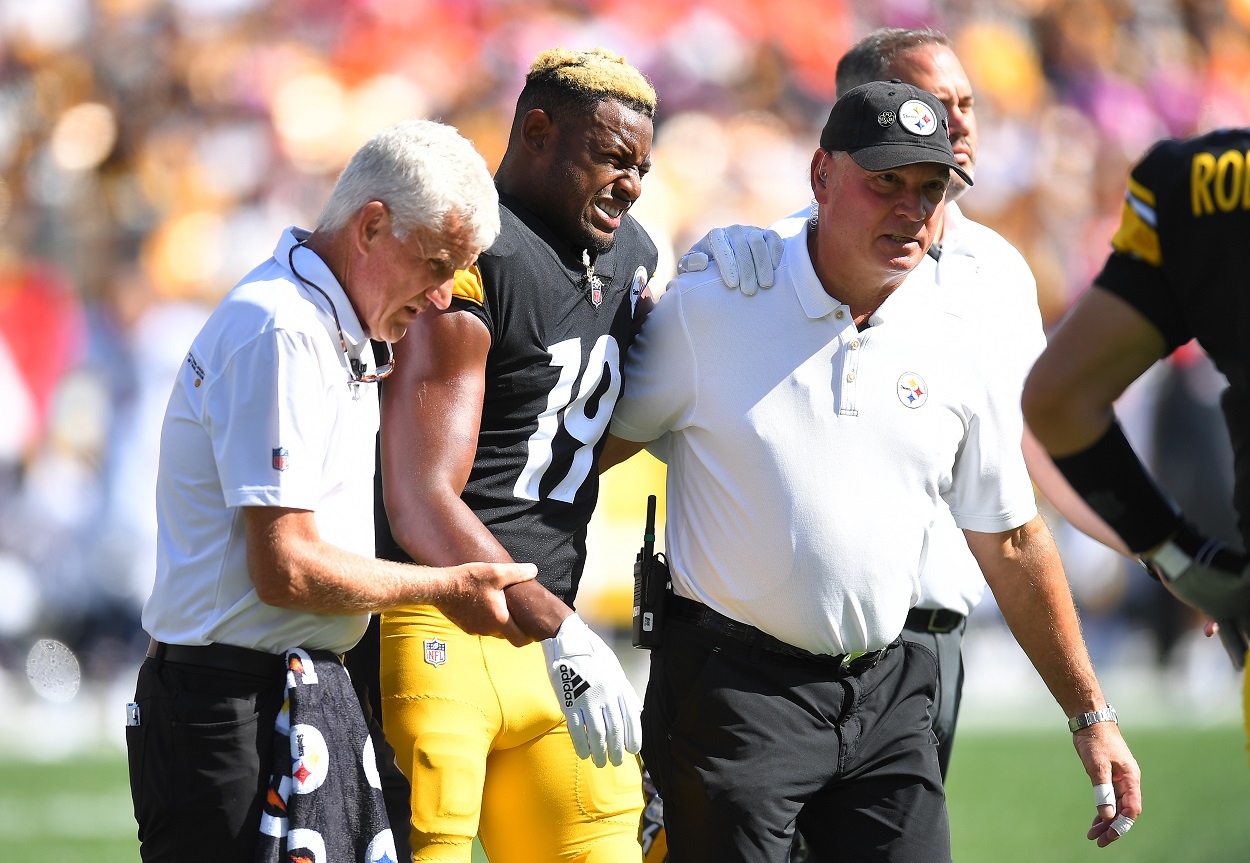 While not the Steelers' most talented receiver anymore given the emergence of Chase Claypool, Smith-Schuster is a proven player in a league that prioritizes veteran play. He's also coming off a 2020 season that saw him snag nine touchdowns (tied with Claypool) and 831 receiving yards. That's nothing to scoff at.
He notched seven touchdowns in each of his first two seasons, and he's even been known to run the ball occasionally. He has a score on the ground in 2021. Unfortunately, his shoulder injury was a direct result of having the ball in his hands on a jet sweep.
According to Ian Rapoport, the wideout will get shoulder surgery and is expected to miss the rest of the season.
Has Smith-Schuster lived up to the hype that surrounded him coming out of USC in the 2017 NFL Draft? Probably not. With that said, he has, at the very least, been a reliable target for Roethlisberger and not half-bad for a second-round pick.
Hope for Pittsburgh: It's time for Diontae Johnson to explode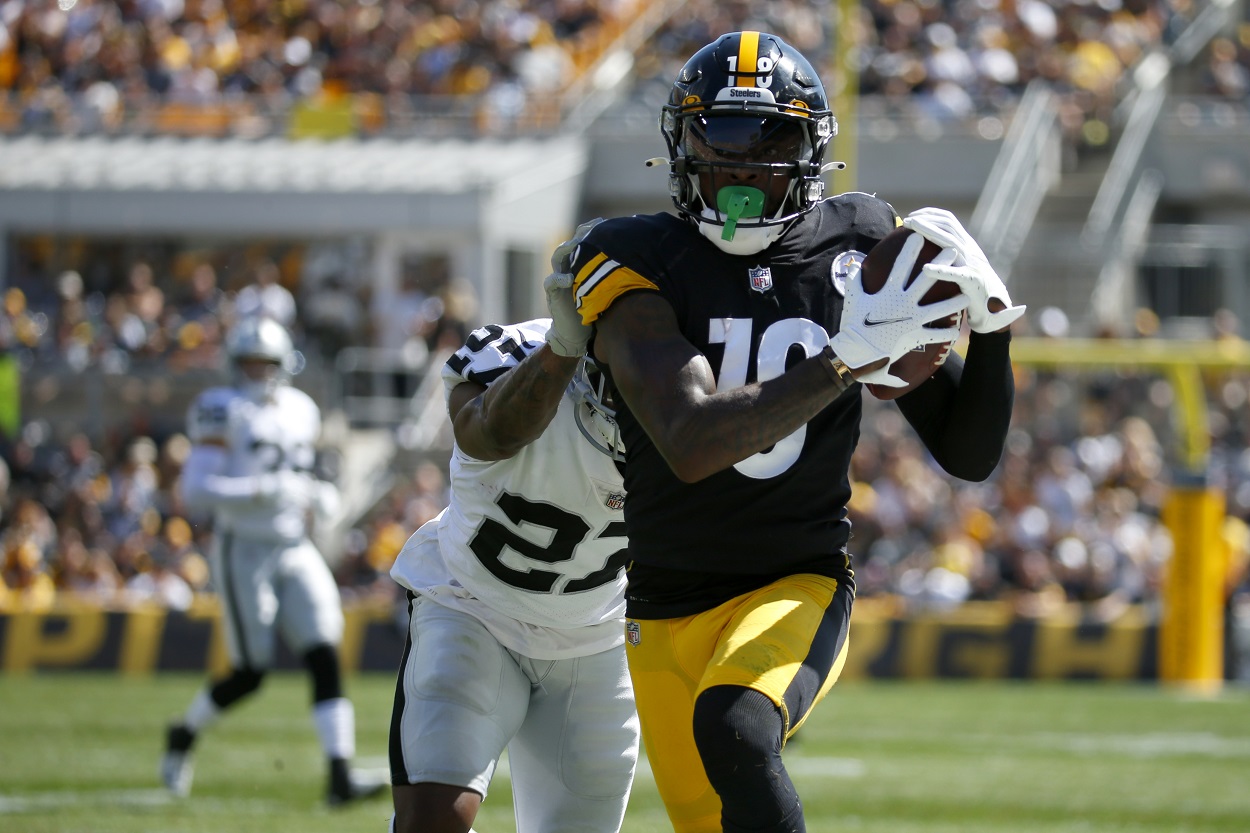 At 2-3 and at the bottom of the AFC North, the Steelers need to build on Week 5's win against the Denver Broncos to even sniff the postseason. The Smith-Schuster news hurts, but Steelers fans can dry their tears with a Terrible Towel laced with Diontae Johnson's incredible potential.
Johnson currently leads Pittsburgh in receiving touchdowns with three, and he's becoming a big-play threat downfield. That says something considering Roethlisberger's accuracy problems. The good news for Pittsburgh is he now also has a reliable track record of being a playmaker.
Johnson's rookie season saw him snag five total touchdowns. In 2020, he finished with seven. With three scores through five games in a struggling offense, Johnson has proved himself a true threat. Checking in with 76.3 yards per game and 12.3 yards per catch, he's become every bit as consistent as Claypool for the Steelers.
With Smith-Schuster now gone for the season, defenses know Johnson is going to be Big Ben's undisputed 1B option behind Claypool. Johnson has proved thus far during his time in black and yellow that he's up to the task.
He's ready for his prime-time challenge.
Pittsburgh's offensive production ultimately comes down to Roethlisberger
Don't get it twisted. Claypool is still Pittsburgh's marquee receiver.
He's a physical specimen at 6-foot-4, 238 pounds, and he's lived up to his expectations as a 2020 second-round pick from Notre Dame. Claypool finished the 2020 season with 873 receiving yards and nine touchdown receptions. So far through 2021, he leads the team in receiving yards with 341 despite missing Pittsburgh's loss to the Green Bay Packers.
Johnson was a far less heralded draft pick coming out of Toledo in the third round of the 2019 NFL Draft, but he has been every bit as dynamic for the Steelers and is starting to put it together in what looks like a quick ascension to NFL stardom.
The Steelers are also hashtag blessed with a potential star running back in rookie Najee Harris out of Alabama. He only has two rushing touchdowns and 307 total rushing yards so far this season, but he is a dual-threat running back who can be an option in the passing game. He does have 28 catches for 198 yards and a score in 2021.
Whether it's Claypool, Johnson, or Harris, Pittsburgh does have the offensive weaponry to score points in today's NFL.
The issue, as it has been over the past few seasons, is Roethlisberger and his quickly diminishing skillset.
Ultimately, that's where Johnson can really help the Steelers this season. Though he has made some big plays down the sidelines, he's far from a vertical-only threat. He's quick and sure-handed on underneath routes and near the sticks.
That makes him an all-around weapon for a Steelers offense that needs him to keep playing like an emerging star.
Stats courtesy of Pro Football Reference
RELATED: Ben Roethlisberger's Dramatic Decline Came At The Worst Possible Time For 1 Steelers Teammate With Money On His Mind