The Steelers' Massive $14 Million Dilemma Is Opening the Door for Lamar Jackson and Baker Mayfield to Take Control of the AFC North
The Pittsburgh Steelers are laboring at the moment. There's no way around that reality.
Despite their shocking Week 1 victory over the Buffalo Bills, Mike Tomlin's typically consistent team struggled to follow it up in Week 2 and Week 3. They lost 26-17 to a Derek Carr-led Las Vegas Raiders club and then looked rather helpless against Joe Burrow, Ja'Marr Chase, and the rest of the Cincinnati Bengals.
Plenty of good teams are getting off to slow starts this year (the Kansas City Chiefs are also 1-2, for example). However, what makes the Steelers' sluggish play extra concerning is that it primarily results from poor quarterback play. According to at least one NFL reporter, the Steelers themselves are internally growing more worried about the issue themselves.
Ben Roethlisberger is the Steelers' biggest issue
Many speculated if the Steelers would make a long-awaited change at the quarterback position this past offseason. Ben Roethlisberger turned 39 years old in March, and there were actually a handful of starting-caliber quarterbacks available to be acquired.
Matthew Stafford, Carson Wentz, Sam Darnold, and Teddy Bridgewater were all traded to new teams. Five rookie QBs were selected in the first round of the 2021 NFL Draft as well.
Instead, the Steelers opted to lean on their own veteran and restructured Roethlisberger's contract down to $14 million to keep him on the roster for another season. For the sake of context, the Steelers did go 12-4 last year and won the AFC North. It's pretty reasonable to avoid messing with things too much following such a productive regular season.
Fast forward to 2021, and concerns regarding Roethlisberger's diminishing play are quickly beginning to emerge in the Steel City.
Roethlisberger is off to a career-worst start
Even when factoring in the Steelers' Week 1 victory over Buffalo, Roethlisberger is off to an atrocious start this season. His QBR (quarterback rating) sits at 35.5 through three games, which would be a career-low for the future Hall of Fame gunslinger should he maintain this pace.
Roethlisberger is averaging an interception per game, and he's fumbled twice. It's pretty safe to say things aren't going too well for the Steelers' longtime franchise QB.
Roethlisberger is also battling a pec strain at the moment, further making his ability to play good football a challenge.
While it's still early in the season, alarm bells are already going off in the Pittsburgh front office. According to CBS Sports' Jason La Canfora, the team is privately discussing their QB's list of flaws.
Even Roethlisberger's most staunch supporters within the Steelers' organization have privately raised some concern, as the future Hall of Fame quarterback has dealt with injury issues for several years now, and his productivity has been waning for quite some time. Roethlisberger, who took a considerable paycut to remain with the Steelers for 2021, is also lacking anything close to the supporting cast he enjoyed during his peak years.

Jason La Canfora, CBS Sports
The Steelers are opening the door for Lamar Jackson and Baker Mayfield to take over the AFC North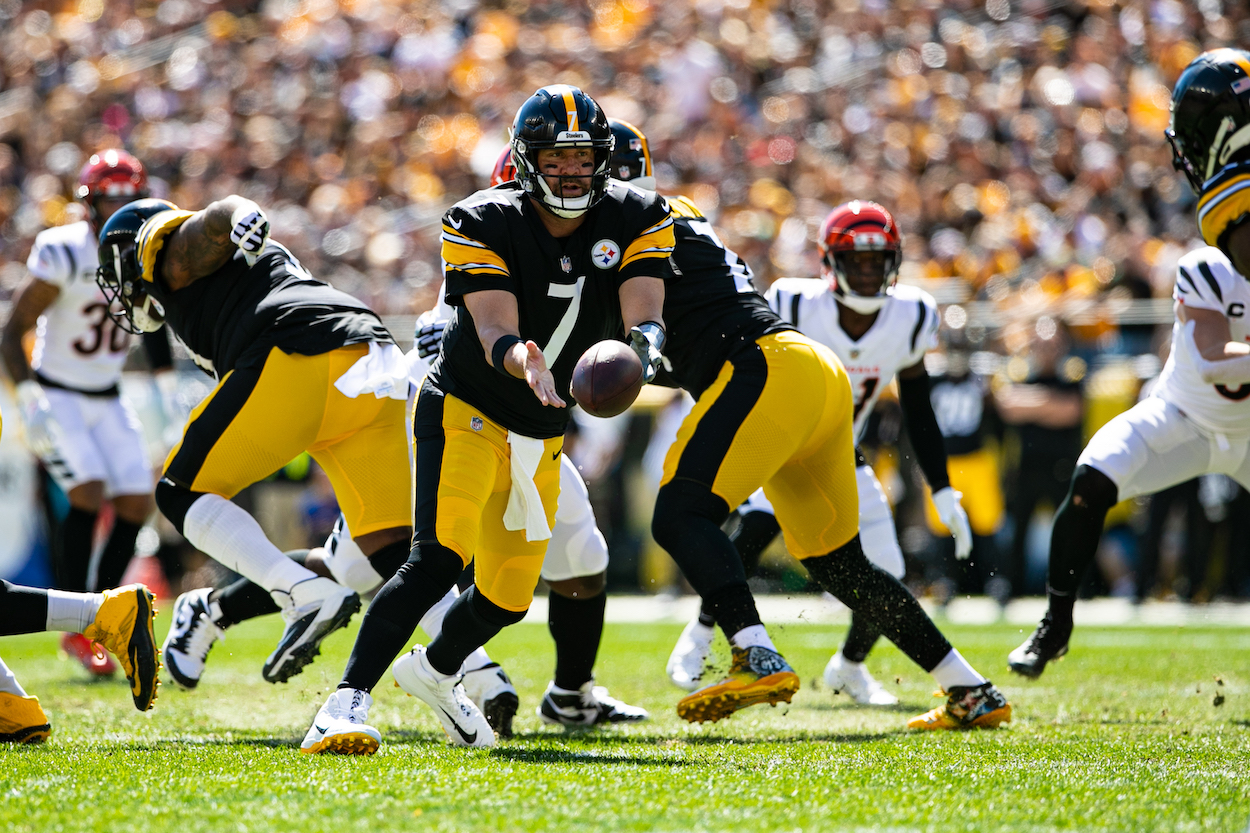 For the past decade-plus, the Steelers have been the team to beat in the AFC North. The Baltimore Ravens have had a few spurts of dominance, but Pittsburgh has always remained a top contender no matter what. Pittsburgh head coach Mike Tomlin has yet even to record a losing season in his 14-year NFL career.
However, with the Steelers' QB plunging into regression, the reign of Pittsburgh may finally be crashing down. The Ravens and Cleveland Browns each have flashy franchise quarterbacks of their own, and they're both looking to become mainstays in the AFC postseason bracket.
With Burrow now healthy after an early ACL tear, even the Bengals appear to be trending in a better direction than the Steelers.
The tricky part for Pittsburgh is that they can't really fix this issue anytime soon. They're paying Roethlisberger $14 million whether they want to or not, as the dead cap to release him this season is too large to justify ($36.2 million).
Barring a miraculous turnaround from "Big Ben," the Steelers have to wait till 2022 to make a change at QB. This gives the Ravens and Browns plenty of time to secure their grasp on the AFC North moving forward.
All stats courtesy of Pro Football Reference.
RELATED: The Steelers Just Sent a Terrifying Message to the Rest of the NFL, Which Has Major Implications on Nick Bosa and the 49ers