Steelers Quarterback Dwayne Haskins' Vow Renewal in Las Vegas Went Horribly Wrong
Steelers quarterback Dwayne Haskins allegedly lost a tooth while on a mission to renew his wedding vows. The 24-year-old visited a hotel in Pittsburgh earlier this month with his wife, Kalabrya Gondrezick-Haskins, when the incident occurred. According to police reports, the duo experienced an altercation that resulted in Gondrezick-Haskins punching her husband in the face. The event nearly cost Haskins his job and millions of dollars.
Dwayne Haskins denies claims of missing tooth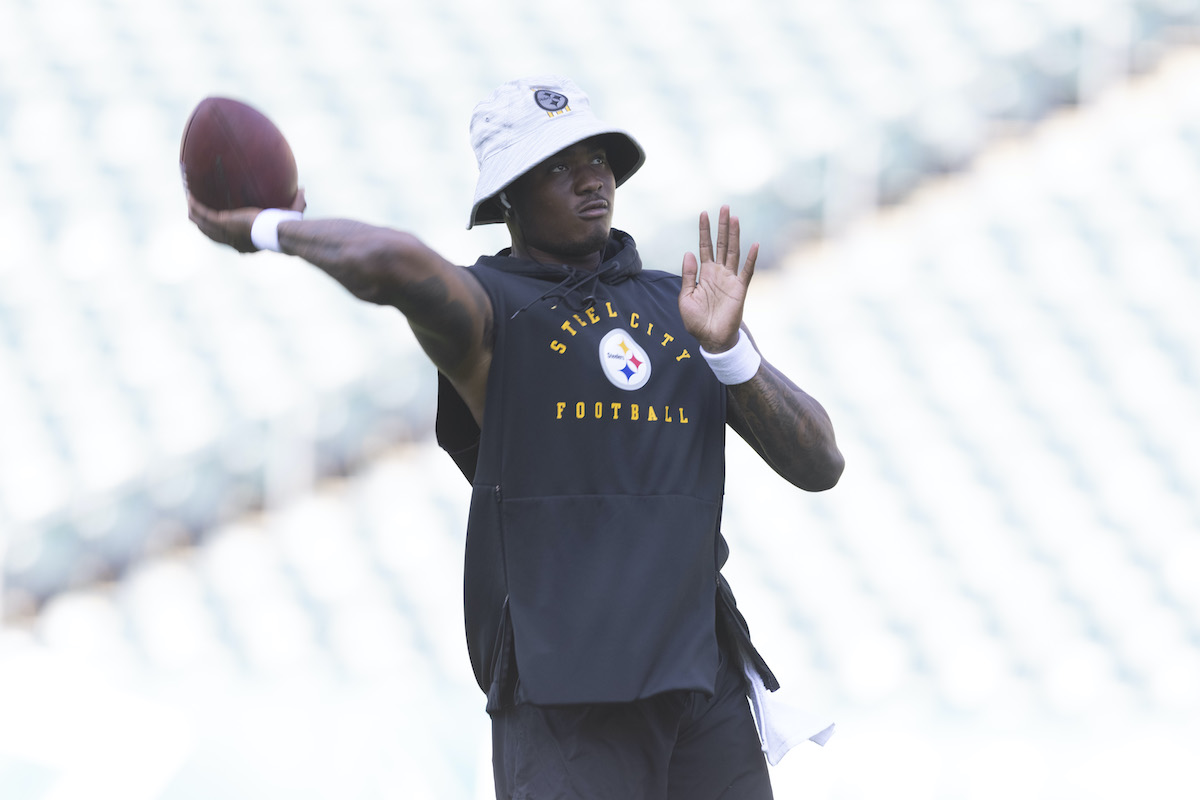 It's unclear what triggered the altercation, but Gondrezick-Haskins claimed that her husband neglected her. According to ESPN, the quarterback's wife accused Haskins and his friends of leaving her and her friends as they visited a nearby nightclub. Gondrezick-Haskins allegedly punched Haskins in the face, resulting in a split lip and a missing tooth.
Through his Instagram account, Haskins quickly refuted these claims, asserting that none of his teeth are missing. He assured his fans that he is in good shape, and they should not believe everything they hear from the media. Gondrezick-Haskins "faces a felony charge of battery and domestic violence resulting in bodily harm," reports ESPN.
Haskins risks losing a fortune as his time with the Steelers doesn't appear promising. Such incidents are against NFL ethics and code of conduct; any player who violates set protocols risks having his contract canceled.
Is Haskins on a mission to taint his image?
In addition to the Las Vegas incident, Haskins has been involved in other law-breaking incidents that further taint his image. Recently, the quarterback was seen, maskless, in a club with a stripper — disregarding the team's Covid-19 protocols.
According to NFL rules, all players must wear a mask regardless of location. It appears like Haskins is on a mission to defy NFL protocols and doesn't mind the consequences. However, the turn of events might not be in his favor, as he was fined $40,000 for a mistake he could have easily avoided.
These recent incidents seem to jeopardize Haskins' NFL career and could land him in more trouble. The Washington Football Team officially released him from the team on December 28, 2020. However, since his acquisition by the Steelers, Pittsburgh fans have been pleased with his performance, reports TribLive.
Nonetheless, Haskins isn't the only NFL player who has been involved in such unfortunate events recently. In July, Richard Sherman was arrested after an incident in Redmond, Washington. The free-agent cornerback received five charges: driving under the influence, reckless endangerment of roadway workers, criminal trespass in the second degree (domestic violence designation), resisting arrest, and malicious mischief in the third degree (domestic violence designation). He pled not guilty to all five charges, according to NFL.com.
The NFL's take on domestic violence and breach of protocols
The NFL condemns domestic violence. Any player accused of committing such a crime risks losing his career. The league advocates respect for all and requires that every player exercise morality at all times. In the past, players have risked being excluded from NFL games for being involved in domestic violence.
According to USA Today, Ray Rice was suspended for two games for allegedly being involved in a domestic quarrel with his fiancé in February 2014. In 2015, New York Giants kicker Josh Brown was suspended for one game for hitting his wife. Also, in 2019, Tyreek Hill was accused of domestic violence and kicked off of his team. However, Hill was reinstated due to a lack of evidence. After the wide receiver pleaded guilty on charges of domestic abuse, he received three years of probation
Related: Quarterback Dwayne Haskins Forgot about 1 NFL Fee When He Signed His $14.4 Million Contract: 'Taxes Are No Joke'
How to get help: In the U.S., call the National Domestic Violence Hotline at 1-800-799-7233 or text START to 88788.