The Steelers Starting Mason Rudolph Doesn't Sit Well With Ryan Clark
For the first time in nearly two decades, Ben Roethlisberger won't have a spot in the Pittsburgh Steelers locker room. The future Hall of Fame signal-caller called it a career after the 2021 season, and Mike Tomlin and the Steelers are left searching far and wide for a replacement.
The NFL Draft seems like a terrific starting point, although the QB class of 2022 isn't anywhere close to the 2021 class. The top options might be better off holding a clipboard in their rookie season rather than being named a Day One starter.
The Steelers could also try to win one of the sweepstakes: Russell Wilson, Jimmy Garoppolo, and Aaron Rodgers are a couple of big names who have been rumored to Pittsburgh. But, despite all of that, the Steelers are reportedly prepared to have Mason Rudolph as their starter in 2022 — at least according to general manager Kevin Colbert.
Former Steelers star Ryan Clark was not fond of that idea and went on to fire a stern warning to the Steelers on Get Up.
Ryan Clark is not a fan of the Steelers starting Mason Rudolph — not one bit
Clark is not on board with Rudolph as the starter for Pittsburgh going into the 2022 season and he is spot on with this assessment.
Rudolph is clearly not the answer, and the fact that Colbert gave him a ringing endorsement is problematic.
"Excited" and Rudolph in the same breath is something. After watching Roethlisberger man the QB position for such a long time, going to Rudolph right after is a massive disappointment — and Clark let it be known that he would basically disown the Steelers if that is the case.
One of the most passionate fanbases in all of sports would not be thrilled with this move, especially with the lofty expectations they have been used to for decades and decades.
The Steelers must look for better options. They have to.
A deep dive into Mason Rudolph's numbers as a starter line up with Clark's reasoning perfectly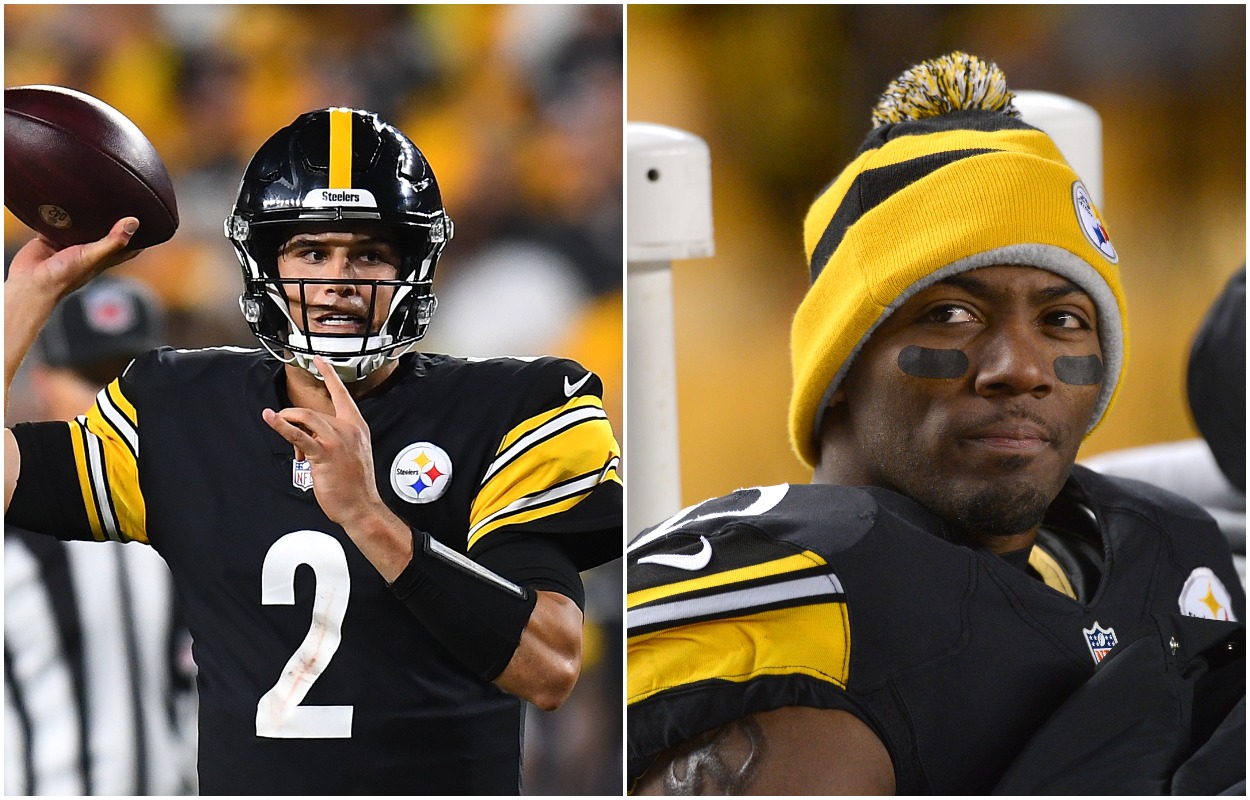 Rudolph isn't an exciting option for anybody. Yet, for some reason, the Steelers feel confident about him as the starter — or so they say.
In 2021, he started just one game. It came against the Detroit Lions when Roethlisberger landed on the COVID-19 reserve list — and Rudolph's numbers weren't pretty. He went 30-50 for 242 yards with one touchdown and an interception and ended in a tie with the winless Lions.
This throw speaks for itself.
Rudolph didn't start any games in the 2020 season, and his biggest sample size by far came in 2019. Roethlisberger suffered an elbow injury, and Rudolph started eight games.
His final line for the 2019 campaign was 1,765 yards with 13 touchdowns and nine interceptions, which isn't terrible. Still, these aren't numbers that scream playoff QB, and with the offensive weapons and the solid defense in Pittsburgh, all they need is an average QB.
Rudolph isn't that, and Clark knows it.
If only Pittsburgh would listen to its former safety.
There are plenty of options for Pittsburgh to look at
As of now, Colbert and the Steelers are considering Rudolph as the starter in 2022. However, a lot can change before September rolls around, especially when Colbert leaves his GM position after the NFL Draft.
Still, there are plenty of fish in the sea. Kenny Pickett, the Pittsburgh star who was a Heisman Trophy finalist, makes too much sense for the Steelers and might be there in the first round when their pick comes around at No. 20.
Jimmy Garoppolo is another viable option, and the San Francisco 49ers are likely to deal him and name Trey Lance as the starter.
Some other options include, but are not limited to, the following:
Marcus Mariota
Mitchell Trubisky
Jameis Winston
Teddy Bridgewater
Gardner Minshew
Carson Wentz
Dwayne Haskins (in-house)
You could make an argument that every single one of those options is better than Rudolph. But, somehow, Colbert is feeling good about Rudolph.
If the Steelers don't make a move in free agency or nab a QB in the NFL Draft, things might get ugly in the Steel City.
Stats Courtesy of Pro Football Reference
RELATED: Antonio Brown Sends Ben Roethlisberger a Bold Message After the Steelers Legend Retires From the NFL