Stefon Diggs Humbly Gives Julio Jones His Flowers: 'In Our Era, He's Always Been the No. 1 Receiver'
Stefon Diggs was ranked higher than Julio Jones on NFL Network's NFL Top 100 list. Despite the discrepancy, the Buffalo Bills wideout respects the impact Jones has had throughout his NFL career.
Only the legendary Jerry Rice has enjoyed a better 10-year run than the 6-foot-3 playmaker. Diggs has watched Jones his entire career and gave the Tennessee Titans star high praise.
Stefon Diggs says Julio Jones is the best wide receiver of this era
Julio Jones came in at No. 29 on the NFL Top 100 list, 18 spots lower than his ranking in 2020. There's been somewhat of a changing of the guard at the wide receiver position. Younger players like Stefon Diggs, D.K. Metcalf and Davante Adams have elevated their play.
However, the universal respect for Jones has not wavered. Diggs said the Alabama product "has always been the No. 1 receiver" in this era of pass-catchers. The Bills star credited him for his "longevity" and praised his game, saying Jones "can do it all."
Tampa Bay Buccaneers receiver Chris Godwin added that he's a "physical specimen." Washington Football Team wideout Terry McLaurin loves Jones' "attention to detail."
He may not be the best wide receiver in the league from a production standpoint. Still, pass-catchers in today's game take bits and pieces of Julio Jones' offensive package and implement them into their game.
Jones is a future Hall of Famer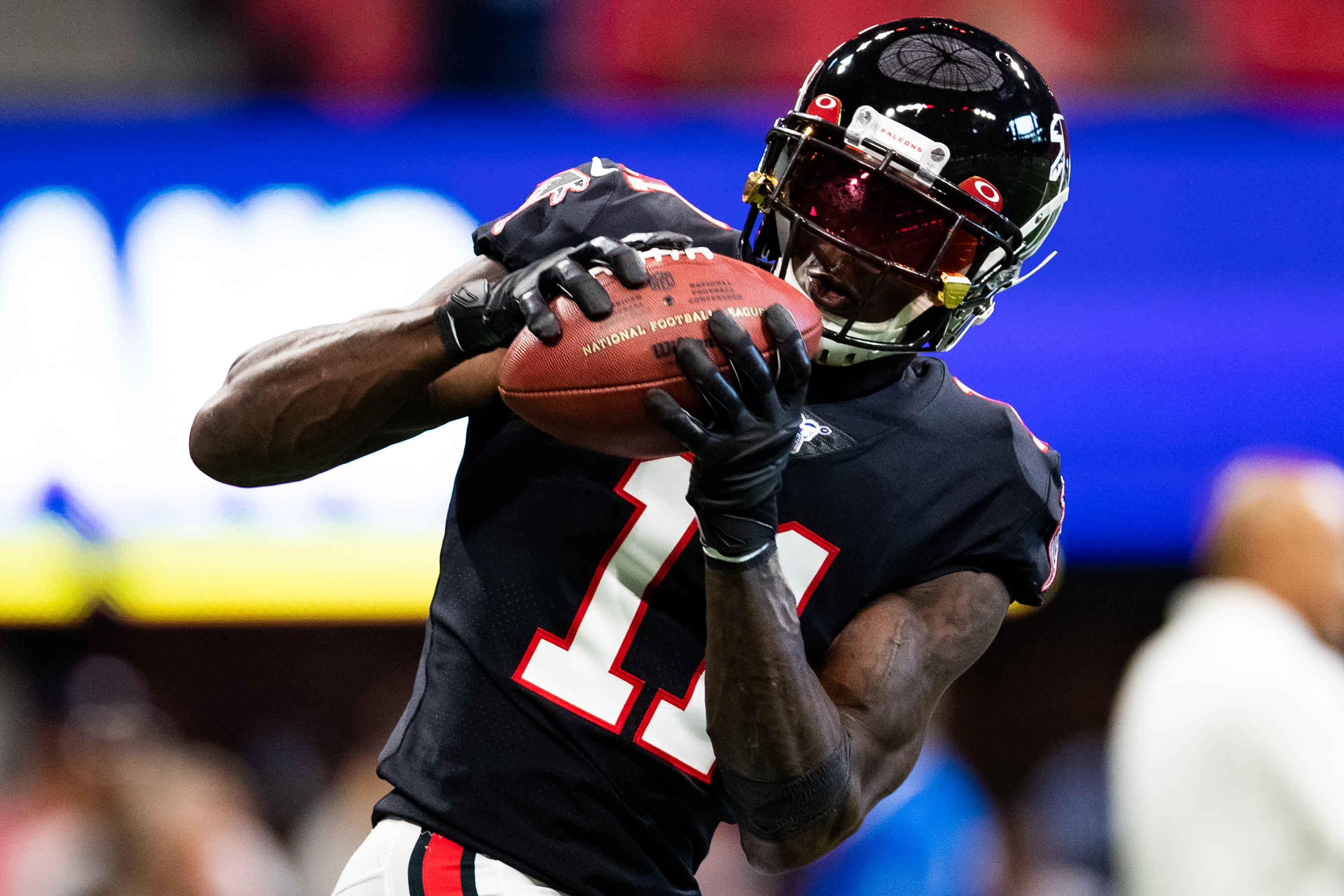 The Atlanta Falcons drafted Jones with the No. 6 overall pick in the 2011 NFL Draft out of the University of Alabama. He established himself as an exceptional talent right out of the gates. As a rookie, he recorded 54 receptions for 959 yards and eight touchdowns. The Foley, Alabama native hasn't looked back since.
In 10 seasons, Jones has caught 848 passes, amassing 12,896 yards and 60 touchdowns. He's put together 1,000-yard efforts in seven of the 10 seasons. He is the Falcons' all-time leader in receptions and receiving yards. Even if he retired today, he'd be a sure-fire Hall of Famer with those numbers.
Jones is a matchup nightmare for opposing defenders. Only a few names can rival his unique combination of size, strength, and speed. He's also been consistently one of the league's premier route-runners. This skill allows him to routinely create separation and get open more often than not.
He's battled some injuries over the past few seasons, so his numbers could be even better.
Julio Jones is looking to continue his legacy with the Titans
The Tennessee Titans acquired Jones from the Atlanta Falcons in the offseason. The seven-time Pro Bowler will play opposite a rising star at the wide receiver position in A.J. Brown.
Brown is entering his third NFL season and campaigned for the team to trade for Jones. Learning from one of the best should help the Ole Miss product take his game to new heights. The Titans are contenders in the AFC, and adding an All-Pro receiver will make them more formidable.
He's seen a decline in touchdowns over the past several seasons. Injuries and poor offensive game plan appeared to be the biggest culprits for those low totals. Derrick Henry is a workhorse, and defenses have to account for him. The run opens up the pass, and Jones and Brown will have plenty of opportunities for big plays in this offense.
Julio Jones doesn't exactly have fresh legs, but at 32 years old, he has plenty left in the tank. He'll be out to prove that in 2021.
All stats courtesy of Pro Football Reference