Stephen A. Smith Has a Message for Golden State Warriors: Adding Ben Simmons Gets Stephen Curry Another Ring
The Philadelphia 76ers bowed out of the NBA Playoffs on June 20. That's long before the top seed in the Eastern Conference ever expected to go home. Much of the blame has been heaped upon All-Star Ben Simmons in the wake of their early exit. Trade speculation has been at a fever pitch basically since the buzzer sounded to end Game 7 against the Atlanta Hawks. Even Stephen A. Smith is playing general manager on a potential Simmons deal.
On his Stephen A's World, he responded to a question sent to his Twitter account about Simmons' future. Smith had a destination in mind for the former Rookie of the Year and two-time All-Defensive selection.
Ben Simmons was one of the two pillars the Philadelphia 76ers would build around, along with Joel Embiid. What went so far off the rails to have fans and media alike trying to book Simmons a one-way ticket out of Philly?
Ben Simmons and the incredible shrinking impact
The Philadelphia 76ers were heavily favored to blast through the Hawks in the Eastern Conference semifinals. Atlanta was the No. 5 seed and had a nice, if mild, upset of the New York Knicks in the first round. But the Hawks had little playoff experience, and the 76ers were too much for them. Right? Well, about that.
Atlanta won three of the four games played in Philadelphia, including both Games 5 and 7. Just the Game 7 loss was a rarity; only 31 teams have lost a Game 7 at home in NBA Playoffs history. But only seven previous teams lost both Games 5 and 7 on their homecourt. Those teams:
Philadelphia 76ers, 1968 Eastern Division Finals to the Boston Celtics
Milwaukee Bucks, 1974 NBA Finals to the Boston Celtics
San Antonio Spurs, 1981 Western Conference semifinals to the Houston Rockets
Phoenix Suns, 1995 Western Conference semifinals to the Houston Rockets
Boston Celtics, 2005 Eastern Conference first round to the Indiana Pacers
Golden State Warriors, 2016 NBA Finals to the Cleveland Cavaliers
Los Angeles Clippers, 2017 Western Conference first round to the Utah Jazz
It's hard not to hold Ben Simmons at least partially accountable. He didn't attempt a shot in the fourth quarter after Game 2 in the series. His free-throw shooting in the series was a dismal 33.3% (15-of-45), so coach Doc Rivers had to take his best playmaker off the floor late in games. Simmons averaged 8.6 assists per game, which is good, but they needed more than 9.9 points on 6.4 shots a night.
Stephen A. Smith has a plan for Simmons
When asked what the best move the Golden State Warriors could make this offseason, Stephen A. Smith didn't hesitate to say they should acquire Ben Simmons from the 76ers.
"Put Ben Simmons in Golden State with Klay (Thompson) and Steph (Curry) and watch what the hell happens. … They'd win the ch'ip next year as far as I'm concerned."

Stephen A. Smith
Simmons plus Klay Thompson and Stephen Curry equal a fourth ring for the two Warriors veterans. So says Stephen A.
He would bring a dynamic defensive presence to the Warriors. Along with Draymond Green, Golden State would have two highly switchable bigs, which would make it hard to attack.
Offensively, it seems there could be a fit for the Warriors and Ben Simmons at first glance. But maybe it's not quite that clear-cut.
Ben Simmons is excellent at what he does offensively, but he's not well-rounded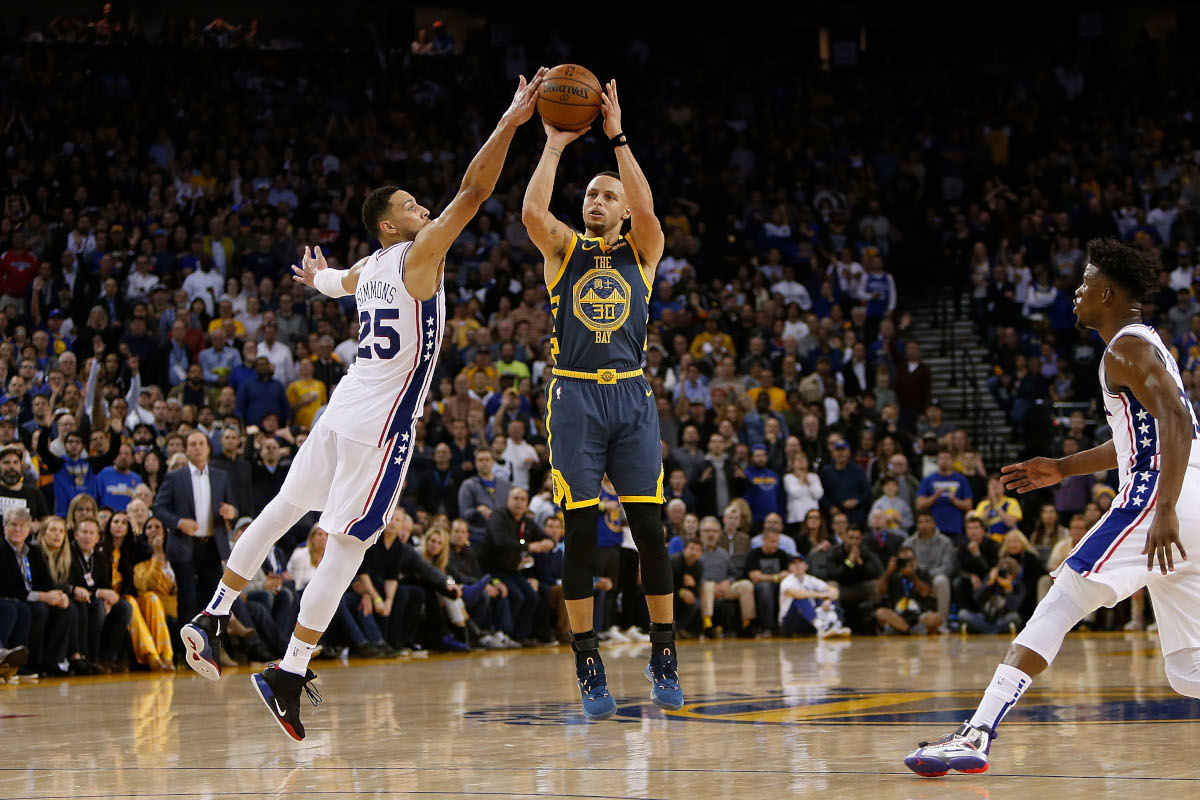 Get him going downhill on drives, and Ben Simmons is a devastating offensive player. He can drive, dish, and pull up in the paint from about 10 feet in. You can run your offense through him with Simmons as the primary ball-handler. He will give you solid work on the offensive glass.
But that is all he will do.
As for the Warriors, Curry and Thompson give them the shooters to open the floor. Green has functioned as the primary initiator on offense as often as not during Golden State's most recent run. But do you need two point forwards? Would Green and Simmons effectively step on each other's toes?
Could you even play Green and Simmons together? Let's assume last year's No. 2 overall pick, James Wiseman, isn't thrown into a trade package to get Simmons. Can Thompson and Curry provide enough spacing on their own for Green, Simmons, and Wiseman not to turn the painted area into the Bay Bridge at quitting time?
Ben Simmons is a superior, if limited, talent. He's had four NBA seasons to figure out how to expand his game, though, and it hasn't yet happened. He's still 24 years old, so he's certainly got time to develop. But given the near-complete lack of progress on that front so far, it's not a given it will ever happen for him.
Statistics and historical data courtesy of Basketball Reference and Stathead.