Stephen A. Smith Blames LeBron James for a Recent Event He Had Nothing to Do With: 'It's All His Fault'
LeBron James is looking to win more championships with the LA Lakers. However, the Brooklyn Nets appear to be a team standing in his way. Kevin Durant and Kyrie Irving were already on the Nets at the start of this season. Brooklyn, though, has since added James Harden, Blake Griffin, and LaMarcus Aldridge. While trading for James Harden earlier in this season really changed the entire landscape of the NBA, the recent signings of Griffin and Aldridge could ultimately be what makes the Nets unbeatable once the postseason rolls around.
LeBron James, obviously, had nothing to do with the Nets' recent moves. ESPN's Stephen A. Smith, though, just blamed him for them.
The Brooklyn Nets recently added Blake Griffin and LaMarcus Aldridge
The Brooklyn Nets were already the favorites to come out of the Eastern Conference with Kevin Durant, Kyrie Irving, and James Harden. They ultimately traded for the latter earlier this season, and he has since become an MVP candidate in Brooklyn.
However, their recent acquisitions potentially just made them unbeatable and could completely alter the competitive balance of the NBA for the rest of this season.
After agreeing to a buyout with the Detroit Pistons, six-time NBA All-Star Blake Griffin signed with the Nets earlier this month. Then, less than a month later, seven-time NBA All-Star LaMarcus Aldridge also signed with the Nets after agreeing to a buyout with the Spurs.
Many fans, and even some players, have complained that these moves could make the NBA postseason and NBA Finals uncompetitive. Some people blame Kevin Durant for this, too, especially after seeing him join a 73-win Golden State Warriors team in 2016. ESPN's Stephen A. Smith, though, ultimately believes that Lakers superstar LeBron James is indirectly to blame for this, and for players forming superteams to win championships in general.
Stephen A. Smith blames Lakers star LeBron James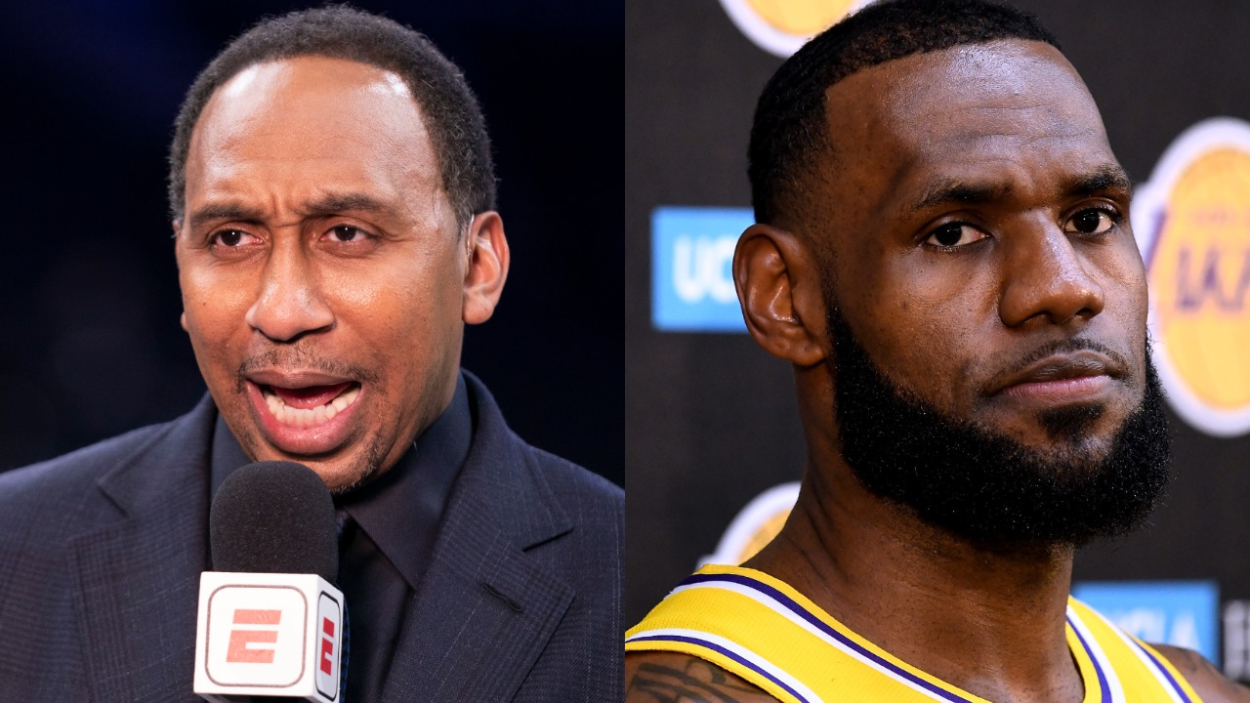 ESPN's Stephen A. Smith recently appeared on his show First Take, and while discussing Aldridge going to the Nets, Smith said that he blames LeBron James for this newest superteam, as well as the others.
"You know who I ultimately blame for all of this? I blame LeBron James — it's all his fault," Smith said on the March 29 episode.
Of course, Smith blames LeBron James for the fact that he went to the Miami Heat to win championships with Dwyane Wade and Chris Bosh. He then returned to the Cleveland Cavaliers to win a championship with Kyrie Irving and Kevin Love.
"First of all, you go to [South Beach]," Smith said. "Remember when they won the championship in Cleveland, and then the next year he came back and he added [Dwyane] Wade to the mix, and you add Deron Williams to the mix as well? You tried to do something like that in order to repeat as champions."
Smith did have his years a little off. Deron Williams played with the Cavaliers during 2016-17, the year after they won the title. Dwyane Wade, though, didn't play in Cleveland until 2017-18 once Kyrie Irving was no longer on the team. But you get his point; he is blaming LeBron James for players forming superteams to win championships.
So, is he right? Is LeBron James to blame?
Is LeBron James to blame for players forming superteams to win championships?
Yes, LeBron James created superteams on the Heat and Cavs before Kevin Durant did it on the Warriors and now the Nets. That Miami Heat team was incredible with their three superstars in James, Dwyane Wade, and Chris Bosh. The Cavs were also great with Kyrie Irving, Kevin Love, and other guys like J.R. Smith.
Before James' run of dominance with the Heat and Cavaliers, though, the Boston Celtics were the team that everyone wanted to beat in the Eastern Conference. Paul Pierce, Kevin Garnett, and Ray Allen led Boston to two NBA Finals appearances and one championship in three seasons from 2007-08 through 2009-10. While that team may not have been as strong as the Heat were with James, Wade, and Bosh, or even the Nets are now with Durant, Irving, and Harden, the Celtics were really one of the first superteams in recent memory that didn't create its roster mostly through the draft.
So, while Stephen A. Smith has a right to blame LeBron James for continuing the trend of forming superteams to win championships, he probably shouldn't be directing the blame toward him for starting it.
Either way, it appears that superteams will be a part of the NBA landscape for years to come. It will be interesting to see if the Nets can achieve what the Celtics, Heat, Cavaliers, and Warriors all did and that's win an NBA championship.
Stats courtesy of Basketball Reference