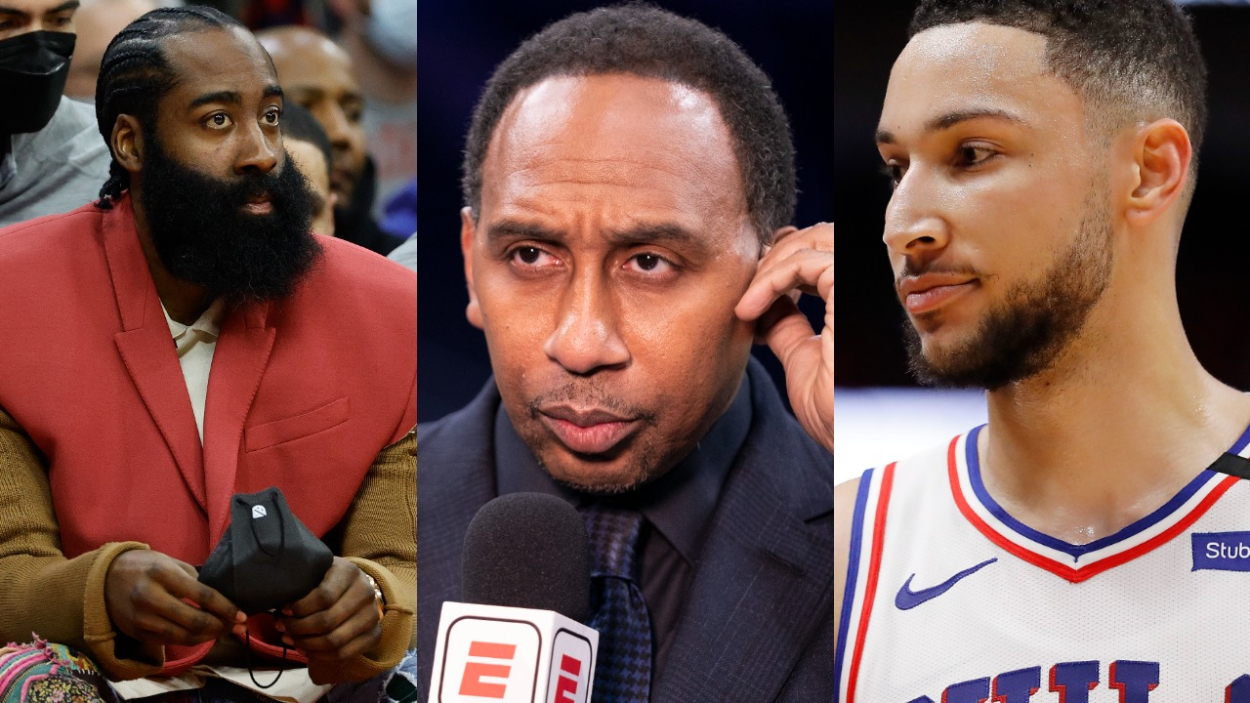 Stephen A. Smith Blasts James Harden, Ben Simmons, and Other Entitled NBA Stars: 'You're Not Showing up to Work, but You're Still Demanding to Get Paid'
James Harden and Ben Simmons essentially forced their respective teams to trade them, and ESPN's Stephen A. Smith has an issue with them and other entitled NBA stars.
In 2010, LeBron James, Dwyane Wade, and Chris Bosh kicked off the NBA's player empowerment movement by joining forces on the Miami Heat. Executives no longer called the shots about who played where; the players did.
However, stars like James Harden and Ben Simmons have since taken it to another level — and not in a good way. Instead of just switching teams in free agency or respectfully requesting a trade, they both forced their organizations to send them elsewhere.
While Harden and Simmons got what they wanted and are now on new teams, ESPN's Stephen A. Smith has a problem with how they behaved. He recently blasted Simmons, Harden, and other entitled stars for their selfish actions.
James Harden and Ben Simmons forced their respective teams to trade them
Last season, James Harden essentially became a nuisance for the Houston Rockets, so much so that they had to trade him. Houston sent him to the Brooklyn Nets in a four-team blockbuster deal.
However, after a failed stint in Brooklyn, Harden finally landed with the team he wanted to go to all along, the Philadelphia 76ers. The Nets traded him to Philadelphia for Ben Simmons last week.
Some think Harden may have faked an injury to ditch Kevin Durant, Kyrie Irving, and the Nets. The 2017-18 NBA MVP worked on stepback jumpers in practice with the 76ers (h/t NBC Sports Philadelphia) just days after missing games with Brooklyn due to a hamstring injury.
Whether he was actually hurt or not, though, Harden did what he had to do to get to Philly.
"For me, I think just the relationship that I had in Houston, it was basically mutual, but everything was on me, and same in the last situation," Harden said of player empowerment during his introductory press conference with the 76ers, per SNY. "For the most part, we can control our own destiny. Not that I'm saying it's a good thing or bad thing."
As for Simmons, he requested a trade from the 76ers this summer and sat out until Philadelphia agreed to the trade with the Nets. In other words, he refused to go to work until he got his way.
And Stephen A. Smith has a problem with that.
Stephen A. Smith blasted James Harden, Ben Simmons, and other entitled stars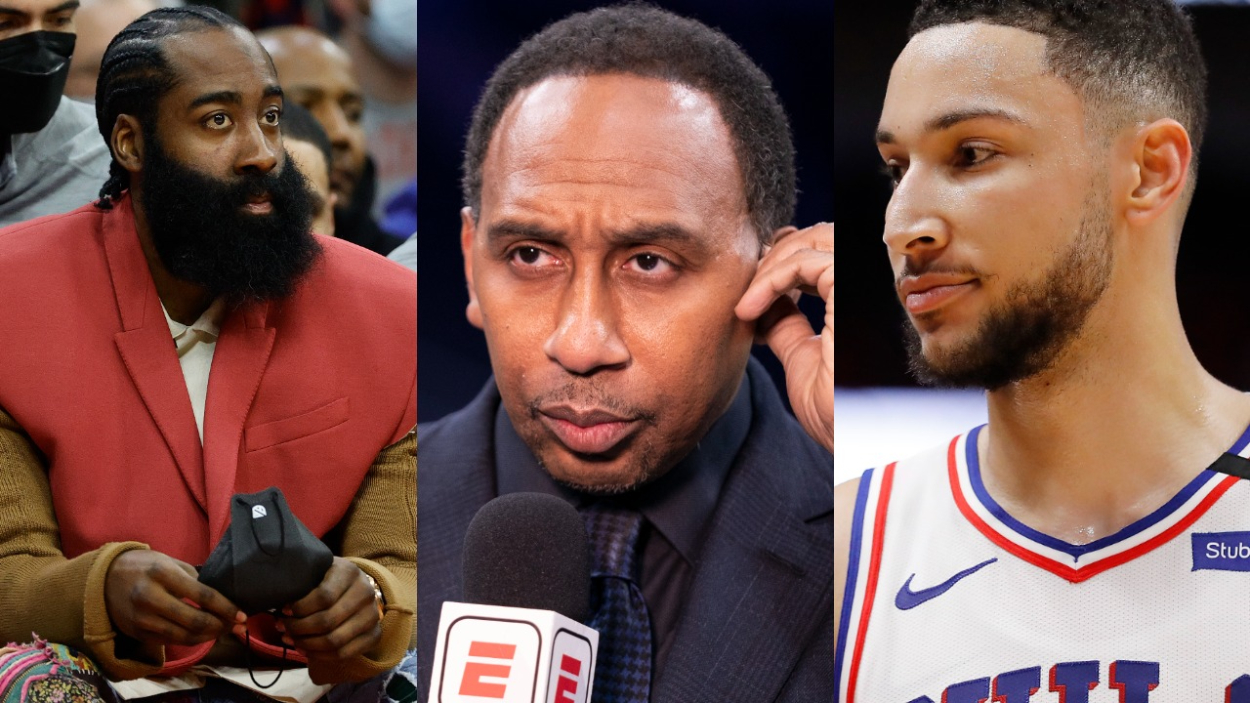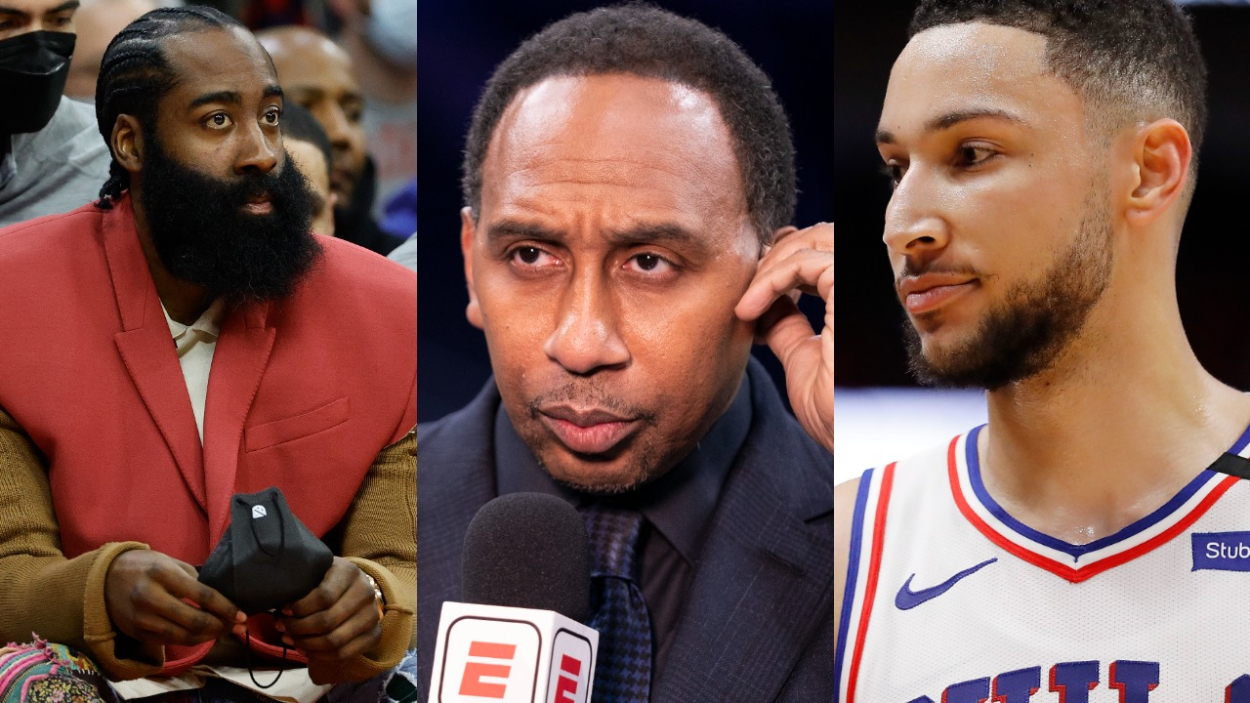 Yes, James Harden's injury may have been legit. But from the outside, it looked as if he was refusing to play until the Nets finished a deal. Ben Simmons' actions in Philly were similar.
Their selfishness worked, though, and they both got what they wanted.
However, it appears Stephen A. Smith wants to hold them accountable.
"I want to take a moment to thank LeBron James. I want to take a moment to thank Michael Jordan, to thank Kobe Bryant, to thank people like that who came before the modern-day era, even though LeBron James is still playing," he said on the Feb. 16 episode of NBA Countdown. "I'm talking about stars who were the marquee, and no matter where they went, no matter what truculent behavior they might have executed or put on display, no matter what was going on — they showed up to play."
Smith added that he doesn't think the drama surrounding each situation is the biggest issue. The players not showing up to work is the problem.
"That is what has changed in this day and age," Smith said. "Not with 95% of the athletes. I'm talking about some, not all, but some of the stars. 'I wanna play when I wanna play. I wanna make basketball a priority; then, I don't want to make it a priority. I got other things on my mind; I need time off. I'm not gonna focus; I'm not gonna show up to honor my commitment,,' even though people paid their hard-earned money to walk through the turnstiles to come and see you play."
He continued: "That is the issue why the owners I say are coming for these guys. … It's because you're not showing up to work, but you're still demanding to get paid."
Ben Simmons, James Harden, and other stars are cheating their fans
Like he usually does, Stephen A. Smith had a lot to say on the topic, and he made some great points.
Most hard-working Americans have to show up to work. If they don't, they lose their jobs. Some of these NBA stars, though, take being millionaire athletes for granted and choose not to work until they get their way.
That's a textbook example of entitlement.
But these players are also cheating their fans, which is arguably the biggest issue created by their behavior.
The highest average ticket prices usually belong to the NBA's best teams, and they're always pretty pricy. According to a GoBankingRates report published on Yahoo, the Los Angeles Lakers were No. 1 in 2019 for the most expensive average ticket at $473. The Golden State Warriors were right behind them at $458.
That means a family of four has to pay close to $2,000 to see their favorite stars play, despite the chance they don't even take the court.
All in all, players like James Harden and Ben Simmons have created a large problem for the NBA. Their selfishness is affecting more than just their respective teams. It's cheating their fans out of cold hard cash, and the league needs to do something about it.