Stephen A. Smith Blasts Dallas Mavericks for Failing to Sign Big Free Agents: 'There's Simply No Excuse'
While their 2011 NBA Finals win over LeBron James and the Miami Heat was a historic accomplishment, the Dallas Mavericks — under the guidance of owner Mark Cuban — haven't had the prettiest of decades. They've been a first-round exit six out of the past 10 seasons and missed the playoffs entirely the other four years.
It was somewhat understandable that the Mavericks could not compete with the top teams in the Western Conference during the waning years of Dirk Nowitzki's career, but the acquisition of Luka Doncic in 2018 had many believing the Mavs would be returning to contention sooner rather than later.
Doncic wasted little time establishing himself as one of the best young talents in the NBA, a dream player to build around for Cuban and the rest of the Dallas front office.
However, following yet another first-round exit this past season, Stephen A. Smith wants to know what the hold-up is when surrounding Doncic with talent, specifically regarding free agency.
The Dallas Mavericks have struggled to land big-time talent through free agency
Smith has a point; the Mavericks aren't big players in free agency. Upon looking at the team's top free-agent signings over the past few seasons, Reggie Bullock, DeAndre Jordan, Maxi Kleber, and Harrison Barnes stand out as notable additions. Go back a few more years, and you're looking at Wesley Matthews and Chandler Parsons.
Not exactly a group of future Hall of Famers.
Money hasn't exactly been the issue, as the Mavericks handed out massive contracts to Barnes and Parsons in particular. Still, the front office has repeatedly guessed incorrectly year after year. They shell out big-time money to average/below-average talent or flat out whiff on the bigger names.
The Mavericks were interested in Kawhi Leonard and Kyle Lowry this summer but failed to land either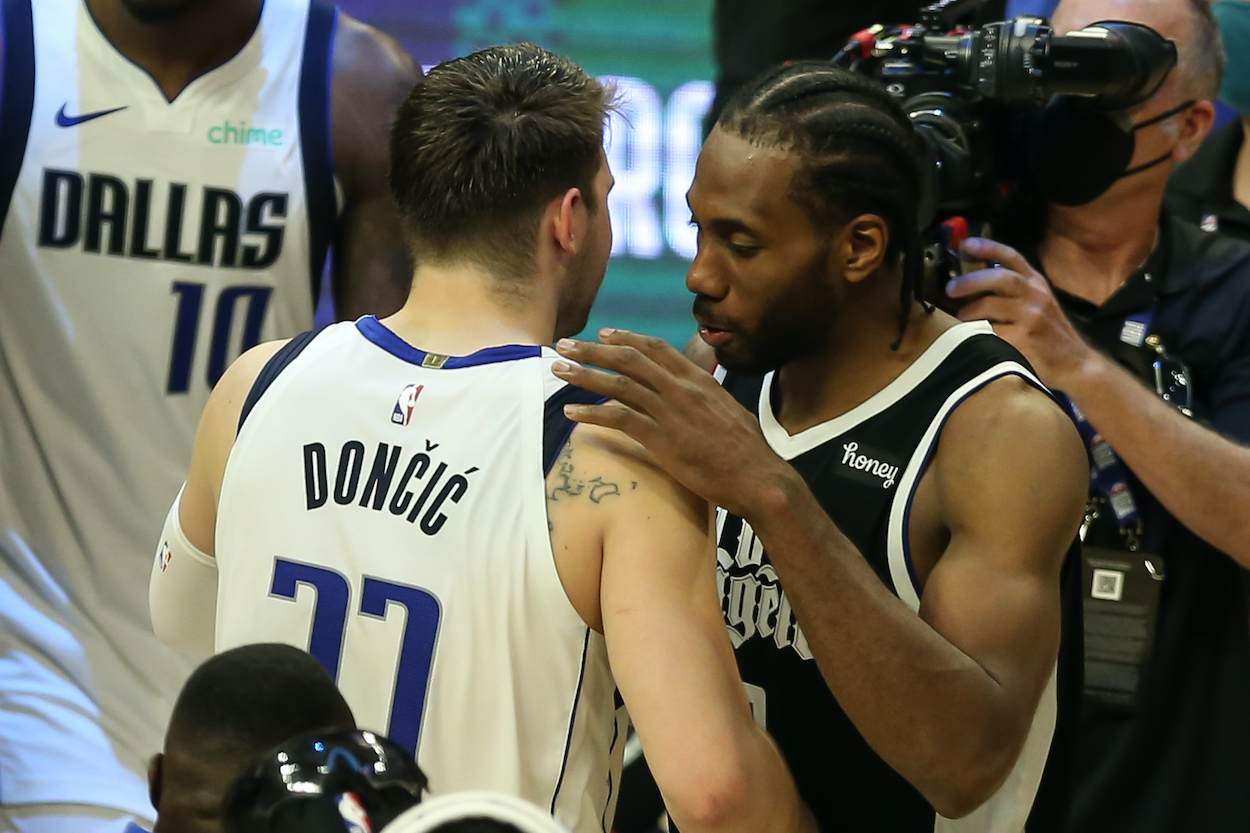 The latest example of Dallas' inability to attract big free agents came during this year's offseason, as they struck out on Kawhi Leonard and Kyle Lowry. The Mavericks had dreams of providing Doncic with a true superstar-caliber running mate this summer (Sports Illustrated) — it didn't happen.
Lowry landed in Miami via a sign-and-trade, and Leonard re-upped with the Clippers, once again leaving Dallas in a position where they've added zero significant talent this offseason.
Bullock and Sterling Brown are solid bench pieces, but when a team sets their sights on Leonard/Lowry and ends up with Bullock and Brown, it's a bad look.
Doncic has committed his future to Dallas; now they need to get him some actual help
Doncic has already signed a max extension to remain with the Mavericks for the next five seasons, fully committing his future to build a sustained winner in Dallas. While Doncic appears to be extremely loyal to the team that drafted him, the clock is ticking on the Mavs' end.
Doncic is only 22 years old; he still has plenty of elite years left in him. However, one must wonder how much longer he's willing to put up with the lack of legitimate help around him. Dallas added a few mid-tier talents like Kristaps Porzingis and Josh Richardson in recent offseasons via trade — neither of them is comparable to the help that LeBron James, Kevin Durant, Stephen Curry, etc., have on their respective teams.
Like Stephen A. Smith stated, there really is no excuse for why Cuban and the Mavericks have proven incompetent at landing legitimate free agents. Dallas is a huge sports town; they should be attracting all sorts of All-Star caliber talent year after year.
Unless they have any tricks up their sleeve here in 2021, we'll have to wait and see if 2022's offseason is any better for the Mavs.