Stephen A. Smith Blasts Kyrie Irving, Questions His Reliability: 'What the Hell Is Going On?'
Kyrie Irving and the Brooklyn Nets have a great chance of making the NBA Finals and potentially even winning the championship this season. However, Brooklyn has dealt with injuries throughout the entire year and just lost to a LA Lakers team that didn't have LeBron James or Anthony Davis. Irving also got ejected in that same game, and the Nets then later announced the next day that he will not play in the team's game on Monday.
The ejection and the news regarding the Irving's upcoming absence have both been hot topics of conversation. This ultimately led to ESPN commentator Stephen A. Smith calling the point guard out.
Kyrie Irving got ejected in the Nets' blowout loss to the LA Lakers
RELATED: Stephen A. Smith Calls out Kevin Durant After Durant's Alleged Homophobic Comments Go Viral: 'He Should Be Better Than This'
Kyrie Irving has been a star in the games he has played in so far for the Brooklyn Nets this season. He is averaging a career-high 27.6 points per game to go with 4.8 rebounds and six assists. Irving is also shooting a career-best 51.4% from the field.
However, on April 10, the Nets lost in a 126-101 blowout to the LA Lakers, who didn't have LeBron James or Anthony Davis. Officials also ejected Irving and Lakers guard Dennis Schroder from the competition after the two exchanged some heated words.
The next day, the Nets then revealed that Kyrie Irving would not play in the team's Monday game against the Timberwolves for personal reasons. According to ESPN, Irving has already only played in 38 of 53 games this season, as he missed four due to injury maintenance and then two weeks for personal reasons. Irving also broke COVID-19 protocol during those two weeks that he missed, and when he came back, he said to reporters that he "just needed a break," per ESPN.
Irving additionally missed three more contests for the Nets last month due to a family matter.
This all led to a stern response from ESPN's Stephen A. Smith.
Stephen A. Smith blasted Kyrie Irving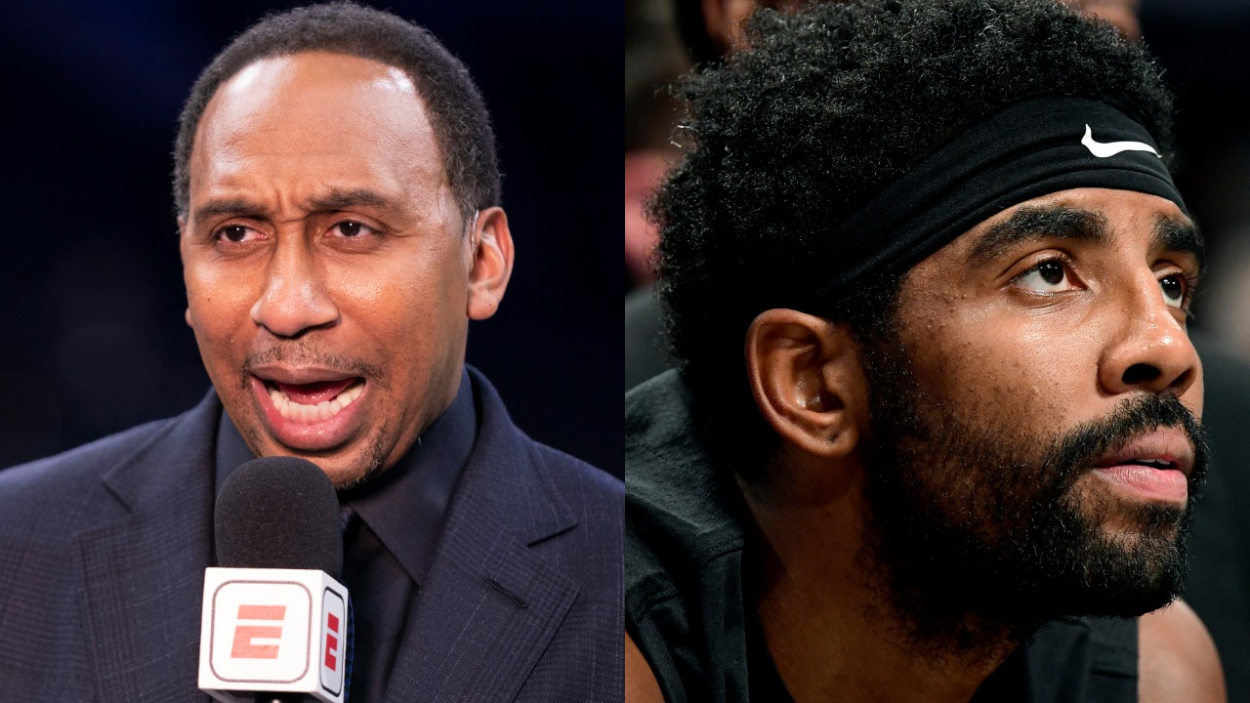 RELATED: Stephen A. Smith Fires Back at Blake Griffin After Griffin's Recent Comments: 'Ain't Nobody Scared of Blake Griffin'
After the latest events with Kyrie Irving and the Brooklyn Nets, ESPN's Stephen A. Smith went on to First Take to discuss the issue.
"What is my biggest concern with the Brooklyn Nets? It is Kyrie Irving," Smith said on the April 12 episode. "Because in the aftermath of this loss, we've learned he's not going to play again tonight because he has personal reasons to do so. Look, here's the reality. Whatever's going on in Kyrie Irving's personal life, it's his business."
He continued: "When we going to start talking about [his missed games]? From a temperamental perspective, the dude doesn't appear to be that reliable."
Smith then went to say that everyone knows that Irving is a "spectacular" player and that he is "box office." But he took issue with his reliability, or lack thereof.
"This is not a guy that seems to have a consistent commitment to wanting to play," Smith said. "I don't know that to be true. All I know is what we're seeing. He's already missed 15 games this year; it's about to be 16 tonight. What the hell is going on? You only played 20 games last year in Brooklyn. You didn't play in the bubble, you didn't want people to play in the bubble because you wanted folks to focus on other issues and it turns out you got your own issues — whatever they may be."
Smith, however, added that he hopes everything is OK with Irving's family. His missed games, though, still need to be discussed.
With all of this, in addition to Kevin Durant and James Harden's injuries, it's unclear if the Nets will have their entire team ready come playoff time. If they do, though, one thing is certain: they'll definitely be very dangerous.
The Nets have a chance to win an NBA championship
RELATED: Stephen A. Smith Sends Stern Message to LaMarcus Aldridge, Admits He Has Rubbed Him 'the Wrong Way'
If Kyrie Irving, James Harden, and Kevin Durant all play for the Nets in the playoffs, they could be the toughest team to beat in the postseason. Durant and Harden are two of the top scorers in NBA history, while Irving is one of the most clutch players in NBA history. They are all scoring over 25 points per game this season, too, and Harden is also adding about 11 assists. How do you stop that?
This is all in addition to the Nets also having some extremely strong role players in former All-Stars Blake Griffin and LaMarcus Aldridge, and the excellent shooter that is Joe Harris.
They may not have a ton of chemistry right now due to the lack of games that they have actually played together, but no matter how many more games Kyrie Irving, James Harden, and Kevin Durant miss in the regular season, if all of those guys are on the floor in the postseason, the Brooklyn Nets will be tough to beat.
Stats courtesy of Basketball Reference