Stephen A. Smith Blasts the Packers After Aaron Rodgers' Recent Comments, Says Green Bay Has Been 'Flagrantly Disrespectful'
From the outside looking in, it looks like the Green Bay Packers plan to move on from quarterback Aaron Rodgers within the next year or two. That is, obviously, not 100% certain, but Rodgers' future in Green Bay is definitely unclear. He made that even more known with his recent comments, too. In fact, Rodgers' remarks have since led to ESPN's Stephen A. Smith calling out the Packers. Smith does not appear to be too happy with the way they have treated that "bad man," either.
Aaron Rodgers recently addressed his unknown future with the Packers
RELATED: Aaron Rodgers' Former Packers Teammate Sternly Calls out Green Bay for Its Mistreatment of Rodgers: 'You Can't Stay Stuck on Stupid'
The chances that quarterback Aaron Rodgers plays with the Packers past 2021 continue to look less and less likely. Green Bay has restructured six players' contracts so far since the end of the 2020 season. The team did this to help free up cap space for 2021. Rodgers' contract, however, has not been restructured.
While doing this, or giving him an extension, would free up cap space for the upcoming season, it would also cost the Packers more in future seasons. This would potentially make it harder for them to move on from Rodgers after the 2021 season.
With no contract restructure or extension taking place between Aaron Rodgers and the Packers so far, it appears that he has no idea what's in store for his future.
"I said last year I didn't know if that was actually possible to be able to finish [in Green Bay]," Rodgers said on the April 3 episode of SportsCenter. "I still feel like that's kind of where we're at. I don't know that a lot of that's in my hands. I guess we'll just kind of see as we go."
Now, ESPN's Stephen A. Smith has something to say.
Stephen A. Smith calls out the Packers for mistreating their quarterback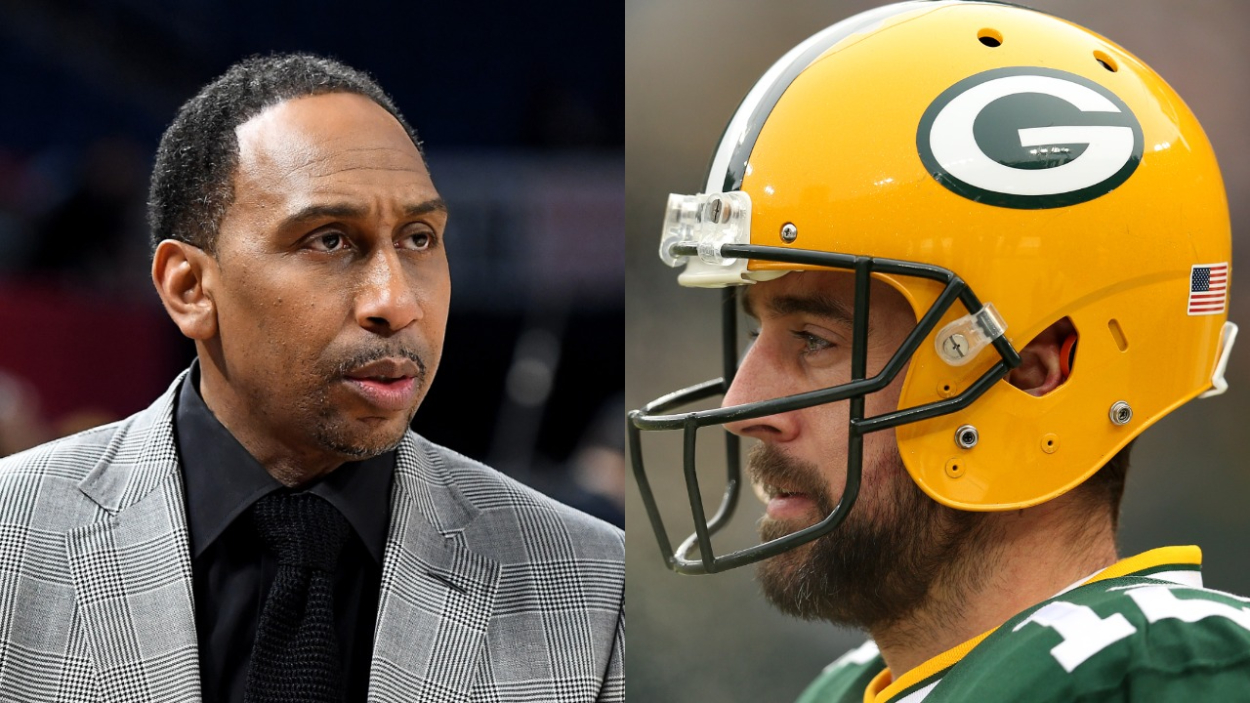 RELATED: Stephen A. Smith Sends Stern Message to the Packers, Says They Will 'Pay for' What They Just Did to Aaron Rodgers
There have been many times where ESPN's Stephen A. Smith has called the Packers out for the way they have treated Aaron Rodgers. After Rodgers' recent comments, he has since blasted them again.
"I could challenge anybody to tell me, try to come up with a quarterback whose been let down more by his supporting cast over his career than Aaron Rodgers — I want to know who that is," Smith said on the April 5 episode of First Take while debating if Rodgers should have anything left to prove. "… The Green Bay Packers have not only asked Aaron Rodgers to be great, they've asked him to carry a franchise for the better part of his entire career. That's been the situation he's been dealing with in Green Bay, which is why it's so damn egregious that they don't have any guaranteed money for him after giving him a $6.8 million [roster] bonus just a few weeks ago."
He continued: "No guaranteed money for that dude. Age 37. Who sits here today and is about to host Jeopardy! tonight as the reigning league MVP — at age 37. … This brother is on another level, and the fact that we find ourselves talking about Aaron Rodgers in this regard is what makes all of this so blasphemous, so flagrantly disrespectful."
Smith makes some good points. Aaron Rodgers, who has no guaranteed money left on his deal beyond 2021, per ProFootballTalk, has proven that he is still an elite quarterback. The Packers now need to repay Rodgers for everything he has done, which could be accomplished by committing to him for more than just the 2021 season.
Aaron Rodgers has proven that he is still an elite quarterback
RELATED: Aaron Rodgers Was Once Reportedly Told To 'Shut the Hell up and Go Play Football' by the Green Bay Packers
The Green Bay Packers may be afraid to commit to Aaron Rodgers beyond 2021 due to him being 37 years old. He has proven, though, that he is still elite. So, it's confusing as to why they won't commit to him.
Rodgers has led the Packers to two consecutive NFC Championship Games and two consecutive 13-3 seasons. He then had one of the best seasons of his career in 2020, as Rodgers earned the third NFL MVP award of his career. He ultimately threw for 4,299 yards, an NFL-leading 48 touchdown passes, and five interceptions. Those are elite numbers put up by a quarterback that is still elite.
Despite these numbers, though, the Packers may still move on from Rodgers because of his age. That could, however, ultimately be a big mistake, as athletes are playing longer and longer these days. He could still have several great years left.
No matter what happens this offseason, the next year or so will certainly be very interesting for Aaron Rodgers and Green Bay Packers fans.
Stats courtesy of Pro Football Reference