Stephen A. Smith Bluntly Blasts Ben Simmons for His Latest Reported Decision, Passionately Questions His Heart: 'You've Got to Be Kidding Me'
Whether you're on his or the team's side, it's pretty clear that Ben Simmons' days with the Philadelphia 76ers are likely over. The three-time All-Star reportedly has no plans to show up to training camp when it starts next week.
One person clearly not on his side, though, is ESPN's Stephen A. Smith, who used to write for the city's newspaper, The Philadelphia Inquirer. In a recent appearance on his show, Stephen A's World, Smith went off about Simmons' latest reported actions and even questioned his heart.
Ben Simmons reportedly doesn't plan to show up to 76ers training camp
After playing poorly in the 2021 NBA playoffs, only averaging 11.9 points per game, rumors and reports regarding Ben Simmons' future with the 76ers began flying around from every direction early this offseason.
According to ESPN, Simmons reportedly told the team's ownership and management that he wanted out of Philadelphia in August, and he hasn't had any direct contact with the franchise in weeks.
On Sept. 21, though, ESPN reported that Simmons won't attend 76ers training camp when it opens next week, and he doesn't plan on playing for the organization ever again.
Given Simmons' potential, Philadelphia has reportedly had a sky-high asking price, per USA Today's Sixers Wire. So, the franchise must decide whether it's worth waiting for the right offer if it means potentially losing games with Simmons off the court.
No matter what happens in the near future, though, Smith isn't happy with the 2016 No. 1 overall pick.
Stephen A. Smith put Ben Simmons on notice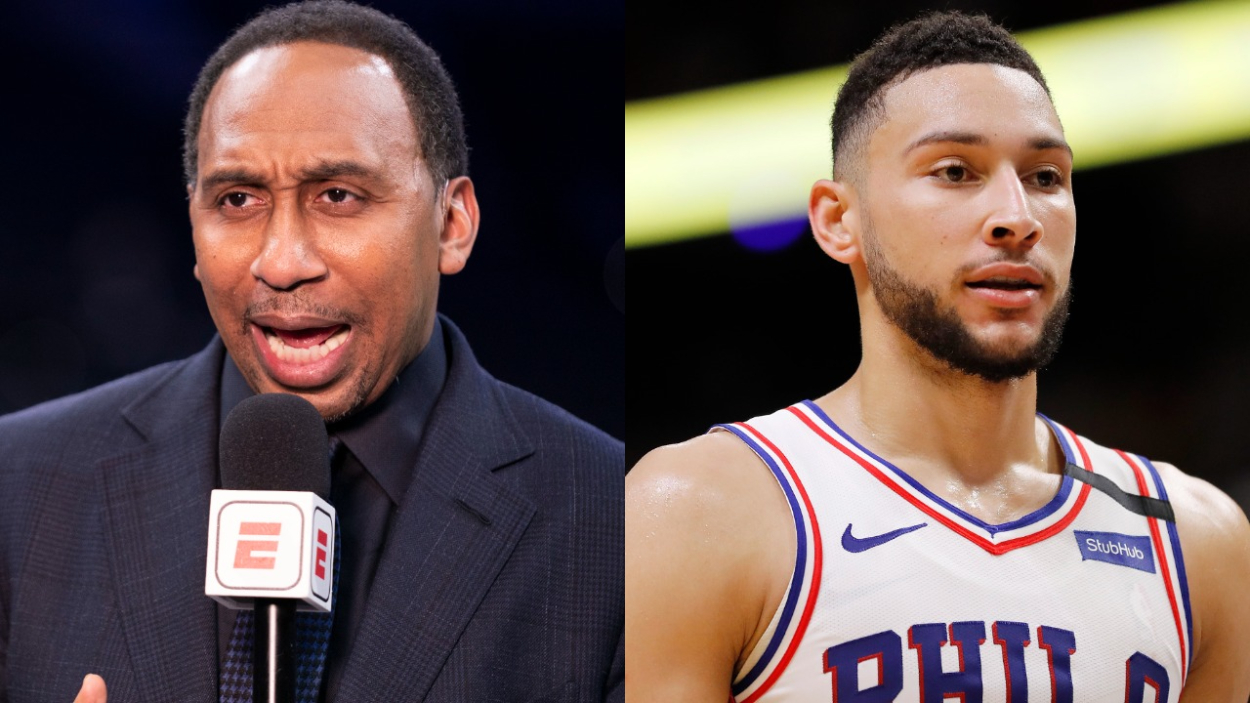 Smith recently appeared on his show, Stephen A's World, and he didn't hold back when it came to discussing Simmons' reported decision to sit out of training camp.
"You've got to be kidding me," Smith said on the Sept. 21 episode. "Ben Simmons is out here making demands? Ben Simmons? The guy who scored five points in Game 7 of an Eastern Conference semifinals, passing up an easy dunk because he was scared. The guy who hasn't bothered to develop a jump shot in five years since he's been drafted, or a free throw [shot], by the way. … The guy who hasn't bothered to put in enough work to even scratch his potential on the court. That guy is out here telling the 76ers how things are gonna be?"
Smith then admitted that he expected Simmons to do this and that the LSU product will probably get his way. But the commentator also wished luck to the team that trades for him.
"At this particular moment in time, we can only say you'll be getting a good player, but not one willing to do what is required to be great," Smith said. "If Ben Simmons developed a free-throw shot — not even a jump shot — he'd average 25 [points] a game. He's that gifted; he's that special of a talent. His problem is, he's scared to shoot. And the 76ers and the 76ers' fan base is to blame?"
Lastly, the star ESPN personality added that Simmons would be "LeBron James part two" if he had a jumper or could shoot free throws. But he must simply just not have the heart to get to that level.
"That ain't about skills; that's about heart. There's a heart examination that is required now," Smith said. 
Whether Simmons' struggles in the playoffs were about his lack of heart for the game, or he just simply isn't as talented as everyone thought he was, it appears he's on the move and likely won't prove Smith or anyone else wrong while in a 76ers uniform.
So, where will he go?
Where will Ben Simmons land if the 76ers trade him?
If and when Simmons gets traded, there are several teams he could fit nicely on that would also have the assets to send to Philly.
The Portland Trail Blazers could pair him with Damian Lillard by possibly sending someone like CJ McCollum and picks to the Sixers. Or the Golden State Warriors could trade any of their young players and picks to put Simmons on a team with Stephen Curry, Klay Thompson, and Draymond Green. The Cleveland Cavaliers could also maybe include some of their young guys like Collin Sexton and Isaac Okoro in a swap with Philly, especially since Simmons' agent, Rich Paul, is originally from Cleveland.
But all in all, the biggest question will be how much the Sixers ask teams for in return. That will likely be the make or break factor in any potential deal.
No matter what happens, though, everyone needs to get their popcorn ready. We could be in for a wild ride in terms of where Simmons plays next.
Stats courtesy of Basketball Reference
RELATED: 76ers Reportedly Plan on Calling Ben Simmons' Childish Bluff to Create a Nightmare Scenario for Both Sides