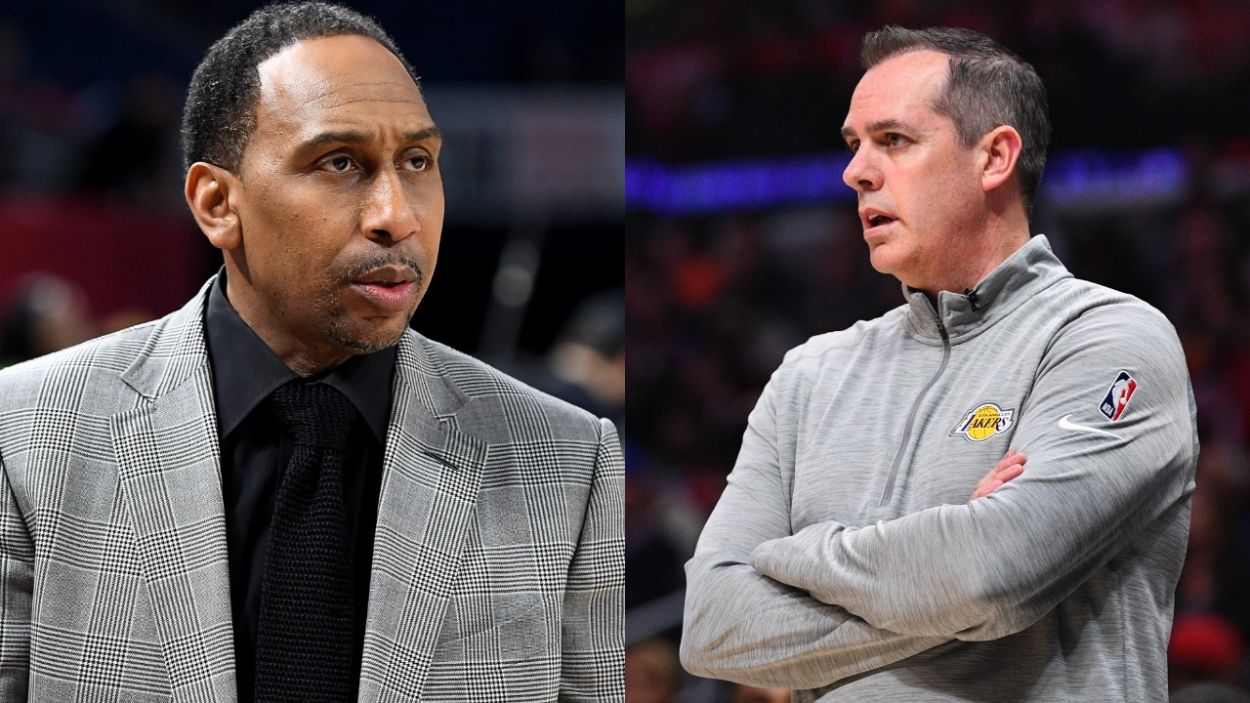 Stephen A. Smith Reluctantly Calls for Frank Vogel's Lakers Job
The Los Angeles Lakers have been a major disappointment, and head coach Frank Vogel is partially to blame. In fact, Stephen A. Smith is now calling for his job.
Less than two years ago, head coach Frank Vogel helped lead the Los Angeles Lakers to an NBA championship. Now, he has people calling for his job.
Vogel and the Lakers have had an awful year, especially considering their preseason expectations. LA is 29-39 and in ninth place in the Western Conference, giving them a difficult path to the playoffs that will almost certainly go through the NBA Play-In Tournament.
And during the Lakers' recent loss to the Toronto Raptors, they looked uninspired. They just simply weren't playing hard. So, the next day, ESPN's Stephen A. Smith went off about the team and said it's time for Vogel to go.
He believes the Lakers need a new head coach.
The LA Lakers have been a tragic disappointment this season
After acquiring Russell Westbrook and adding various other vets like Carmelo Anthony and Dwight Howard to a roster already consisting of LeBron James and Anthony Davis, some expected Frank Vogel's Lakers to make some noise this season.
But they have been flat-out awful.
LA is allowing a whopping 113.6 points per game defensively, and the team has had no flow on offense. LeBron James is having a stellar year and has continued defying Father Time, averaging 29.7 points on 52.3% shooting. With Anthony Davis missing nearly half the season, though, players like Westbrook haven't stepped up.
Russ, who has received a significant criticism this year, no longer has the same explosive athleticism he used to have. He's averaging just 18.0 points on 43.3% shooting. As a team, the Lakers are 24th in the NBA in offensive rating (109.0), and they average the third-most turnovers per game (14.8).
However, all stats aside, this team just doesn't play hard. It lets opponents outhustle it on a nightly basis. The Lakers have lost 11 games by at least 18 points, five by at least 24, and four by 28 or more.
Everyone looks old and is just forcing LeBron to do everything.
And that uninspired attitude is why Stephen A. Smith thinks it's time for Vogel to go.
Stephen A. Smith calls for Frank Vogel's job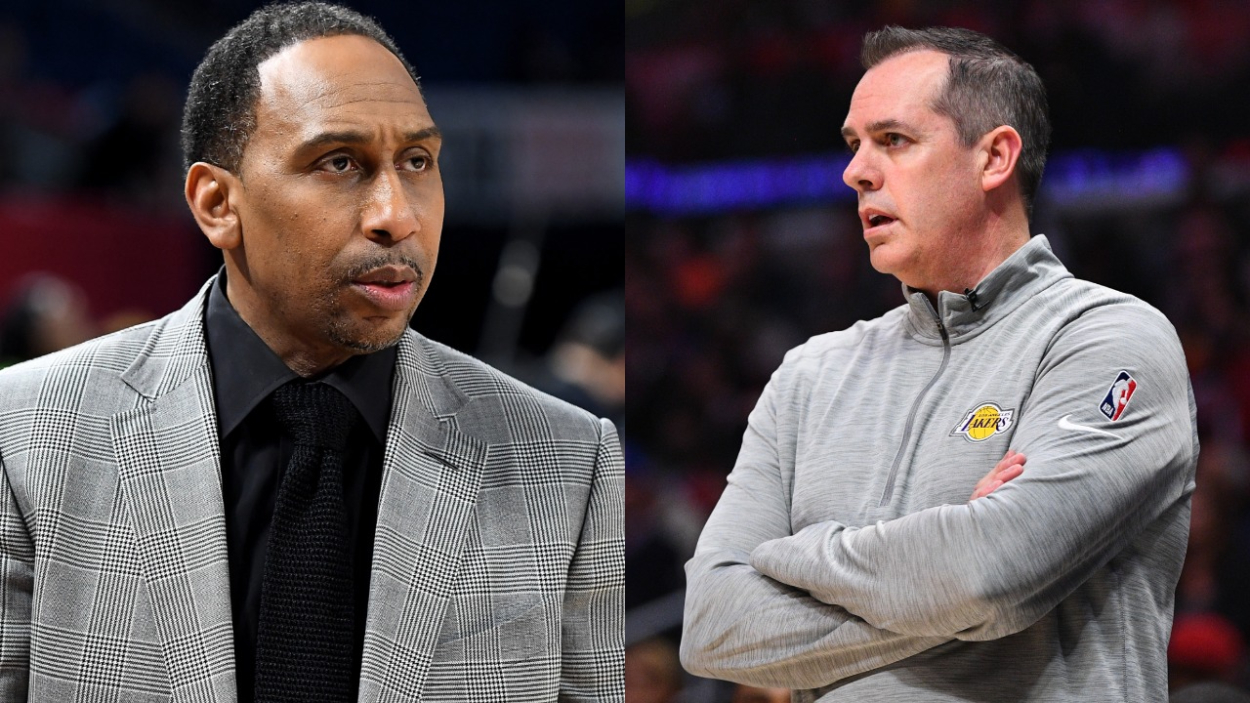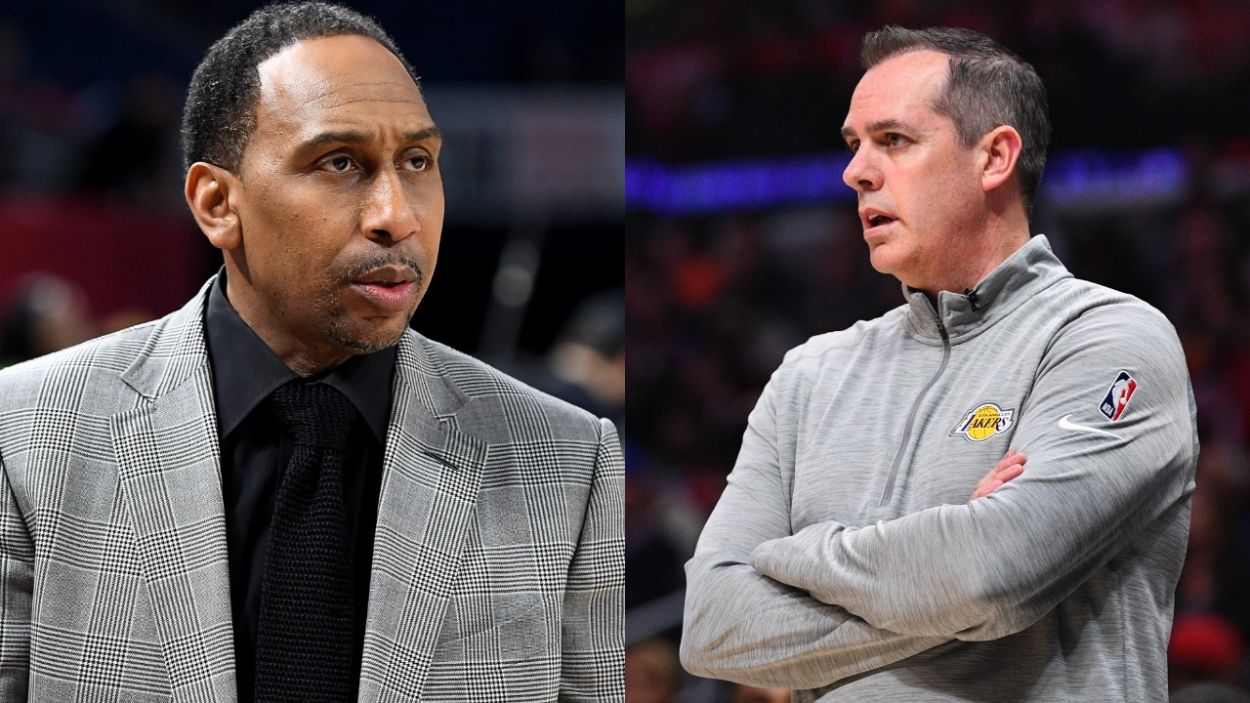 On March 14, the Lakers lost to the Toronto Raptors 114-103 in a game that wasn't as close as the final score indicated. Toronto jumped out to a 33-12 lead at the end of the first quarter and never looked back.
The less-than-stellar performance drew out a response from Stephen A. Smith.
"I take no pleasure in saying this: It's time for Frank Vogel to go; he has to go as head coach of this franchise," Smith said on the March 15 episode of First Take. "It's time to put him out of his misery. It's time to put LeBron James out of his misery. It's not that they're losing. … We're seeing a level of inefficiency, a level of ineptitude, a lack of spirit. It's like these guys don't know what it means to be Lakers. It's Frank Vogel's responsibility to overcome that. It's not his fault, ladies and gentlemen, as it pertains to this roster. … I'm not saying that Frank Vogel doesn't deserve to be a head coach in the National Basketball Association. But I've seen coaches facing arduous circumstances with a roster that performed much better than he's done as a coach."
Smith continued criticizing the team's lack of spirit and enthusiasm, essentially reiterating that it would be one thing for them to lose games but still look respectable. It's another thing to lose the way they have all year.
"It's embarrassing to watch this team," Smith said before eventually looking at the Lakers' struggles on defense despite Vogel being a defensive coach. " … Frank Vogel has to go because most of those players gonna be back next year. And if you couldn't coach them this year, what the hell are you gonna do next year?"
Will the Lakers fire Frank Vogel?
Smith made it clear that he doesn't necessarily think the Lakers' disappointing season is Frank Vogel's fault. Coaches don't put rosters together.
However, Vogel still hasn't helped, and this team has just been a complete mess with him in charge.
As alluded to earlier, Vogel is known for being a defensive coach. His Indiana Pacers teams went to back-to-back conference finals in 2013 and 2014 and were No. 1 in defensive rating each year. The Lakers' significant defensive struggles this season (16th in defensive rating and 27th in opponent points per game) are a stain on Vogel's coaching legacy.
But will the Lakers fire him?
It's unclear if LA plans to, but given the franchise's high expectations every season, it wouldn't be surprising if it does. LeBron James, Anthony Davis, Russell Westbrook, and Talen Horton-Tucker are all under contract next year, so significant roster changes could be hard to pull off, but maybe the right coach can work some magic.
All in all, numerous people are at fault for the Lakers' struggles. Frank Vogel may just end up being the team's scapegoat.
Stats courtesy of Basketball Reference