Stephen A. Smith Calls out Jake Paul for His Choice in Opponents: 'You Have to Fight a Real Boxer'
YouTuber and social media influencer Jake Paul has ruffled many feathers since launching his boxing career. Not many people know what to make of him since he has obviously had some success but has yet to fight a quality opponent, while his brother, Logan Paul, has had no success but will soon fight one of the greatest boxers of all time in Floyd Mayweather Jr. 
Of the people somewhat frustrated with Jake Paul, though, is ESPN analyst Stephen A. Smith. He even recently called Paul and his choice in opponents out.
Jake Paul will face Tyron Woodley in a pro boxing bout
So far in his young boxing career, Jake Paul has proven to the world that he is a solid athlete. However, he has yet to fight a quality opponent.
He TKO'd influencer AnEsonGib in his first fight in 2020 before knocking out former NBA star Nate Robinson later that year. He then knocked out former UFC fighter Ben Askren in April.
Sure, Askren had success in the MMA world, but he's not a boxer, which led to many people calling for Paul to fight someone who actually knows how to box. That won't happen in his fourth fight, though, as Paul told ESPN that he will face former UFC champ Tyron Woodley in a match in August.
Again, like Askren, Woodley may very well be some strong competition for Paul. But he still won't help Paul prove his doubters wrong, which led to Smith calling the YouTuber out.
Stephen A. Smith called the internet star out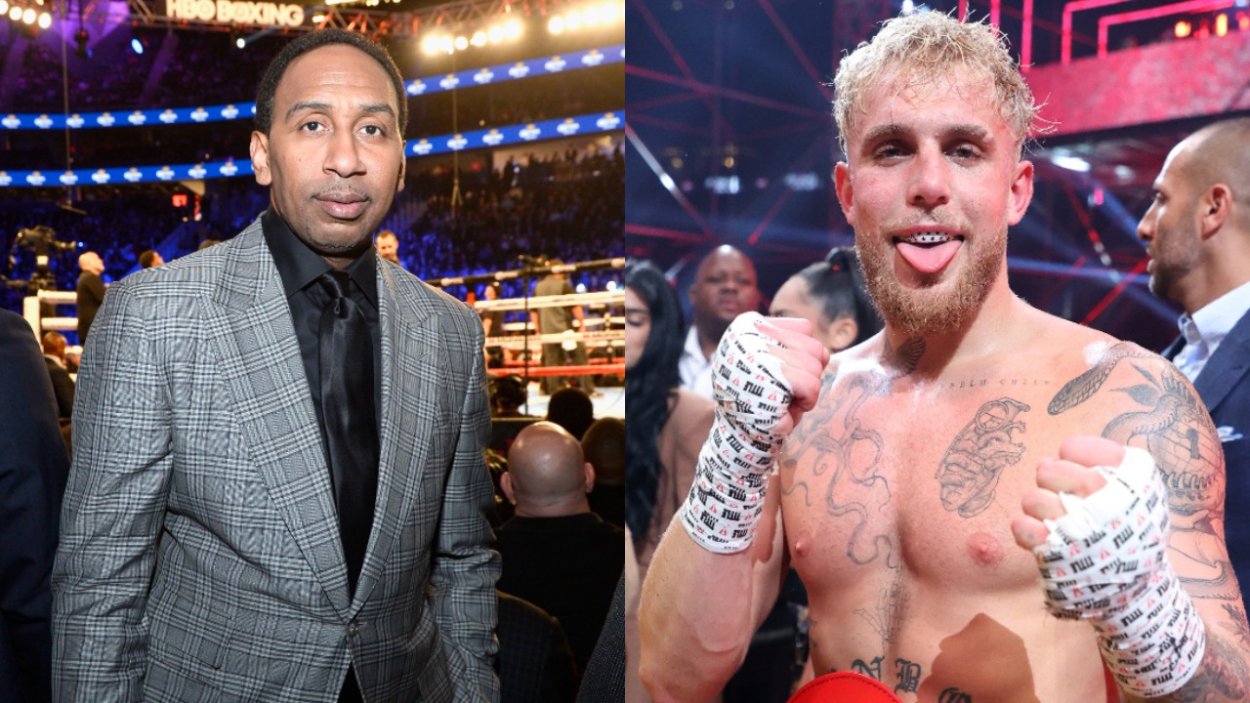 Smith almost always has a strong opinion for ESPN. So, despite Paul not being the traditional type of athlete that Smith and his colleagues typically cover, the commentator had some strong words for the influencer after hearing of his scheduled fight with Woodley.
"I am not impressed, not one bit," Smith said on the June 1 episode of Stephen A's World. "While Logan Paul is taking fights way over his head, getting in the ring with boxing royalty like Floyd 'Money' Mayweather — risking a beat down for the ages, by the way — Jake Paul is going the opposite direction. The complete opposite direction. Fighting non-boxers."
Smith then brought up Paul's first three fights and how Askren "was primarily a wrestler."
"That's fine, that's fine; you have to ease into this, I get all of that, but at some point, you have to fight a real boxer, Jake," Smith said. "You have to fight someone with some muscle memory in the sport. I don't give a damn if it's an amateur, doesn't even have to be a pro, just somebody with muscle memory for actually boxing, not somebody like Woodley. … If Jake Paul is ever going to get the respect in boxing that I know he wants, he has to face real opponents."
Despite the criticism, Smith admitted that Paul is actually good for boxing.
"I love the attention he's bringing to the sport of boxing; that's a good thing, and I respect his business savvy," Smith said. "…But here's the thing, it isn't really boxing if you're not fighting an actual boxer."
Jake Paul and Tyron Woodley's boxing match should still be entertaining
We all want Paul to fight an actual boxer; Smith made some great points. But this match should still be pretty entertaining.
Woodley was actually in Askren's corner when Askren and Paul had their fight earlier this year. Woodley then exchanged words with Paul before the fight.
"I have a list of people I plan on shutting up with my fists," Paul said to ESPN. "And as I enter my fourth pro fight, I am excited to knock the first one off the list by challenging myself against a five-time UFC champion known for his knockout power. Tyron's a seasoned striker who has fought the best in the world. I certainly respect his career, but I will be sending Tyron into a permanent siesta on August 28."
Showtime will distribute the bout, and it will air on pay-per-view Aug. 28.
Like Sportscasting on Facebook. Follow us on Twitter @sportscasting19.