Stephen A. Smith Clowns Charles Barkley and His Recent Comments on National TV
NBA legend Charles Barkley has become a successful and insightful analyst on TNT since retiring from basketball. However, he's known for making controversial comments from time to time, and for frequently missing predictions. ESPN's Stephen A. Smith knows this, too, and he recently clowned Barkley for it. He also made fun of Barkley's recent decision to deem Giannis Antetokounmpo and the Milwaukee Bucks his favorites to make the NBA Finals out of the Eastern Conference.
Charles Barkley thinks Giannis Antetokounmpo and the Bucks will make the NBA Finals
RELATED: Giannis Antetokounmpo is a Massive Fan of Reality TV Shows
In one of his more recent predictions, NBA legend Charles Barkley picked Giannis Antetokounmpo and the Milwaukee Bucks to make the NBA Finals.
The Bucks were the No. 1 seed in the Eastern Conference each of the last two seasons but had disappointing finishes in the playoffs. This season, though, the Nets — who have James Harden, Kevin Durant, and Kyrie Irving — are the favorites to come out of the East. They're in first place in the conference by a half-game over the Philadelphia 76ers, while the Bucks are in third place behind those two teams.
The Inside the NBA crew let Antetokounmpo know of Barkley's prediction.
"We gotta work hard," Antetokounmpo said on April 22, per a video shared by House of Highlights. "We gotta keep playing hard, just keep believing in ourselves. It's a great compliment coming from Charles Barkley, believing in us that we can make the NBA Finals. But at the end of the day, we gotta take it step by step."
Of course, Antetokounmpo was receptive to the prediction. That, however, hasn't been the case for everyone.
Stephen A. Smith clowned Charles Barkley and his prediction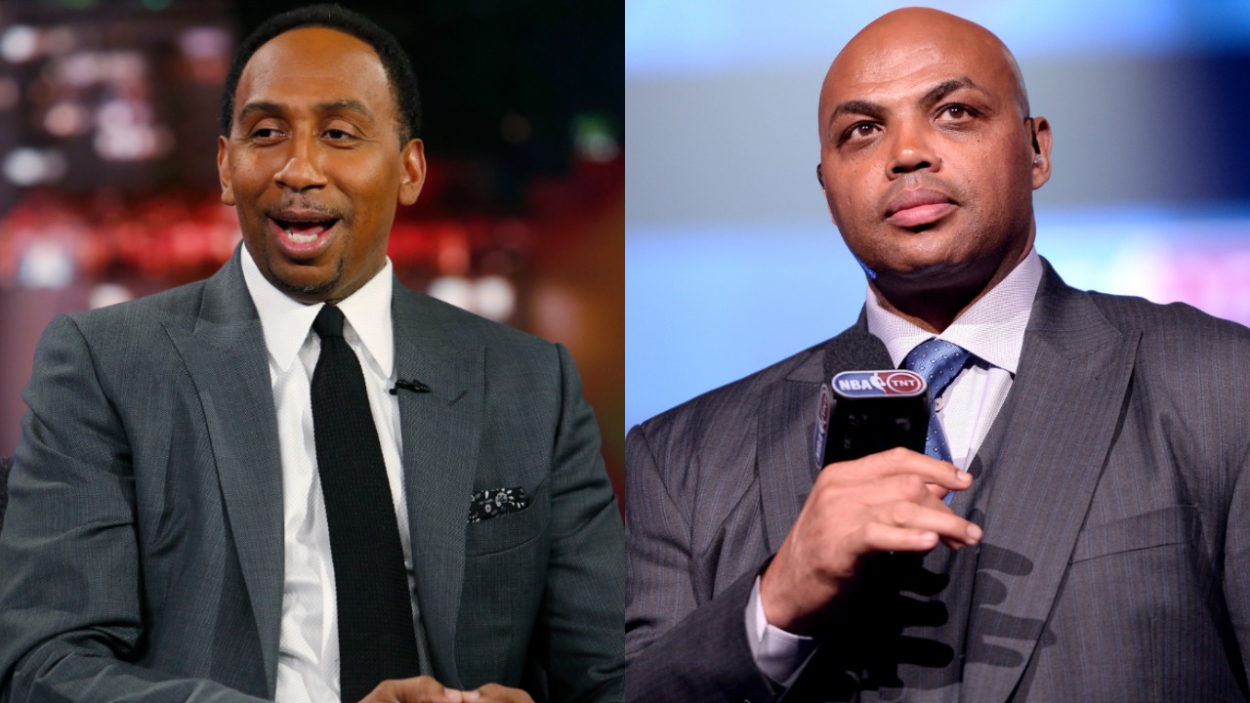 RELATED: Charles Barkley Once Threatened to 'Slap the Hell out' of Someone While Defending Ex-Friend Michael Jordan: 'I'm Going to Take My Chances With the Judicial System'
ESPN's Stephen A. Smith recently appeared on his show, First Take, and he had some jokes about Charles Barkley and his frequently missed predictions.
"You wanna know why the Bucks are not going to win the East? Because Charles Barkley said they will," Smith said on the April 23 episode. "It's just that simple. I love my brother Chuck, but we all know about his 'guarantee.' … It's alright because God knows I've been wrong, too. But I'm just messing with my brother right there, but that's how you really, really know they're not going to win the East because Chuck said they were going to win the East. That's just the way it goes."
In all seriousness, though, Smith still disagrees with Barkley's take, as he doesn't believe we'll see Giannis Antetokounmpo and the Bucks in the NBA Finals.
"Milwaukee is no joke; the question is, do you think they can get through Brooklyn and Philly? I don't see that," Smith said.
Smith then added that if Kevin Durant is healthy for the Brooklyn Nets, he thinks they're the favorites to go to the NBA Finals in the East.
"Me personally, it's really about KD and one of the two (James Harden or Kyrie Irving)," Smith said when referring to the Nets' health. "You don't even need both if KD is 100%, and I got serious questions as to whether or not KD's going to be 100%."
So, who is right here, Barkley or Smith?
Can Giannis Antetokounmpo and the Bucks make the NBA Finals?
RELATED: Charles Barkley Is Worth $50 Million but Gave His Daughter a Strong Ultimatum When It Came to Paying for Her Wedding
The Milwaukee Bucks have proven they are one of the best teams in the Eastern Conference. Antetokounmpo is an MVP candidate yet again, as he is averaging 28.5 points, 11.3 rebounds, six assists, and is shooting 56.4% from the field. However, they also have Khris Middleton, who averages 20.3 points, six rebounds, and 5.6 assists, and Jrue Holiday, a 17.2 points-per-game scorer.
As Smith said, though, if the Nets are healthy, they're going to be difficult to beat. They're one of the most talented teams of all time. Kevin Durant and James Harden are two of the best scorers in NBA history, while Kyrie Irving is also a great scorer and has proven he can come up big in clutch moments. Brooklyn also, of course, has Joe Harris, a great 3-point shooter, and guys like DeAndre Jordan and Blake Griffin. It's hard to imagine the Bucks, or Joel Embiid and the 76ers, beating that squad if they're fully healthy.
Both Stephen A. Smith and Charles Barkley make terrible predictions from time to time. Smith's pick in this debate, though, seems the most likely to come true.
Stats courtesy of Basketball Reference