Stephen A. Smith Criticizes LeBron James for Potential Rob Pelinka Dig
LeBron James doesn't just say anything without it meaning something. He knows reporters, analysts, and fans will dissect every word that comes out of his mouth, so he's typically pretty careful about what he says publicly.
But The King certainly said a lot during NBA All-Star Weekend. In addition to leaving the door open for a possible return to the Cleveland Cavaliers and telling the entire NBA he will play his final season with his son, Bronny, James praised Oklahoma City Thunder general manager Sam Presti.
Why is that a big deal?
Los Angeles Lakers general manager Rob Pelinka didn't make a single move before the NBA Trade Deadline, so the organization is essentially rolling with its struggling squad (27-31 and ninth in the West) for the rest of this season, barring any buyout signings.
So, was James' verbal appreciation for Presti just a passive-aggressive dig at Pelinka? Possibly, but ESPN's Stephen A. Smith wants to hold him accountable.
LeBron James praised Sam Presti, Les Snead, and Koby Altman
After the Los Angeles Rams won Super Bowl 56, the team's general manager, Les Snead, wore a shirt with his face on it that said "F*** them picks," alluding to all the draft picks he traded away to build a super team.
LeBron James quote-tweeted the picture and said, "LEGEND! My type of guy!!"
During All-Star Weekend, James received a question about Josh Giddey, the Oklahoma City Thunder rookie, and he used the moment to praise Sam Presti.
"The MVP over there is Sam Presti. He's the MVP," James said, per ESPN. "I mean, Josh Giddey is great. But Sam Presti, I don't understand this guy's eye for talent. He drafted [Kevin Durant], Russ [Westbrook], Jeff Green, Serge Ibaka, Reggie Jackson, Josh Giddey, and the list goes on and on and on. This guy is pretty damn good."
However, one other comment flew under the radar a bit. After discussing a potential return to the Cavaliers, LeBron praised Cavs GM Koby Altman.
"I think Koby and those guys have done an unbelievable job drafting and making trades," James said, per The Athletic's Jason Lloyd. "I think big fella (Jarrett Allen), that acquisition was amazing for them to make that trade. Obviously, Darius Garland is a big-time player. And I think the role that Kevin (Love) is playing right now has kind of uplifted those young guys. … I am not surprised by anything that they're doing right now."
Stephen A. Smith holds LeBron accountable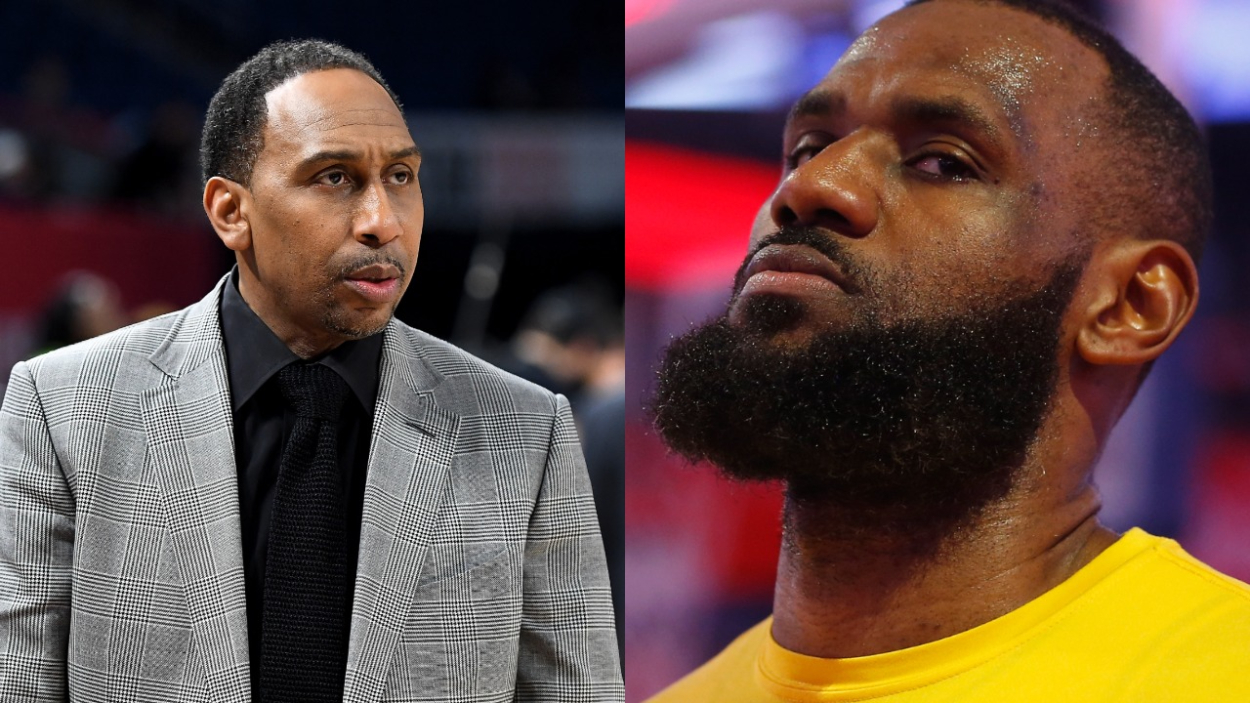 In light of LeBron James' recent comments, the Sam Presti ones specifically, Stephen A. Smith discussed whether the four-time MVP was taking a shot at Rob Pelinka.
However, he also made sure to hold James accountable.
"I think that he's pointing the finger at Rob Pelinka, and that's fair, but he has to own some of it himself; LeBron is not innocent in any of this," Smith said on the Feb. 21 episode of First Take. "… LeBron James doesn't get off the hook here. He's playing like an MVP. It's a damn shame the people around him have not. … LeBron can't be absolved from this. You had an opportunity to get Buddy Hield. You went with Westbrook. You might have had an opportunity to get DeMar DeRozan. You went with Westbrook. LeBron James ain't innocent in that."
NBA superstars typically have a lot of power in their teams' front offices. Given how legendary James is, he likely has more power than any other player in the league. Twitter calls him LeGM for a reason.
"You had something to do with the formulation of this roster. So, we can point to Rob Pelinka all we want to, and it should be accurate to some degree because you (Pelinka) are the GM," Smith said. "… You (LeBron) got culpability, bro. I understand what you're saying. You might have a point about that. … All I'm saying is don't forget the role you played in it."
LeBron James may be paving his path out of LA
Smith is right. LeBron James deserves some of the blame. He and Anthony Davis had a lot to do with Russell Westbrook coming to LA. However, the decision has led to the Lakers becoming the most disappointing team in basketball this year and could be the reason James eventually switches jerseys yet again.
This isn't the first time he has done this, either. James publicly put pressure on the Cavaliers to re-sign Tristan Thompson and J.R. Smith during his second stint with the organization. The Cavs paid over a combined $130 million for both of them but didn't have enough talent for LeBron a few years later, so he jumped ship and went to the Lakers.
James is one of the greatest players of all time. Pelinka also should have rewarded his MVP-level play this year by making a move at the trade deadline. But LeBron does need to take some responsibility. He has helped put the Lakers in a bad spot, and he did the same thing to the Cavs a few years ago.
All in all, LeBron James' trust in Russell Westbrook could impact the Lakers the same way his trust in Tristan Thompson and J.R. Smith impacted the Cavaliers: The King could leave the mess he helped create.
RELATED: LeBron James Says He Felt Like the GOAT After Winning 2016 NBA Finals