Stephen A. Smith Delivers Knockout Blow to Russell Westbrook Experiment: 'Doesn't Deserve to Be a Laker'
It was the blockbuster move of the offseason when LeBron James and the Los Angeles Lakers acquired Russell Westbrook from the Washington Wizards. The organization appeared to believe Russ was the missing piece — a Big Three of him, LeBron, and Anthony Davis was the core LA needed.
That was more than seven months ago. Things haven't exactly worked out.
Now ESPN's Stephen A. Smith threw his latest hot take on the subject, and it only further confirms what many discovered just a few weeks into the 2021-22 campaign: Russ doesn't belong with this group.
The Russell Westbrook experiment has failed miserably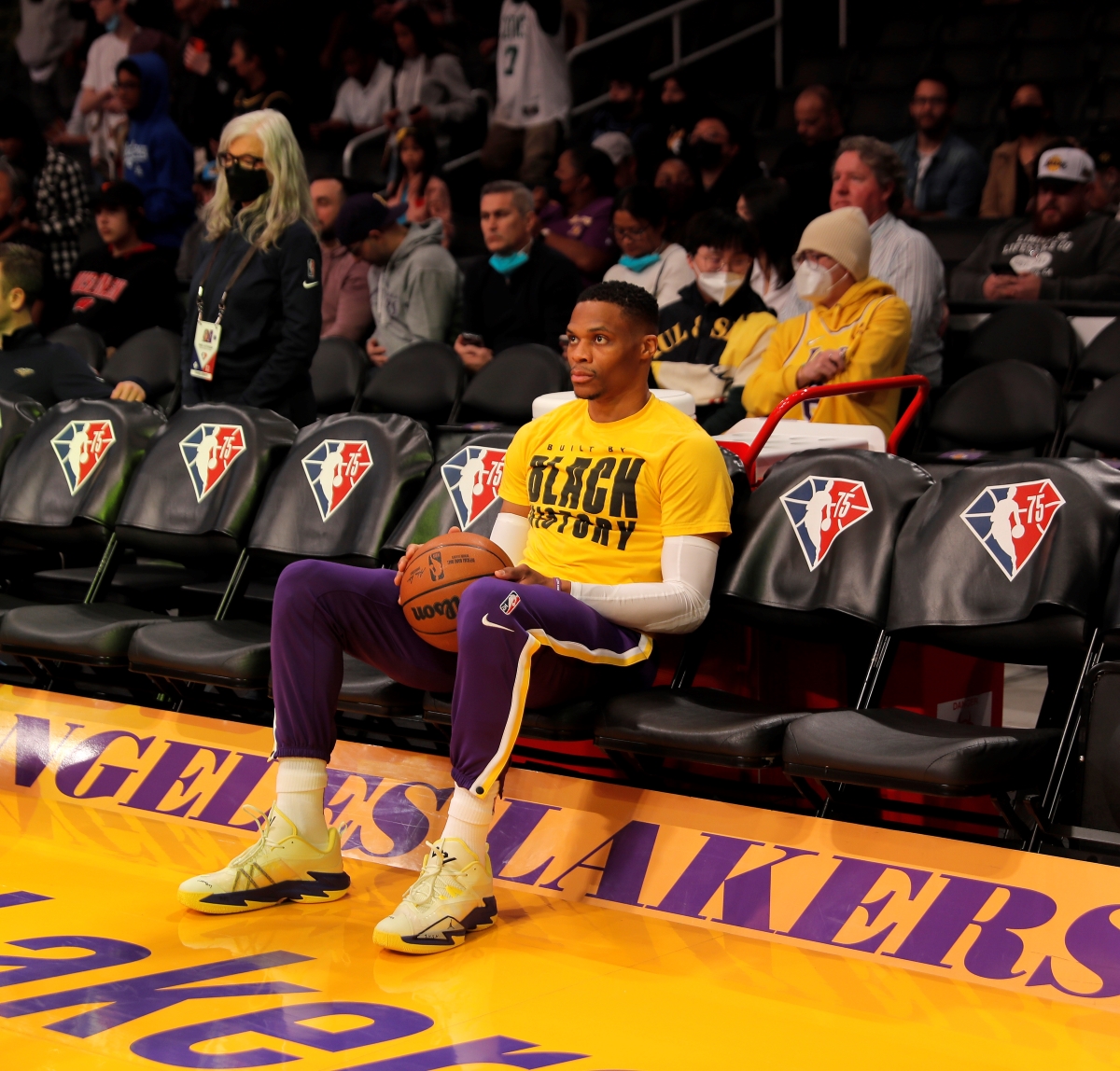 As a team, the Lakers are one game ahead of the New Orleans Pelicans and in ninth place in the Western Conference standings. The same Pelicans that haven't had Zion Williamson for a single game this season.
LA isn't even completely assured of a spot in the playoffs at all. The Portland Trail Blazers are in tank mode but are still only three games back of LBJ and Co. Even without Damian Lillard, Portland is 4-6 in its last 10 games and the Lakers are 3-7.
Bron has been doing everything he can on his end. But AD has been hurt for a large chunk of the year, and — to say the absolute least — Westbrook hasn't held up his end of the bargain.
The 2016-17 MVP is having his worst statistical season since 2009-10, his second in the NBA. He's averaging 18.1 points, 7.6 rebounds, and 7.2 assists but is doing it on 43.4% shooting and just 28.4% shooting from three.
He can't space the floor, is inefficient, and turns the ball over four times a night.
Even a full-strength Russ wouldn't have helped put this LA iteration in the title hunt. But the fact that he's played so poorly and hasn't been able to find any kind of productive role at all has contributed to a nightmare season.
Stephen A. took things a step further, though, during a recent appearance on NBA Countdown.
Stephen A. Smith believes Russ doesn't deserve to wear purple and gold
It's clear to anyone around the league, even the casual fan, that Russ doesn't fit alongside LeBron and AD. But as he's prone to do, Smith took everything a step further, saying Westbrook doesn't even deserve to be a Laker.
After a loss to the Clippers, he said the team's performance was "butt ugly" and then went in on the former Oklahoma City Thunder star via NBA on ESPN:
Listen, (Westbrook) has had a bad season, we all know that, but he's still Russell Westbrook.

He's never cheated us with effort. But … when I saw him during the postgame press conference last night, that was the first time, regardless of what has happened with Russell Westbrook this season, that I looked at him and said, "He does not deserve to be a Laker."

Stephen A. Smith on Russell Westbrook's play with the Lakers
Stephen A. continued his rant, calling out Russ for his stated "lack of expectations" when he plays for a franchise as storied as the Lakers and with LeBron as a teammate. But he had essentially closed the coffin on the Russ-LA experiment already.
The Lakers' future apparently will not include Russell Westbrook
Reports then came out the ensuing weekend about how The Brodie's relationship with the Lakers organization is finished. That it was "impossible" for the two to spend another season together, per Marc Stein.
It felt like the divorce was inevitable the minute rumblings came out of LA at the trade deadline that Westbrook could be moved for John Wall. The latest reports only confirm what most already knew.
The experiment was a massive failure, and there are only weeks left in the season until it's mercifully over.
It apparently got so bad that the Lawndale, Calif. native and UCLA alum didn't belong with his hometown team. That he didn't deserve to be a Laker.
All statistics courtesy of NBA.com.
RELATED: Russell Westbrook Is Putting the Final Nails in His Coffin as a Laker