Stephen A. Smith Fires Back at Blake Griffin After Griffin's Recent Comments: 'Ain't Nobody Scared of Blake Griffin'
Many NBA fans are now fearing that the postseason may potentially be uncompetitive thanks to guys like Blake Griffin and LaMarcus Aldridge signing with the Brooklyn Nets. Griffin recently fired back at those fans, too. However, ESPN's Stephen A. Smith is still not too happy with Griffin and recently sent the six-time NBA All-Star a strong message.
Blake Griffin fired back at the Nets' haters
RELATED: Stephen A. Smith Blames LeBron James for a Recent Event He Had Nothing to Do With: 'It's All His Fault'
The Brooklyn Nets were already a favorite to contend for the Eastern Conference title before the season began, as they had Kevin Durant and Kyrie Irving. The Nets have since traded for James Harden and have signed Blake Griffin and LaMarcus Aldridge, ultimately forming the next big superteam.
Many fans — unless they root for the Nets — aren't too happy about how stacked this team is, either. This includes ESPN's Stephen A. Smith, who recently criticized Griffin and Aldridge on First Take.
"You were supposed to be one of those dudes," Smith said on the March 29 episode, per a previous Sportscasting article. "You were supposed to be one of those dudes who was the cornerstone of the franchise that was leading a team to the promised land. As opposed to just sitting up there and just chilling out and having a ring slid on your finger."
Griffin has responded to all those haters, though.
"It's kind of funny to me, because for the last couple years, all I've heard is how bad I am," Griffin said, according to ESPN. "You sign with this team, and everybody's like, 'That's not fair!'"
Blake Griffin was the 2010-11 Rookie of the Year and earned five All-Star selections while with the Clippers. He averaged as many as 24.1 points in LA in 2013-14 and 12.1 rebounds in 2010-11. He then had a nice season in 2018-19 with the Pistons, earning his sixth All-Star selection by recording 24.5 points and 7.5 rebounds.
However, after only playing in 18 games in 2019-20, Griffin is only averaging 11.5 points and five rebounds this season.
So, what does Smith have to say about Griffin's latest comments?
Stephen A. Smith sent a strong message to the former NBA All-Star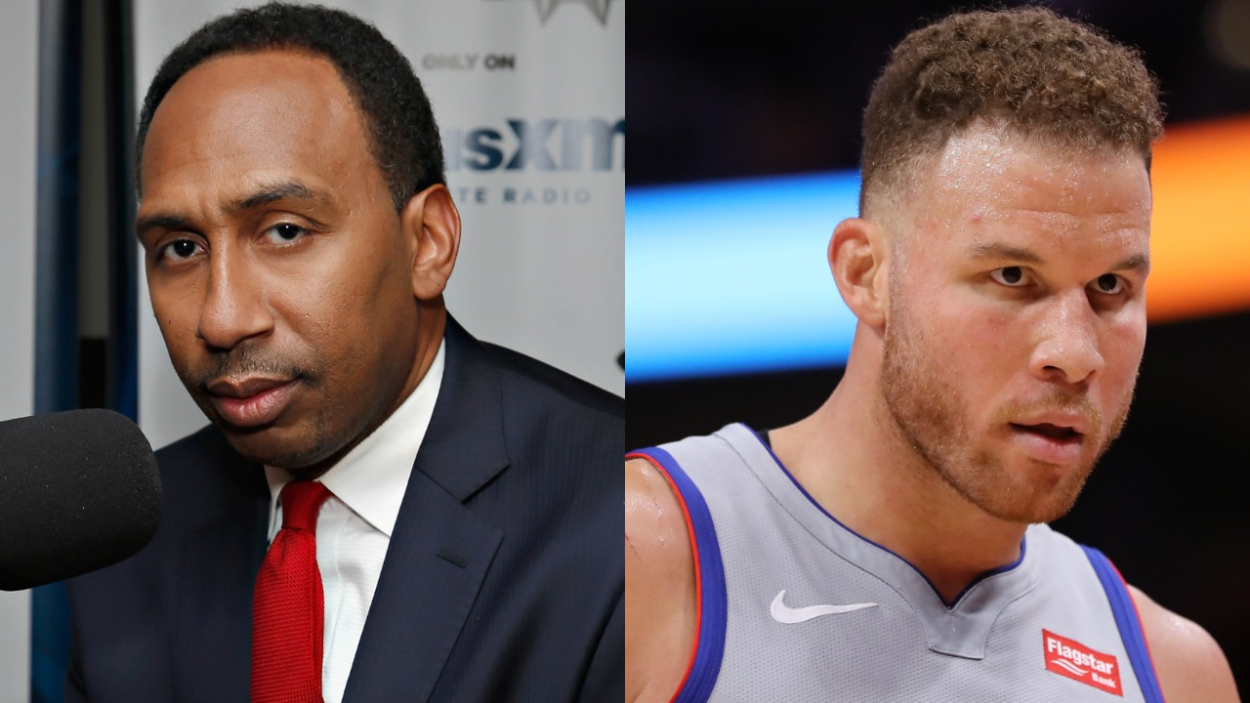 RELATED: The Brooklyn Nets Aren't Getting the Same Blake Griffin Who Broke His Hand on the Face of a LA Clippers Equipment Manager
ESPN's Stephen A. Smith recently addressed Blake Griffin's comments on First Take, and he had a strong message for him.
"I meant what the hell I said — ain't nobody scared of Blake Griffin," Smith said on the March 30 episode. "I respect the hell out of him, I really do. Not just as a basketball player, but as a person. But I said what I said; I meant what the hell I meant."
Smith then clarified that he never thought Griffin could no longer play at a high level during his time in Detroit. He just doesn't like seeing him go to Brooklyn.
"A matter of fact, I specifically pointed out 'he can play,'" Smith said. "Here's where Blake Griffin — and LaMarcus Aldridge — need to understand where I'm coming from: KD might have left Oklahoma City to go to Golden State, but KD was a superstar, and he arrived as a superstar. And even though they were a bomb squad, he still elevated them because he's that great."
He continued: "When you look at LaMarcus Aldridge and Blake Griffin, they were once the cornerstones of a franchise … You look at them now; it's as if they are literally hanging on for the sole expressed purpose of getting a championship while making a minimal contribution. That is not the same as you being some big-time talent and then going to a team as a big-time talent where you're playing a pivotal role."
So, it appears that Smith believes that Griffin should at least want to play a pivotal role in winning a championship. He doesn't necessarily hate the fact that he joined a superteam. He just hates that he joined this specific one that doesn't need him.
Whether you agree with Blake Griffin's decision or not, the Nets are going to be a tough team to beat in the playoffs.
Blake Griffin and the Nets will be tough to beat in the playoffs
RELATED: Kevin Durant Is Friends With Rapper Wiz Khalifa but Didn't Think Twice About Leaving Him High and Dry
The Nets already had two of the greatest scorers of all-time in Kevin Durant and James Harden. Kyrie Irving is also an elite scorer who has proven that he can come up big in the clutch. This is in addition to also having guys like Joe Harris and DeAndre Jordan.
However, Blake Griffin and LaMarcus Aldridge can make this team unbeatable, especially if they can have some vintage performances. Griffin just averaged 24.5 points and 7.5 rebounds two seasons ago. Aldridge also recorded 21.3 points and 9.2 rebounds during that season. These two former All-Stars should still be capable of having some big-time games whenever the Nets need them to, which could make this team extremely difficult to beat.
It'll be interesting to see if Blake Griffin and LaMarcus Aldridge can ultimately get what they decided to go to Brooklyn for: an NBA championship.
Stats courtesy of Basketball Reference