Stephen A. Smith Gives LeBron James, Lakers Perfect Bulletin-Board Material With Outrageous Overreaction
Stephen A. Smith gives bulletin-board material to various athletes on a daily basis. His job on ESPN's First Take is to provide hot takes that may rile some people up, which can, in turn, motivate stars to prove him wrong.
However, while he has certainly given LeBron James and the Los Angeles Lakers plenty of motivational sound bites in the past (especially throughout this season), Smith recently gave them the perfect amount of ammo they can later use to blow his and anyone else's doubt up.
LeBron James and the Lakers have gotten off to a slow start
It has been a bumpy start to the season so far for LeBron James and the Lakers.
They started the year 12-12, and James missed half those games either due to injury or some other various reason.
LA has also just made everything look difficult.
The team is struggling significantly on the defensive end and has frequently turned the ball over on offense. It has allowed 113.0 points per game, good for second-to-last in the NBA. The Lakers have also coughed it up 15.8 times per contest, leading to a below-average 107.5 offensive rating, which calculates points scored per 100 possessions. 
It hasn't been an easy year for James and company, but the NBA season is just a little more than a quarter of the way complete. There's still a lot of time, which is why Stephen A. Smith's recent take is so ridiculous.
Stephen A. Smith made an outrageous take about the Lakers
On the Dec. 7 episode of First Take, Stephen A. Smith said LeBron James' team is on the verge of irrelevance, despite only having played 24 games up to that point.
"The Los Angeles Lakers are the Los Angeles Lakers; it's a different standard," he said. "What I am saying is that if I am looking at you as a team, and I'm saying, 'Ain't no way in hell you're winning a championship,' that's my definition (of irrelevance for the Lakers). … If this were the Clippers, I wouldn't say that; if this was another team without those championship expectations, or championship expectations were foreign to them, I wouldn't say that."
He continued: "When you're the Lakers, and LeBron James is the face of your franchise, and you got Anthony Davis, and you got Russell Westbrook, and I'm looking at your franchise, and I'm like, 'Ain't no way in hell you're winning the chip,' that's irrelevancy."
Smith then added that he believes the Golden State Warriors are the best team in the Western Conference and the Lakers essentially have no shot at beating them.
"The Los Angeles Lakers might not make it out the first round," Smith said. 
Well, that's a bold claim. But it could prove just to be an outrageous overreaction and perfect bulletin-board material for James.
LeBron James can now prove Stephen A. Smith wrong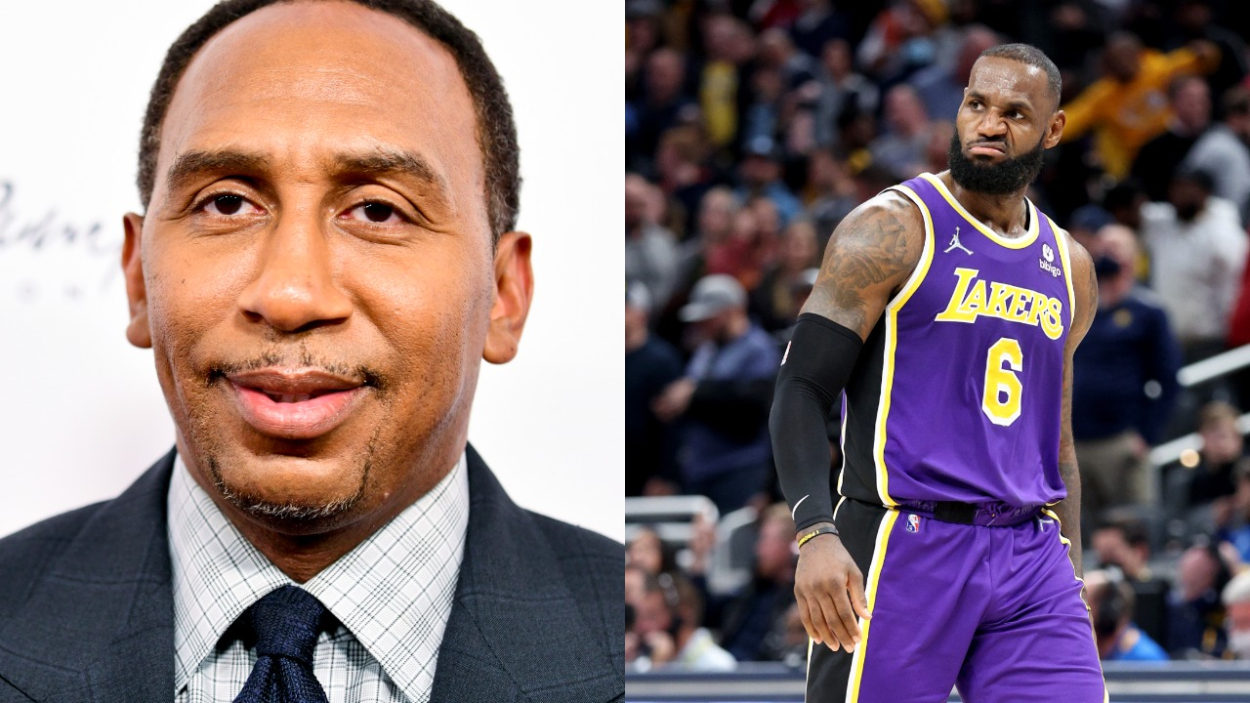 Sure, Smith has a lot of people agreeing with his take right now. The Lakers have looked bad.
But that doesn't mean they will continue to look that way the rest of this season.
LA has an almost entirely new roster this year with Russell Westbrook and others joining LeBron and Anthony Davis. James' Big Threes also have a history of starting slow out the gate. His Miami Heat Big Three struggled in his first season there, starting 9-8 before later making the NBA Finals, and James' Cleveland Cavaliers superteam started 19-20 in his first year back before also reaching the Finals.
Saying the Lakers won't make it past the first round just based on their performance through their first 24 games is an extremely premature overreaction.
In fact, LA had its first complete game of the season against the Boston Celtics the same day Smith made his comments, winning 117-102 to improve to 13-12. Who's to say that can't be the start of a winning streak?
All in all, we have seen LeBron James-led teams use hate for motivation before. His Heat teams seemed to relish the fact they were the villains, and his 2016 Cavaliers had everyone thinking their season was over when they fell behind 3-1 to the 73-win Warriors, but they still won the title in seven games.
The King has thrived with the odds stacked against him throughout his career, and Smith's outrageous overreaction may be precisely what he needs to kick off a strong run with the Lakers.
Stats courtesy of Basketball Reference