Stephen A. Smith Calls out Kevin Durant After Durant's Alleged Homophobic Comments Go Viral: 'He Should Be Better Than This'
We all know that Brooklyn Nets star Kevin Durant loves social media. There have been multiple times throughout the years, though, where his actions on the internet have potentially hurt his image, and one of those instances occurred recently. Actor Michael Rapaport recently leaked some alleged personal messages between him and Durant that show the Nets star calling Rapaport some offensive and homophobic slurs. The situation was actually pretty ugly for both parties involved, and ESPN's Stephen A. Smith has since reacted to it on First Take.
Kevin Durant allegedly sent homophobic messages to Michael Rapaport
RELATED: Lakers Owner Jeanie Buss Sends out a Simple but Strong Message to the Nets: 'Bring It On'
Actor Michael Rapaport recently took to Instagram to post screenshots of alleged messages between himself and Kevin Durant that date back to December 2020. In them, it appears that Durant was initially frustrated with Rapaport's criticism of the way he acted during an interview on TNT.
He then allegedly used homophobic language toward Rapaport in other messages and potentially said that he would "spit" in his face. Durant also seemingly wanted to fight him, as he allegedly asked him for his address.
There were also several messages where Durant allegedly taunted Rapaport for his defamation case against Barstool Sports by speculating whether Rapaport's wife was mad at him for potentially wasting money on a lawyer.
Soon after Rapaport posted the screenshots, Durant essentially confirmed that they were real, as he tweeted, "Me and mike talk CRAZIER than this on the regular and today he's pissed….My bad mike, damn!!"
Rapaport, though, denied the fact that they talk like that regularly.
"Don't ever threaten me or speak on my wife," he tweeted.
The screenshots certainly created quite a stir on social media, and for good reason. ESPN's Stephen A. Smith has since given his reaction.
Stephen A. Smith reacted to the recent messages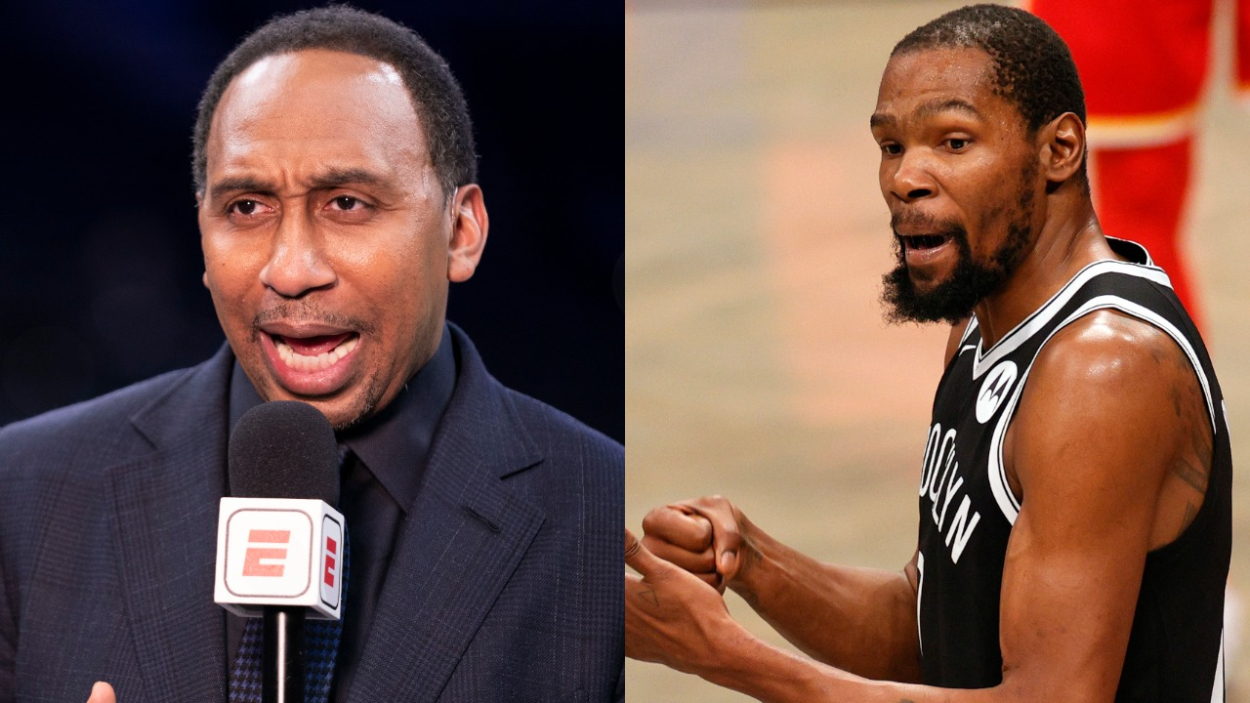 RELATED: Stephen A. Smith Sends Stern Message to LaMarcus Aldridge, Admits He Has Rubbed Him 'the Wrong Way'
ESPN's Stephen A. Smith recently appeared on First Take and discussed the situation. While he eventually criticized Durant, Smith also took issue with Rapaport.
"Let me call out Michael Rapaport: bro, you violated all types of street code," Smith said on the March 31 episode. "You know the rules. That was a private message from Kevin Durant to yourself. You had no business making it public. I know Michael Rapaport … I like Michael. He's crazy sometimes on social media but incredibly hilarious."
He continued: "You had no business exposing private, direct messages from Kevin Durant. Period."
Smith was still not happy with Durant, though.
"Kevin Durant comes across highly sensitive, very immature," Smith said. "I happen to like Kevin Durant. I think he's a good dude, even though I don't think that that comes across when he's on social media going off on everybody. I think he's the kind of person whose heart is in the right place and just wants to express himself. That doesn't mean you shouldn't know better. Kevin Durant is bigger than this; he's better than this. He should be bigger than this; he should be better than this, and that's not something that he should do."
Smith also said that the NBA is already investigating the issue and went on to remind Durant of former Clippers owner Donald Sterling. The latter was banned from the NBA for allegedly making racist comments over the phone.
"That private conversation got him exiled from the NBA," Smith said. "Maybe NBA players should remember that."
Whether you are OK with Rapaport leaking these messages or not, it's definitely reasonable to be frustrated with the way Durant allegedly handled himself in that conversation.
While this has been the biggest issue surrounding Durant this week, it wasn't the only thing Smith had to say about the star.
Stephen A. Smith called out Kevin Durant for his absence with the Nets
RELATED: Stephen A. Smith Blames LeBron James for a Recent Event He Had Nothing to Do With: 'It's All His Fault'
Kevin Durant has only played in one game for the Brooklyn Nets since Feb. 6 as he has been dealing with a hamstring issue, according to Bleacher Report. He has averaged 29 points per game and 7.3 rebounds in the 19 games he has played in, though.
During that same segment on First Take, Stephen A. Smith called Durant out for his absence.
"What's going on? You got something you need to tell us, bro? Something going on?" Smith said. "That's really what you're doing? You've missed about 25, 26 games. … Everybody been waiting for you. I know that you're coming off the Achilles [injury] and everybody waiting to see what you're going to do come playoff time and all of this other stuff, but dammit, last time I checked, you do get paid to play regular-season games as well."
It's unclear when Kevin Durant plans to return for the Nets. It will be interesting, though, to see how the rest of his season unfolds, and if he will address the insensitive comments that he allegedly said to Rapaport.
Stats courtesy of Basketball Reference