Stephen A. Smith Would Take LeBron James' Heat Titles Over Giannis Antetokounmpo's Bucks Title and Not for a Reason You'd Expect
Giannis Antetokounmpo didn't just win his first title with the Milwaukee Bucks, but he proved a point while doing it. In an era where LeBron James won titles with Dwyane Wade and Chris Bosh on the Miami Heat, and Kevin Durant won championships with Stephen Curry and Klay Thompson on the Golden State Warriors, Antetokounmpo won with the team that drafted him. He didn't ultimately leave and join a superteam like many stars have done in the past; he took the road with the most resistance.
Because of all the hard work behind Antetokounmpo's title, many fans would easily take his championship over any of James' with the Heat. ESPN's Stephen A. Smith, though, would actually take James' titles and not for the reason you'd expect.
LeBron James' two Heat championships vs. Giannis Antetokounmpo's Bucks title
James played with the team that drafted him — the Cleveland Cavaliers — for seven seasons (during his first Cleveland stint) and reached the NBA Finals once, but he could never win a title. So, in 2010-11, he joined Dwyane Wade and Chris Bosh on the Miami Heat.
After reaching the finals and losing that first year together, James and the Heat won back-to-back titles in 2011-12 and 2012-13 before reaching the finals but losing again in 2013-14.
Here's a look at the Big Three's stats during their four seasons together.
LeBron James: 26.9 points, 7.6 rebounds, and 6.7 assists per game
Dwyane Wade: 22.2 points, 5.3 rebounds, and 4.7 assists
Chris Bosh: 17.3 points and 7.4 rebounds
Antetokounmpo, on the other hand, went to the Milwaukee Bucks in the 2013 NBA Draft. He only averaged 6.8 points in his rookie season, and the Bucks went 15-67. Milwaukee then made the playoffs in 2014-15 but missed them in 2015-16. However, in 2016-17, Antetokounmpo became one of the NBA's best players and has earned an All-Star selection in every season since. He has also led the Bucks to the playoffs every year since that 2016-17 campaign.
During the years that Antetokounmpo spent time developing on the Bucks, Khris Middleton was also becoming a solid scorer. He joined Milwaukee the same year as Antetokounmpo and went from averaging 12.1 points in his first year to over 20 in three of the last four seasons.
The Bucks then added Jrue Holiday before the 2020-21 season to create their semblance of a Big Three.
Here are their stats from this season.
Giannis Antetokounmpo: 28.1 points, 11.0 rebounds, and 5.9 assists per game
Khris Middleton: 20.4 points, 6.0 rebounds, and 5.4 assists
Jrue Holiday: 17.7 points, 6.1 assists, and 4.5 rebounds
So, why would Stephen A. Smith take James' titles?
Stephen A. Smith said he would rather take LeBron James' Heat championships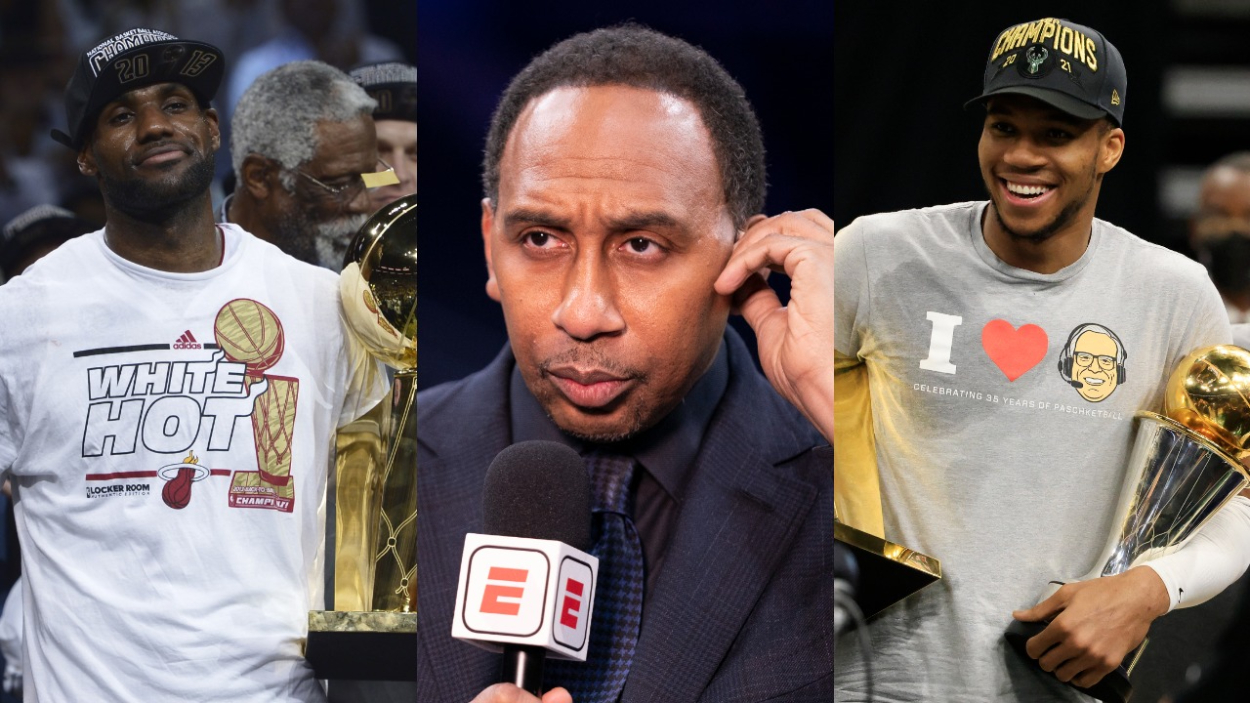 Smith recently appeared on First Take, and while discussing Giannis Antetokounmpo's title with the Bucks, he said he would take LeBron James' Heat championships instead.
His reasoning had nothing to do with Antetokounmpo's loyalty, either.
"When I think about LeBron, I'm thinking about D. Wade as my teammate; I'm thinking about Bosh; I'm thinking about that second go-around, how Ray Allen joined the squad," Smith said on the July 21 episode. "And I'm thinking about the fact that I'm in South Beach. I don't mind that. That's not a problem that I have. I think that's a beautiful thing. And then on top of it all, everywhere I go on the road, it's like The Beatles have showed up. … I kind of like that."
Smith admitted it's special seeing Antetokounmpo win a title on his original team after going through tough times on it. But it seems Smith likes the glamour of Miami more than the cold in Milwaukee.
However, James' Heat titles weren't the only superteam championships he would take over Antetokounmpo's.
He would take Kevin Durant's titles over Giannis Antetokounmpo's Bucks championship
Kevin Durant's two championships with the Golden State Warriors were even less challenging than LeBron James' with the Heat. He joined a team that had already won a championship, went to back-to-back NBA Finals, and had just won 73 games the season prior.
Smith, though, is still picking Durant's two Warriors titles.
"You know I didn't like the move to Golden State," he said. "…But I throw it, Max [Kellerman], to a dude (Stephen Curry) from 35 feet away from the basket, and it's like hitting layups. And oh, by the way, he ain't the only dude (Klay Thompson) that I can throw it to from 35 feet away from the basket, and it's like a layup. … If you're talking to me [about preference], well, let's see; it's the Oracle (Arena) with the greatest shooting backcourt that we've ever seen or rockstar treatment, and my home turf is South Beach. … I have no problem with LeBron or KD in that regard."
Like many, Smith seemed to respect Antetokounmpo's path to winning a title. It just appears he would rather travel a road with more flair and warmer weather.
Even if you're Team Giannis — you can't really blame him.
Stats courtesy of Basketball Reference