Stephen A. Smith Puts LeBron James on Notice for Not Teaming up With Carmelo Anthony Until Now, Says He Did 'Nothing' When Melo 'Couldn't Get a Damn Job'
LeBron James is finally teaming up with another member of his Banana Boat Crew, as Carmelo Anthony has signed with the Los Angeles Lakers. The move not only puts two of the greatest players in NBA history on the same team, but it gives LA an even greater chance at winning another championship in 2021-22.
However, ESPN's Stephen A. Smith thinks the LeBron-Melo pairing should have come sooner. In fact, he recently put James on notice for not helping Anthony when Melo didn't have a job a couple of years ago.
Carmelo Anthony and LeBron James are teaming up on the Lakers
Anthony spent the last two seasons with the Portland Trail Blazers and played well. He scored a combined 14.3 points per game over the last two years and shot 39.9% from 3-point range.
However, he only has one thing left to do in terms of his legacy: win a championship. So, Anthony recently signed with the Lakers to join a team that consists of James, Anthony Davis, and Russell Westbrook.
"Bron just came to me one time and said, 'Yo, the time is now. I want you. We got to make this happen,'" Anthony said to reporters on Aug. 9, per ESPN. "And I just felt like for right now, this is the best time."
He continued: "Most people would say we should've gotten together years ago early in our careers, but we were in two different lanes, we were on two different paths. And everything comes full circle, I'll say."
However, Smith still recently called James out for not teaming up with Anthony sooner.
ESPN's Stephen A. Smith put The King on notice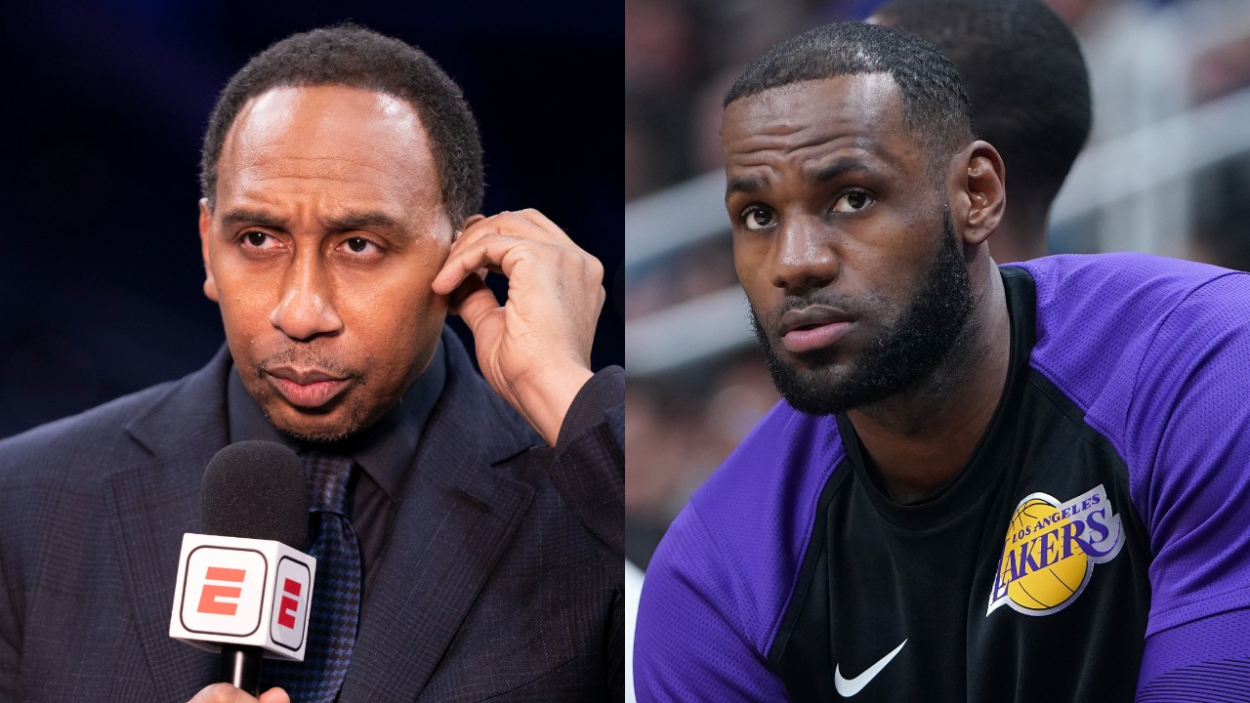 Stephen A. Smith recently appeared on ESPN's First Take to discuss Carmelo Anthony joining LeBron James and the Lakers. However, he thinks James should have tried to get the 10-time All-Star on his team back when no one would give him a chance.
Anthony played for the Houston Rockets in 2018, but after only 10 games, he and the team chose to part ways. He then went an entire year without playing until the Portland Trail Blazers finally signed him in November 2019.
"This precipitous drop-off that everybody tried to put out there about him when he couldn't get a damn job in the league, and then he ultimately ended up being interviewed right here in this studio with me looking for a job, it was utterly ridiculous and insane that he was ever subjected to that," Smith said on the Aug. 10 episode. "And what did LeBron James do at that particular moment in time? The answer would be, 'nothing.'"
He continued: "Easily the argument could be made this is something LeBron James should've done years ago. LeBron James has had at least a couple of opportunities to have Carmelo Anthony as his teammate, at least a couple of years ago, particularly and specifically when Carmelo Anthony was unemployed, and nobody in the league wanted to touch him. And LeBron did not make that happen."
Smith made interesting points; Anthony's inability to get a job in 2018-19 was bizarre, given he had just scored 16.2 points per game on the Oklahoma City Thunder the season before. But maybe there were reasons we are just unaware of as to why James didn't help Anthony at that time; maybe, it was something out of his control.
Either way, James and Anthony are finally on the same team now, despite the stars failing to align previously.
LeBron James and Carmelo Anthony almost played together on the Cavaliers
Smith was right about one thing: LeBron James and Carmelo Anthony should have teamed up years ago, but they should have done it well before Anthony struggled to find a job.
It should have actually happened prior to James' move to the Lakers, as the two were close to teaming up on the Cleveland Cavaliers.
During the 2017 offseason, the Cavs were trying to figure out how to overtake the Kevin Durant-led Golden State Warriors, as they had just lost to them in the 2017 NBA Finals. Because of this, they almost had a deal that would have landed them Anthony and Paul George.
"It was funny because me and PG was supposed to be in Cleveland on draft night. We were communicating about that," Anthony said in 2017, per ESPN. "The deal was actually done and it got called off on draft night."
James, George, Anthony, and (maybe) Kyrie Irving on a team together would have been special. Instead, though, LeBron and Melo waited four more years to team up on the Lakers.
Better late than never.
Stats courtesy of Basketball Reference