Stephen A. Smith Deems NBA Player 'Next Kobe Bryant'…and Magic Johnson Seems to Agree
Kobe Bryant is gone, but he's certainly not forgotten. His impact on the NBA is still seen and felt today, as players all around the league try to lock into his Mamba Mentality. However, analysts and experts are now trying to find the "next Kobe Bryant," a person who can carry the torch and take the NBA by storm. ESPN's Stephen A. Smith — and potentially Magic Johnson — seem to think they have found that person: Phoenix Suns star Devin Booker.
Devin Booker is dominating in the NBA playoffs for the Suns
Booker proved prior to this season that he was one of the best scorers in the NBA. He not only scored 70 points in a game against the Boston Celtics in 2017, but Booker has averaged over 22 points per game every season since 2016-17 and has scored more than 25 per game each of the last three years.
However, the Phoenix Suns have been horrible throughout his career, as he had not made the playoffs once through his first five seasons. In 2020-21, though, Phoenix has been one of the best teams in the league, and is now in the Western Conference finals.
Booker has also been one of the most dominant players throughout this postseason so far. Through 11 games, he is averaging 29 points, 7.4 rebounds, and 5.4 assists. He dropped 47 points and pulled down 11 rebounds in a closeout win over the Los Angeles Lakers in Game 6 of the first round. He also had 40 points, 13 rebounds, and 11 assists in Game 1 of the conference finals against the Los Angeles Clippers.
That latest performance did not just raise eyebrows around the league, though. It also drew some massive praise from Smith.
Stephen A. Smith says Booker is the 'next Kobe Bryant'…and Magic Johnson seems to agree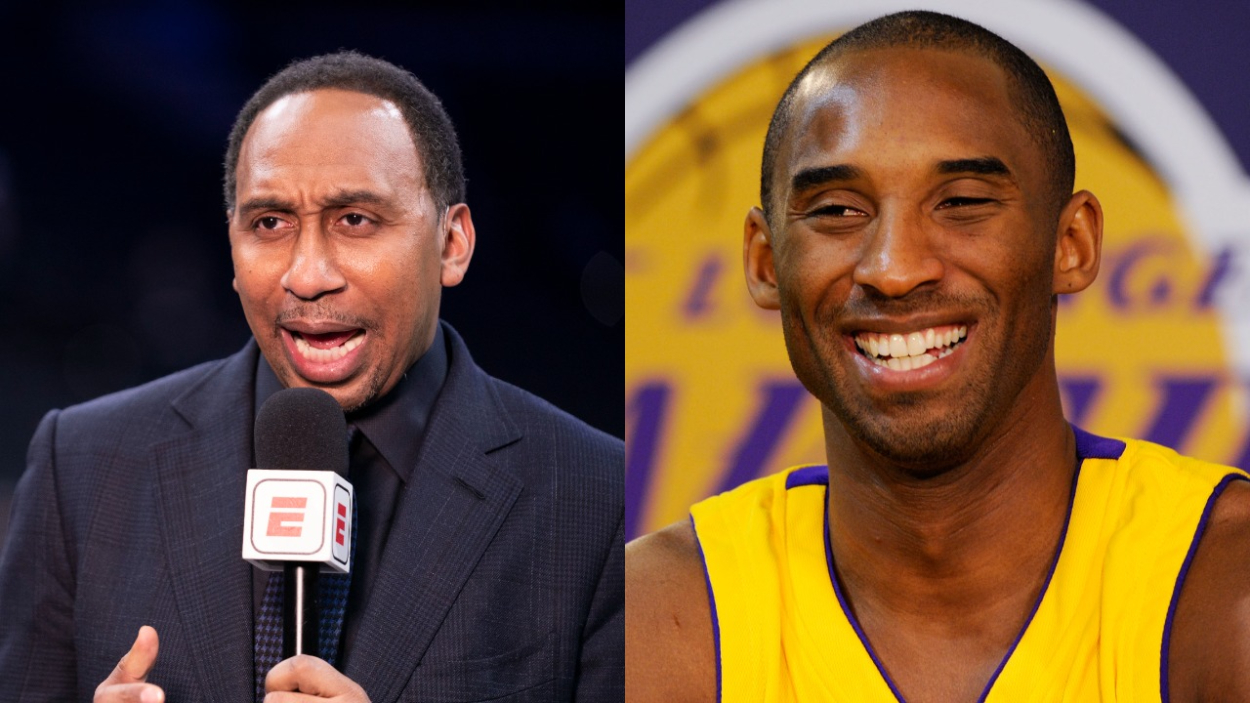 While appearing on the June 21 episode of First Take, Smith and Magic Johnson discussed Game 1 of the Western Conference finals with Smith's co-star Max Kellerman. And Smith made a significant claim about Booker.
"Devin Booker is the next Kobe Bryant," Smith said.
Johnson didn't even let Smith finish before saying, "Yep. Yep."
Smith continued: "I'm saying it on national television: Devin Booker is the next Kobe Bryant. It is official. His first playoff appearance and the brother's a No. 1 option, averaging over 28, dropped 40 and a triple-double in the first game of the conference finals. And just the way he plays, he's an assassin."
Kellerman then jumped in and called him a "mini Mamba."
So, are they right? Is Booker essentially Bryant 2.0?
Is Devin Booker the next Kobe Bryant?
It's interesting to look at the argument for Booker being the next Bryant. There are certainly some similarities between their games, and the two stars even had a relationship.
"Honestly, I was thinking about Kob and the conversations that we had," Booker said after beating the Lakers in Game 6 of the first round, per a tweet from the NBA.
Booker and Bryant even had similar numbers during their sixth seasons in the league. Bryant averaged 25.2 points, 5.5 rebounds, 5.5 assists, and shot 46.9% from the field, while Booker averaged 25.6 points this season to go with 4.3 assists, 4.2 rebounds, and a 48.4% field-goal percentage. 
Booker, though, is actually a better 3-point shooter at this point in his career than Bryant was during his sixth year, as the young superstar shot 34% on 5.5 long-range attempts per game this season. Bryant, on the other hand, shot 25% from long range on 1.7 attempts in his sixth year.
However, it'll be hard for Booker to match Bryant's Mamba Mentality and the championships he won while embracing it. Bryant led the Lakers to five NBA championships and seven total NBA finals. He had already won three titles through his first six seasons.
Booker is just now making his first trip to the playoffs.
That's not saying Booker isn't a great player or that he won't win championships; it's also not saying that Booker isn't a similar player to Bryant. But only Michael Jordan had the same killer instinct that Bryant had throughout his career. It's hard for any player to totally embrace what Bryant was able to do on the court. 
So, for now, saying Booker is the next Kobe is probably putting a lot of pressure on him due to the fact Bryant is an all-time great. But there is nothing wrong with the Suns star just being the current Devin Booker, rather than the next Kobe Bryant, because many kids now are probably trying to model their games after him.
Stats courtesy of Basketball Reference
RELATED: Kobe Bryant's Former Lakers Teammate Called Him Weeks After His Death: 'It Took Me Some Time to Even Really Accept It'