Stephen A. Smith Says He Doesn't Trust a Ben Simmons Trade Idea That Would Put the 76ers Atop the East
Two of the best point guards in the NBA haven't played a single game with their teams all season: Ben Simmons and Kyrie Irving. The former just wants out of Philadelphia, and the latter refuses to get the COVID-19 vaccine. However, while some ESPN commentators believe there's a perfect solution to both the Philadelphia 76ers' and Brooklyn Nets' problems, Stephen A. Smith isn't sold.
In fact, he said he just simply doesn't trust the idea of the Sixers and Nets doing a Simmons-Irving swap.
ESPN commentators discussed a potential Ben Simmons-Kyrie Irving trade for the 76ers and Nets
In light of ESPN's recent report that trade conversations involving Ben Simmons have been heating up lately, former hoops star Jalen Rose suggested that the Sixers deal Simmons to the Nets for Kyrie Irving.
"Kyrie Irving is the guy that makes Philadelphia a contender," Rose said on the Dec. 11 episode of NBA Countdown.
The move would, of course, work for both sides. Irving isn't playing because the New York city mandate doesn't allow unvaccinated Nets and New York Knicks players to play in home games, and the Nets don't want the seven-time All-Star only suiting up half of the time. In Philadelphia, though, Irving would be eligible to play in all his teams' games.
Simmons, on the other hand, would finally have a new team and would be out of Philly.
"Make the deal," Michael Wilbon said in response. "The Sixers are not going to contend seriously until they get rid of that hole in the lineup."
Stephen A. Smith, though, was hesitant about the idea.
Stephen A. Smith said he doesn't trust a Simmons-Irving swap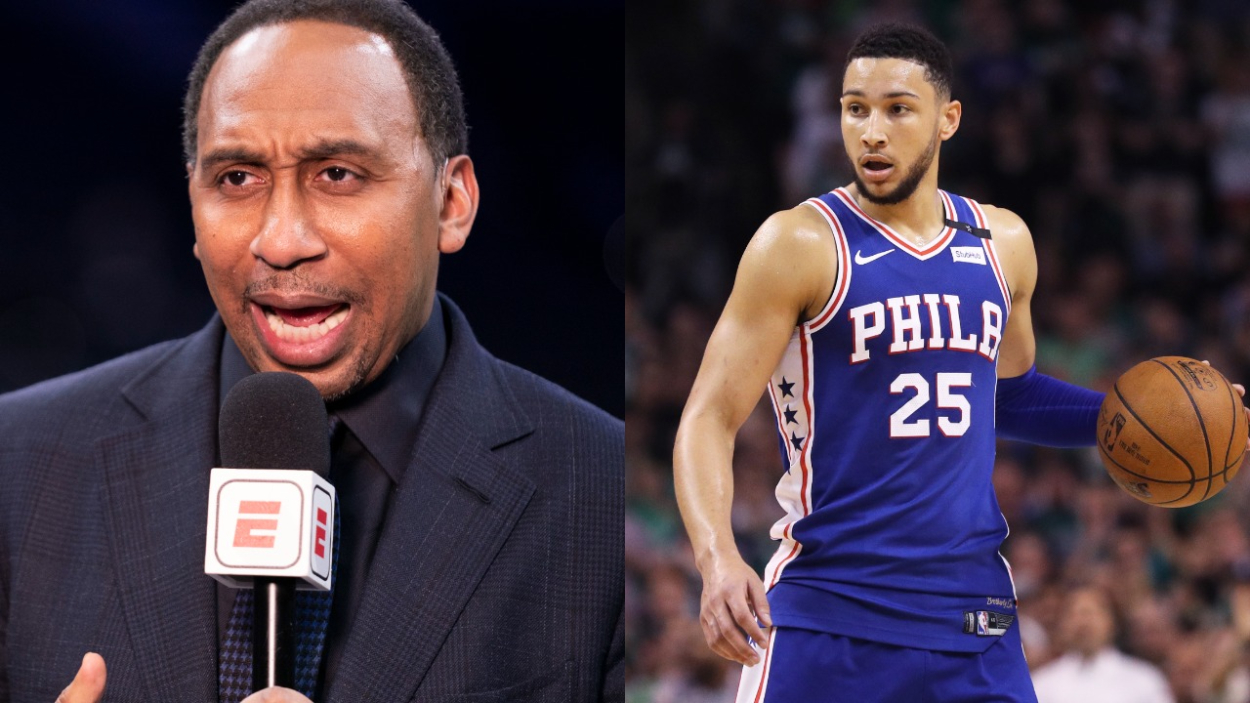 So, since Wilbon and Rose are sold, what does Smith believe?
"I don't trust it; I don't like it; I don't like it. I think it's a terrible idea, and I'ma tell you why," Smith, who worked at the Philadelphia Inquirer for 16 years, said. "Because unlike in Brooklyn where [Irving] can be that off-guard, here they need a point guard."
Smith then said that Irving is "box office" and "sensational," but he wondered how he would fit with star Sixers big man Joel Embiid.
"It's one thing for him to vibe on the basketball court with Kevin Durant; it's another thing entirely to ask him to vibe with Joel Embiid," he said. "Even though Joel Embiid can hit from the perimeter, he's a dude that needs to get his big backside in the low post and dominate like he's supposed to. That slows things up; it goes against what Kyrie would want to do. I'm not saying it wouldn't work totally. I'm just saying I'm suspicious of it; I'm not comfortable with it."
So, is Smith right, or should the Sixers make the trade?
A Ben Simmons-Kyrie Irving trade would make the 76ers contenders again
Yes, Kyrie Irving fits well on the Nets. And yes, a duo with him and Joel Embiid would maybe be an awkward pairing. But the star guard would still put the 76ers atop the Eastern Conference if he were to go there.
The Sixers have missed having another scorer in the playoffs the last few years (other than the season they had Jimmy Butler). While Simmons averaged 16.3 points during the 2017-18 postseason, he only scored 14.4 points per game during the 76ers' Eastern Conference Semifinals loss to the Boston Celtics that year. He then only averaged 13.9 points in the 2018-19 postseason, missed the playoffs in 2019-20, and then only scored 11.9 points per game in 2020-21.
Irving, though, would give the Sixers the second scoring punch they desperately need alongside Embiid. Kyrie has averaged 23.4 points in the playoffs for his career, and he scored 25.2 per game in 2015-16 when he helped lead the Cleveland Cavaliers to a championship. He'd be able to take pressure off Embiid and would immediately make Philly one of the most dangerous teams in the East.
But how would Simmons fit in Brooklyn? That would likely be a seamless transition, as the Nets already have two great scorers in Kevin Durant and James Harden. Simmons, who averages 7.7 assists for his career, would just have to distribute the ball to those two and then continue playing his elite defense on the other end of the court.
Stephen A. Smith did somewhat change his mind, as he realized Kyrie Irving would be the closest thing to Allen Iverson the Sixers have had since AI's last prime year in Philly during the 2006-07 season. But the commentator still seemed hesitant about the idea.
No matter how he feels, though, Irving would make the Sixers an Eastern Conference contender and would give them a real shot at winning a title. Who knows, too, maybe we would get a 76ers-Nets Eastern Conference Finals matchup.
Stats courtesy of Basketball Reference