Stephen A. Smith Explains Why Stephen Curry Belongs in the GOAT Debate: 'Michael Jordan Couldn't Do That'
While the NBA's GOAT debate most often breaks down to LeBron James vs. Michael Jordan at present, there are other candidates for that title. There are arguments for Bill Russell, Kareem Abdul-Jabbar, and Kobe Bryant from some circles. But Stephen A. Smith of ESPN's First Take sees a spot in the discussion for another player. The long-time talking head believes Stephen Curry has a claim to part of the GOAT title.
The 33-year-old Curry had a renaissance season in 2020–21 after an injury-wrecked 2019–20 campaign. Despite not having Klay Thompson, Curry nearly carried the Golden State Warriors to the playoffs last season. That earned him significant MVP support; he finished third in the voting. That's the highest finish for any player from a non-playoff team since the media took over the MVP voting in 1980–81.
Can Curry make a legitimate claim to the GOAT crown?
Stephen Curry was at the vanguard of an offensive revolution
When the NBA made the mistake of shortening the 3-point line to 22 feet for three seasons beginning in 1994, 3-point attempts soared. In 1994–95, John Starks of the New York Knicks set a record with 611 3-point attempts. George McCloud, playing for a woeful Dallas Mavericks team, broke the mark the following season.
McCloud's record of 678 triple tries stood for 20 seasons. In 2015-16, Stephen Curry obliterated that mark while shooting from the line's original dimensions. Curry fired up 886 3-point attempts that season, besting McCloud's old mark by more than 200.
For some perspective on how Curry broke McCloud's record convincingly, a player would have to score 5,265 points in a season to beat Wilt Chamberlain's record of 4,029 by as significant a margin. James Harden spiked the 3-point attempts record to unheard-of territory in 2018–19 with 1,028. Curry was on pace to top that with 12.7 attempts per game last season, finishing with 801 in 63 games.
Curry also became the third-oldest scoring champion in NBA history at age 33. Only Michael Jordan topped the NBA at a later age. Given Curry's offensive game that works from the outside and works in, he is one of the most dynamic offensive players in the game's history. But is he the best?
Smith likens Curry to Michael Jordan as an offensive player
ESPN personality Stephen A. Smith won't go so far as to include Stephen Curry in the debate as the GOAT. But he thinks the Warriors' star can go toe-to-toe with Jordan as the offensive GOAT. That is if such a thing exists.
His reasoning is simple, maybe too simple. But Curry's shooting, according to Smith, puts him at a level few other players have reached. Specifically, Curry shoots in a way that makes most observers say:
"Michael Jordan can't do that."

Stephen A. Smith on Stephen Curry's shooting
Curry is a career 43.3% shooter from 3-point range on 8.6 attempts per game. That ranks seventh all-time. But none of the players ahead of Curry shot at anywhere near the volume Curry has. Here are the top six in terms of attempts per game:
Steve Kerr (45.4%, 1.8 attempts per game)
Seth Curry (44.4%, 4.1)
Hubert Davis (44.1%, 2.4)
Joe Harris (43.8%, 4.8)
Drazen Petrović (43.7%, 2.0)
Jason Kapono (43.4%, 2.1)
Apart from Petrović, none of those players were the offense's No. 1 option. For perspective, Kerr averaged 4.7 shots per game from any distance.
For his part, Jordan was a 32.7% percent 3-point shooter on 1.7 attempts a game. His best mark for an entire season was during his 1995–96 return tour when he hit 42.7% on 3.2 tries a night.
But Jordan also played in an era where the 3-point shot wasn't something everyone on the floor did. That point matters. Given his competitive nature, Jordan would be a top-notch deep shooter in today's NBA. Because he'd make himself become one.
Michael Jordan is the best offensive force, no disrespect to Stephen Curry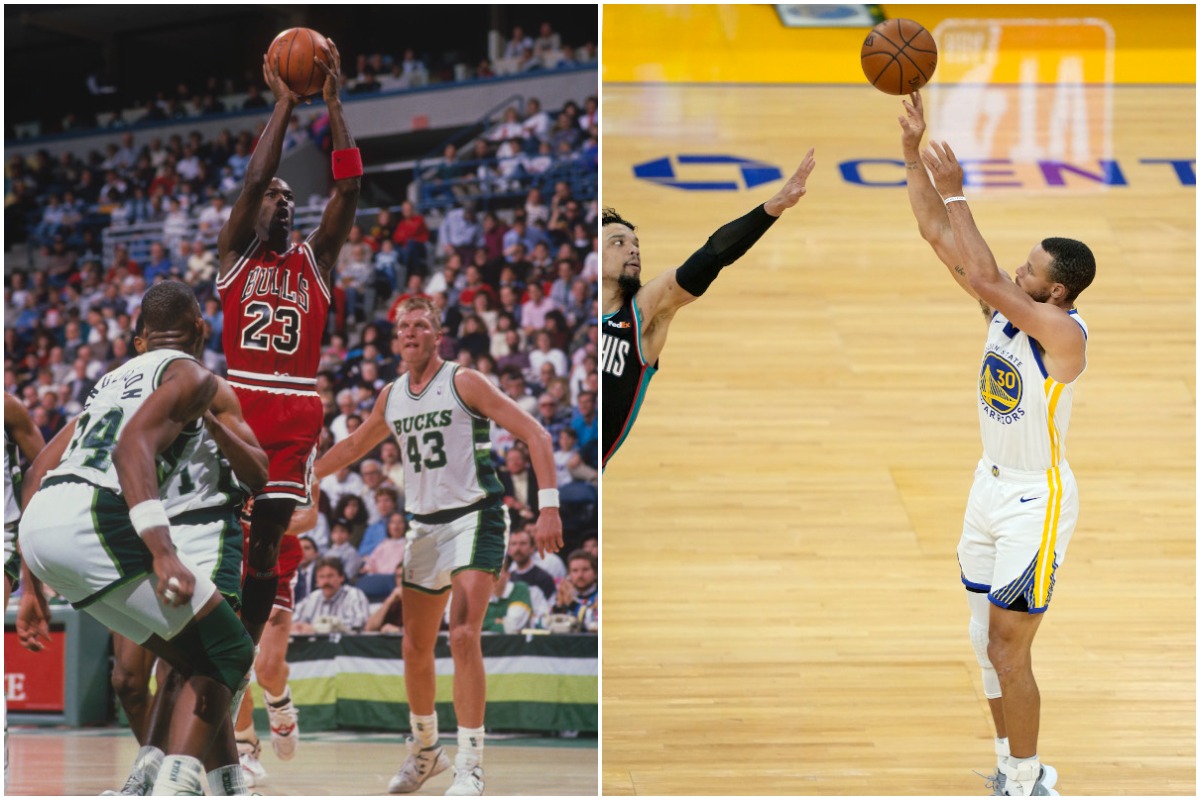 While Michael Jordan wasn't primarily known as a 3-point shooter, he had his moments (see the Shrug Game). But he was as complete an offensive player as the NBA has ever seen. He could drive, attack the rim, developed a whole bag of midrange tricks, and was an outstanding free throw shooter.
Stephen Curry, meanwhile, is a master creator for himself and others off the bounce. Few shooters come off a screen in position to catch and fire as quickly as he does.
But as an overall offensive force, it's hard to go against the NBA's all-time leader in points per game. That would be Jordan at 30.1. Curry's mark of 24.2 points per game ranks 20th on that list.
Stephen Curry is a great offensive player. But he's still not Michael Jordan.
Statistics courtesy of Basketball Reference.