Stephen A. Smith Sends Stern Message to LaMarcus Aldridge, Admits He Has Rubbed Him 'the Wrong Way'
With their recent signing of LaMarcus Aldridge, the Brooklyn Nets just continue to get even stronger. Many people believe that the acquisitions of him and Blake Griffin could now make the Nets unbeatable once the postseason rolls around, as this is now an extremely scary superteam. However, most fans — unless they root for the Nets — aren't too happy about all of these moves. This includes ESPN's Stephen A. Smith, who recently sent out a stern message to Aldridge.
LaMarcus Aldridge is joining the Brooklyn Nets
After everyone saw six-time NBA All-Star Blake Griffin join Kevin Durant, Kyrie Irving, James Harden, and the Nets earlier this month, seven-time All-Star LaMarcus Aldridge is now joining Brooklyn as well.
This came after Aldridge recently agreed to a buyout with the San Antonio Spurs. Aldridge is a 19.4 career points-per-game scorer, as he also averaged as many as 23.4 points per game in 2014-15. He also averages 8.3 rebounds for his career. Additionally, just last season, Aldridge recorded 18.9 points and 7.4 rebounds, but he is only averaging 13.7 points per game and 4.5 rebounds this year.
Now, though, he is about to bring more depth to a team that already has a great chance of winning an NBA championship this season.
However, ESPN's Stephen A. Smith is not too happy about his decision.
Stephen A. Smith calls out LaMarcus Aldridge for signing with the Nets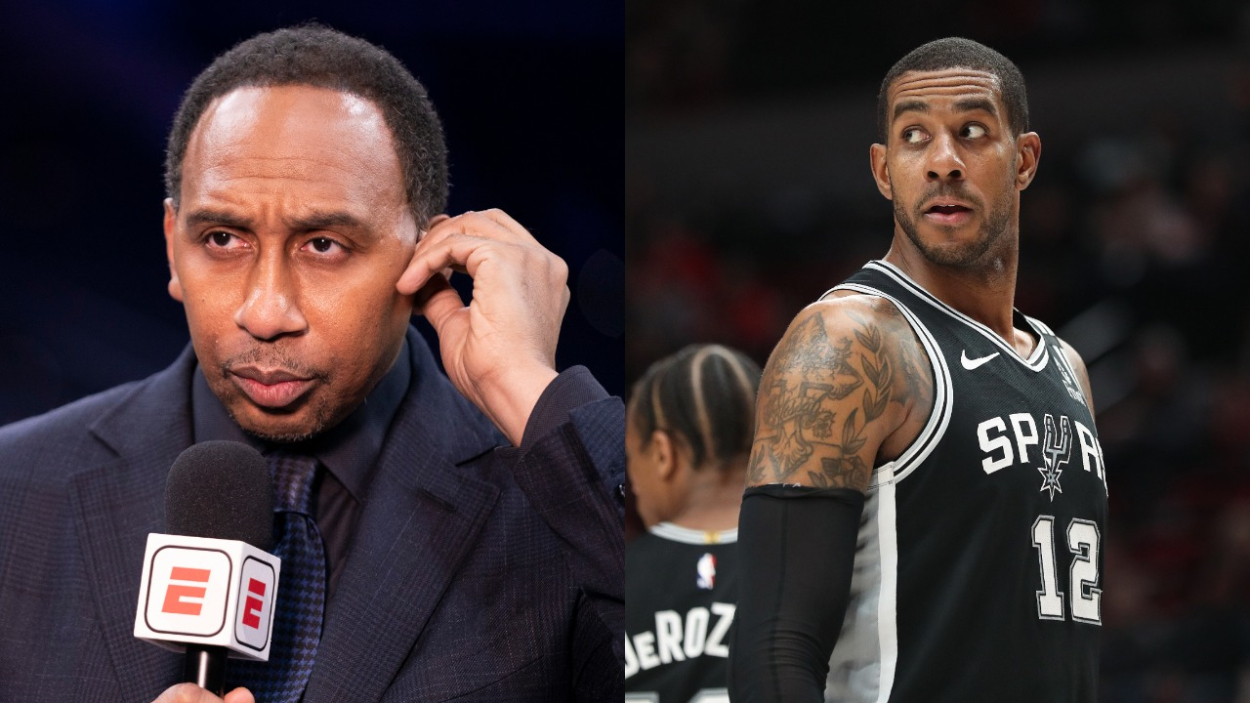 ESPN's Stephen A. Smith recently appeared on his show First Take, and he is not too happy about Aldridge signing with the Nets.
"This is what's rubbing me the wrong way," Smith said on the March 29 episode. "It's not the KD, Kyrie, James Harden thing. … But when the names Blake Griffin and LaMarcus Aldridge come to my mind, that's what really irritates me about this, and here's why. I remember the last two years in Portland, LaMarcus Aldridge averaging 23 a game, and he was supposed to be that glue (for the Spurs) with Tim Duncan fading away into the twilight before he was going to retire; with Kawhi Leonard being there and all of that stuff. He was supposed to be that guy."
Smith continued: "Blake Griffin: remember Lob City? … He was the cornerstone of the franchise. Both of them came up short. … I'm just saying when I look at that, and then I see you jumping on this bandwagon, it's something that turns me off about that because you were supposed to be one of those dudes. You were supposed to be one of those dudes who was the cornerstone of the franchise that was leading a team to the promised land. As opposed to just sitting up there and just chilling out and having a ring slid on your finger."
Smith certainly didn't hold back when talking about Aldridge and Griffin, but he made some solid points. It seems that he believes Griffin and Aldridge have just given up on earning championships on their own and will now just take one by joining a team that will there with or without them. The Nets don't need Aldridge and Griffin. They need the Nets.
No matter what you believe about this superteam, though, the Brooklyn Nets are going to be tough to beat in the playoffs.
The Brooklyn Nets are going to be tough to beat in the NBA postseason
If they are fully healthy, it's hard to imagine anyone beating the Brooklyn Nets in the playoffs. Kevin Durant and James Harden are two of the greatest scorers in NBA history, and Kyrie Irving has proven that he is not just a great scorer but also a guy who can close games in the clutch.
Joe Harris has also been a great shooter for the Nets this season, while DeAndre Jordan has been a solid big man.
However, if Blake Griffin and LaMarcus Aldridge can turn in some vintage performances, the Nets could become unbeatable. No, these two former All-Stars aren't as good as they used to be, but Griffin just averaged 24.5 points per game and 7.5 rebounds two seasons ago. Aldridge averaged 21.3 points and 9.2 rebounds during that same season. They should still be capable of having a few big performances when needed, which makes the Nets' depth extremely scary.
Whether you like superteams or not, LaMarcus Aldridge just made the Nets even more terrifying. We'll see if they can stay healthy and ultimately achieve the ultimate goal of winning an NBA championship.
Stats courtesy of Basketball Reference