Stephen A. Smith Follows Terry Bradshaw's Lead, Says Aaron Rodgers Has Been 'Passive-Aggressive' and 'Weak'
NFL legend Terry Bradshaw caught the football world off guard recently with his comments about Aaron Rodgers and Rodgers' issues with the Green Bay Packers. Bradshaw doesn't seem to really like the way the reigning NFL MVP has handled himself, which ultimately led to some pretty critical comments about him.
One person who always seems to have Rodgers' back, though, is ESPN's Stephen A. Smith. However, Smith recently went on TV and followed Bradshaw's lead, saying Rodgers has been "passive-aggressive" and "weak."
Terry Bradshaw called out Aaron Rodgers
RELATED: Aaron Rodgers' Friend and Former Teammate Sends a Stern Message About the QB's Future: 'That's the Dumbest Thing I've Ever Heard'
After an ESPN report said Rodgers told people in the Packers' organization that he no longer wants to return to Green Bay, Bradshaw went on the radio and criticized how the QB has handled himself. Bradshaw specifically took issue with the Rodgers-Jordan Love situation, as Green Bay drafted Love in the first round of the 2020 NFL draft instead of getting Rodgers some help.
"With him being that upset shows me just how weak he is," Bradshaw recently said on WFAN's Moose and Maggie. "Who the hell cares who you draft? I mean, he's a three-time MVP in the league, and he's worried about this guy they drafted last year at No. 1?"
Bradshaw even went as far as to say the QB should just retire.
"Here's what I'd do," Bradshaw said of Green Bay. "I wouldn't budge. Let him gripe. Let him cry, retire. You're 38; go ahead and retire. See you later. I mean, I'm really strong about stuff like that, and it just makes him look weak. In my way of looking at it, it makes him look weak."
He continued: "Obviously, he doesn't need the money, so probably he should just retire and go do Jeopardy! That's the way I look at it. I wouldn't budge."
The comments were certainly eyebrow-raising. Bradshaw isn't alone, though, when it comes to not liking how Rodgers has handled himself throughout this saga.
Stephen A. Smith followed Terry Bradshaw's lead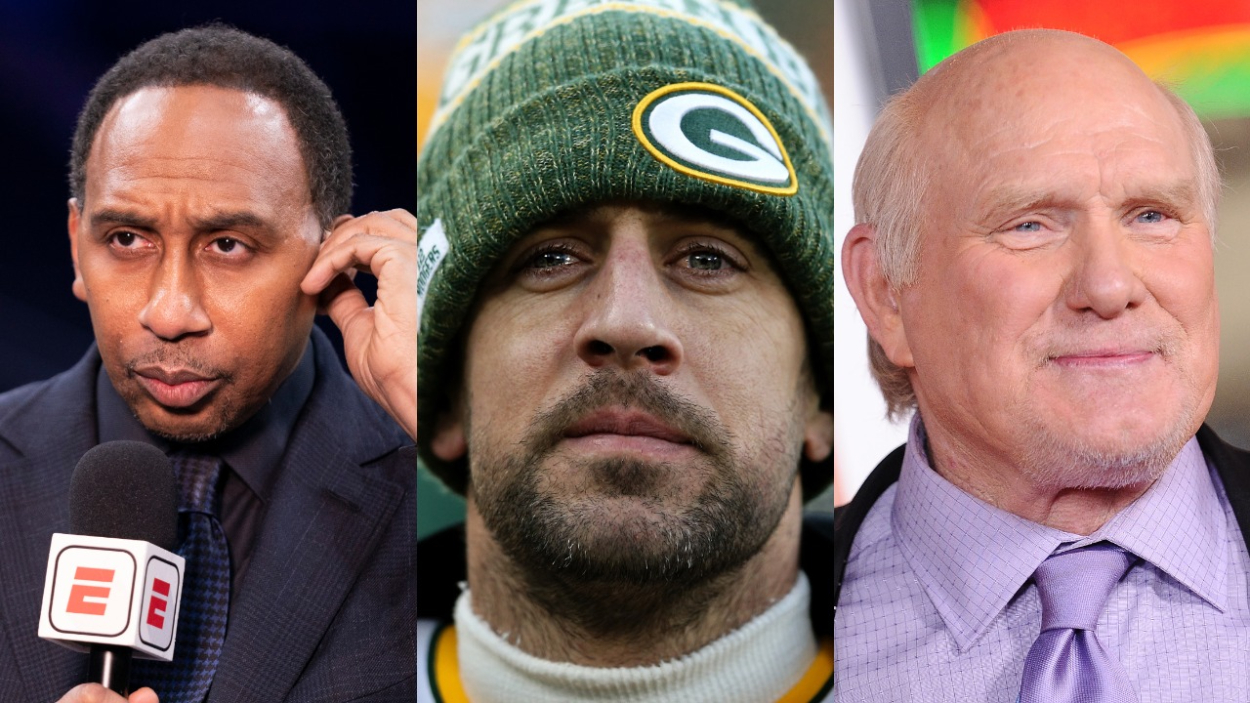 RELATED: Terry Bradshaw Should Have Considered His Own Past Before Taking a Shot at Aaron Rodgers
Stephen A. Smith is a known Rodgers fan, but, like Bradshaw, he has an issue with how Rodgers has handled everything.
"Aaron Rodgers has been passive-aggressive," Smith said on the May 4 episode of First Take. "You've got other people talking for Aaron Rodgers in terms of what he feels; what he's told the organization. He hasn't come out and stated what his position is to anyone, and that part is weak."
Smith is still on Rodgers' side to a degree, as he said the Packers have "mistreated" and "disrespected" the QB, but he thinks he needs to come out and make his position clear.
"We've heard the reports from Adam Schefter," Smith said. "I'm saying there's too much noise, whether it's Pat McAfee … it's Adam Schefter, it's anybody else, Aaron Rodgers is perfectly entitled to come out and say, 'Yo, I don't wanna be here.'"
Smith admitted he doesn't totally agree with Bradshaw, as the Steelers legend essentially said Rodgers is weak for being unhappy. But Smith thinks it's time for Rodgers to speak up, especially after a recent report from Yahoo Sports said Rodgers doesn't plan on coming back to Green Bay if general manager Brian Gutekunst is there.
"If reports are out there that you want somebody fired, you want them gone, wait a minute, that can't be leaked information and speculation," Smith added. "That needs to come out of his mouth because now that gets deeper. Because now you're trying to cost somebody else their job."
There are a lot of opinions out there about Rodgers and the Packers. However, the one thing we know for sure is that his future is unclear.
Aaron Rodgers' future with the Packers is unclear
RELATED: The Irony of the Packers' Handling of Aaron Rodgers and Jordan Love Is Staggering
The one thing we do know is that we don't know anything regarding Rodgers' future.
In addition to the reports about Rodgers saying he doesn't want to return to Green Bay and essentially wants Gutekunst fired, NFL Network's Ian Rapoport reported that Rodgers is strongly considering retirement if Green Bay doesn't repair the situation.
ProFootballTalk also revealed three teams potentially on Rodgers' wish list, and Rich Eisen said he has heard Rodgers would love to go to the Denver Broncos.
There are many possible ways the Rodgers-Packers situation could play out, and it's clear no one really knows who he will suit up for in 2021.
Get your popcorn ready because the rest of this offseason will be interesting.