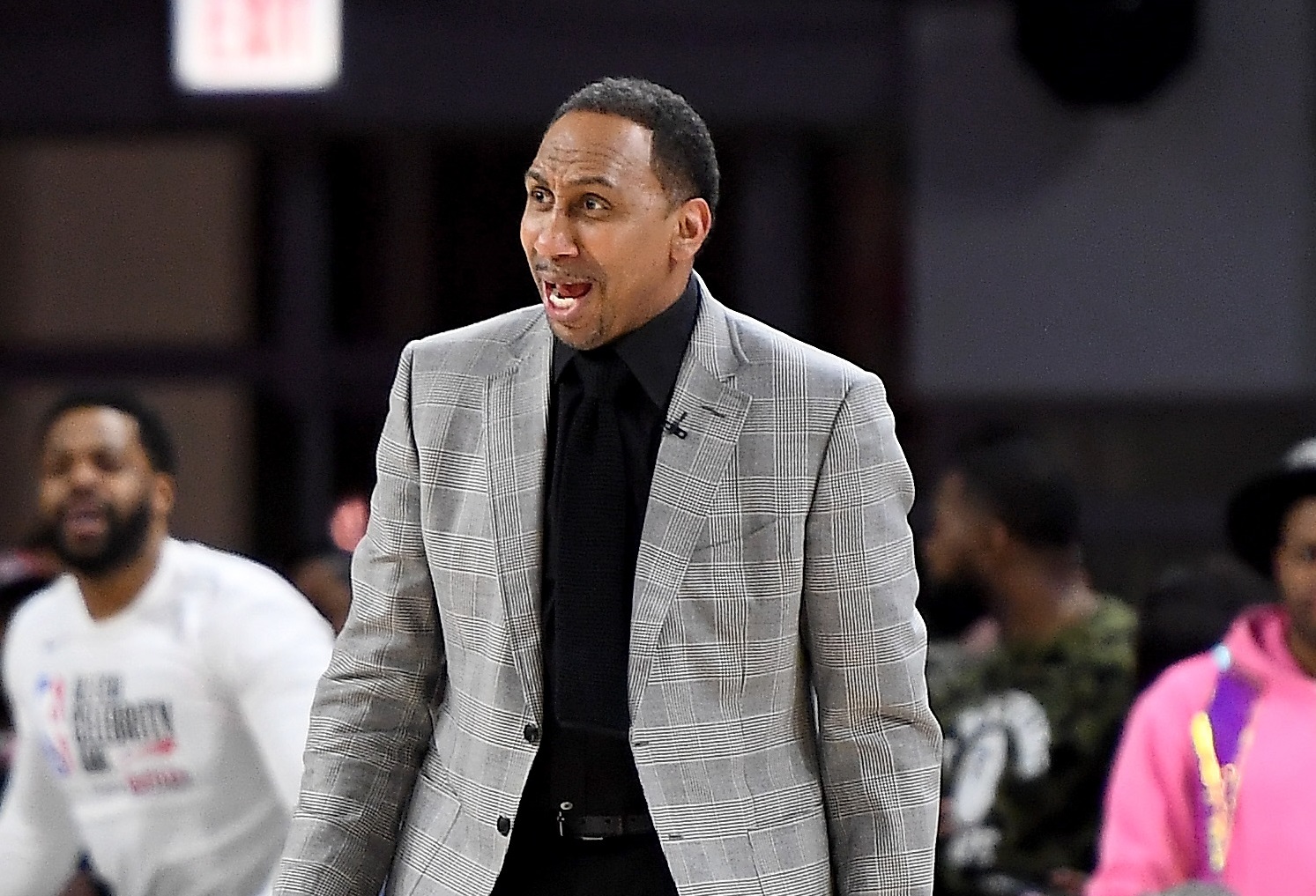 Stephen A. Smith Throws Down on LeBron James on ESPN for Failing To Lead
LeBron James has been unwilling to take a public stand on COVID-19 vaccinations, which frustrates Stephen A. Smith of ESPN.
Despite the brief frenzy surrounding the episode, Los Angeles Lakers superstar LeBron James didn't risk a suspension last week by attending a launch event for his tequila brand. Charles Barkley speculated James was safe primarily because the NBA didn't possess the courage – the TNT analyst used different terminology – to discipline one of the biggest names in sports. It would rate as a non-issue had James dealt with a question directly. Instead, James left the league to clean up the mess. Even Stephen A. Smith aired him out on ESPN.
LeBron James dodged a simple question
James attended the launch event for his tequila brand last week on the eve of the game against the Golden State Warriors to determine the No. 7 seed in the Western Conference playoffs. He was outdoors and the crowd was small. But the event still raised eyebrows because of its potential pandemic implications.
Early reports called it a violation of the NBA protocols, but the league quickly announced that a suspension wasn't on the table. That ended the story until James not ducked a question. A reporter asked James if he had immunized against COVID-19.
James tried laughing it off. "It's not a big deal," he said.
Well, actually, it was a big deal. People wanted to know if James' vaccination status in any way played into the NBA decision to not hand down discipline. The non-answer also triggered curiosity about whether James was trying to avoid revealing his vaccination status for some reason other than privacy. And Smith thought the evasiveness was detrimental to the country's Black population.
The NBA issued a statement Tuesday trying to put the mess to rest. In it, the NBA office all but announced that James had been vaccinated.
"Under current NBA rules, vaccinated players are permitted to engage in outside activities including their individual commercial arrangements, such as sponsor appearances or ad shoots," the statement said.
Smith lit into James on 'First Take'
Though normally a reliable defender of James, Smith couldn't let James' answer pass without criticism. The ESPN host said James should be "ashamed of himself" for not showing better leadership about a pandemic that has been disproportionately deadly in the Black community while killing more than half a million Americans.
"Everybody has the right to their own privacy. (If) you don't want to let people know whether you took the vaccine or not, that is your business," Smith said on First Take. "But there's a whole bunch of things that LeBron James has elected to speak up about that he felt was a detriment to our community because he's a leader, and he wanted to bring attention and a voice to matters he felt compelled to speak up. But on the matter of the vaccine, you've got nothing to say all of these months? Nah. It don't work that way."
Stephen A. spoke passionately back in March
Stephen A. Smith posted a video to Twitter in early March in which he pledged to get a COVID-19 vaccine. The context mattered because James had recently answered questions in an interview during which he was noncommittal about a vaccination for himself.
"That's a conversation that my family and I will have," James said, according to USA Today. "Pretty much keep that to a private thing. … Things like that, when you decide to do something, that's a conversation between you and your family and not for everybody. I'll keep it that way."
In fairness, numerous athletes and public figures expressed reluctance to promote vaccinations or get the shots themselves. But James became a focal point for the discussion simply because of his stature in the NBA and his willingness to speak out on societal issues, particularly after the outrage over George Floyd's killing in Minneapolis on May 25, 2020.
"I fully understand where LeBron James is coming from right there," Smith said in March after hearing James discuss the vaccine. "And I respect that man immensely for what he had to say because we know the shameful history this country has with what was essentially medical experimentation on Black folks. I understand wanting to keep medical issues private."
However, Smith said the soaring death statistics from a virus compelled him to act and that he hoped James would take the lead publicly.
"Why?" he said. "It's simple. People are dying. My people are dying."
Like Sportscasting on Facebook. Follow us on Twitter @sportscasting19.