Stephen A. Smith Trashes LeBron James' Chances at Succeeding in the NFL: 'I Don't Think He Would Have Lasted More Than a Year'
The conversation seems to come up at least once a year: How successful would LeBron James have been at football? James was a talented football player in high school, as he was in basketball, but he chose to stick to the hardwood instead of the gridiron, which we can all agree was the right decision.
ESPN's Stephen A. Smith, though, is passionate about it being the correct choice. In fact, he even recently revealed his strong doubts about James actually being able to find success in the NFL.
LeBron James nearly played football in the NFL in 2011
LeBron James was an incredible football player at St. Vincent-St. Mary High School. He earned All-Ohio honors at wide receiver as a sophomore and then had an incredible junior year with 61 catches for 1,245 receiving yards and 16 touchdowns. His success in the pads even piqued the interest of colleges like Ohio State and Alabama.
But The King missed his senior year with a broken wrist, and he focused on basketball after that.
James, however, still had one other chance to pursue playing football at a high level during the NBA lockout in 2011. He says he had teams like the Seattle Seahawks and Dallas Cowboys looking into signing him. When the NBA opened for business again, though, he chose to return to basketball.
"Jerry Jones offered me a contract, also Pete Carroll did as well in Seattle, during our lockout time," James said on Sept. 27 while appearing on Peyton and Eli Manning's Monday Night Football telecast. "It definitely got my blood flowing again, got my mind racing again, thinking about the game of football, being out there on Sundays. But we was able to get a deal done in the NBA, and I was back on the court in no time, but I definitely thought about it. I still got the [jerseys], too."
Given his size and experience catching passes in high school, James said he would have likely played tight end. Some experts, though, are unsure about whether James would have actually found success in the NFL.
Stephen A. Smith trashed The King's chances at succeeding in the NFL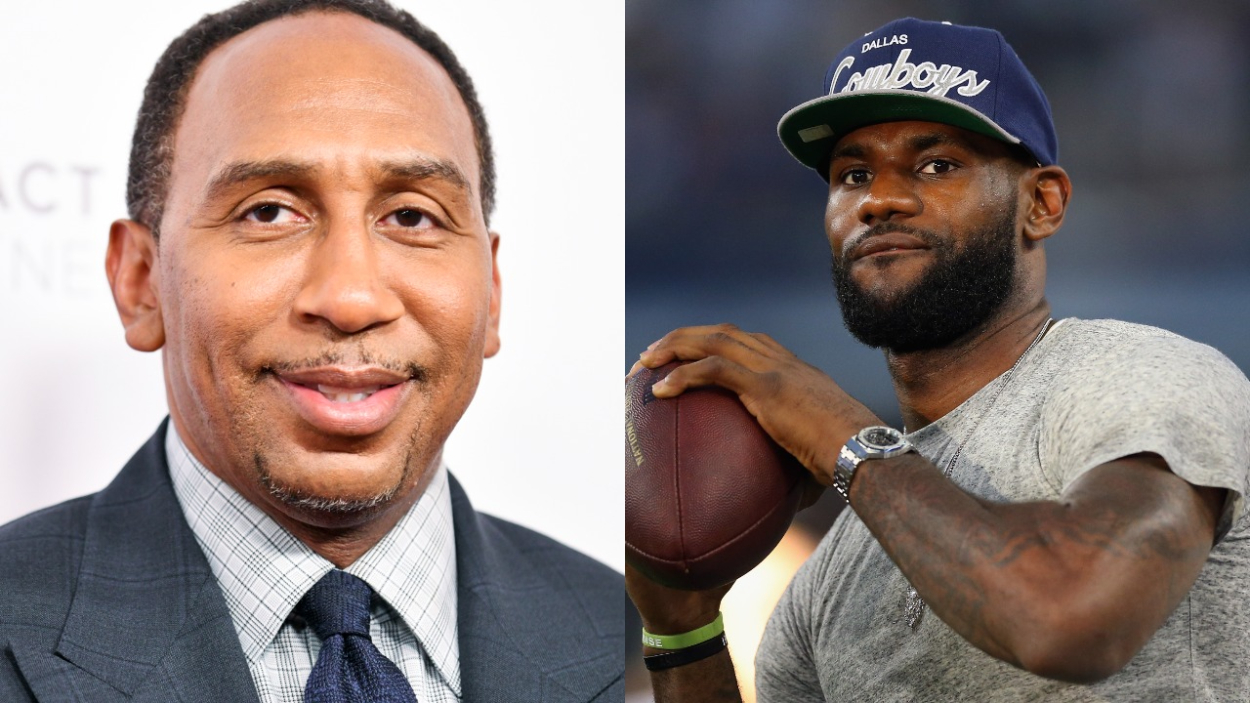 With LeBron James recently making those comments about the Cowboys and Seahawks, ESPN star Stephen A. Smith discussed how successful he thinks James would have been as a pro football player in the NFL.
"I don't think he would have lasted more than a year in the NFL," Smith said on the Sept. 28 episode of First Take. "… If you see LeBron, and maybe he engages in histrionics and a bit embellishment and just exaggerating injuries and things of that nature, but when this brother gets hit, particularly in the legs, he don't like it at all. And being that he's a legit 6-9, a legit 6-9, I think that LeBron James, the second those legs got hit, he would want no parts of it."
He continued: "Those legs would be a prime, prime target. They wouldn't think about hitting him high; everybody would be trying to hit him low. And he would want no part in that, no way in hell. I don't think he'd last more than a year."
OK, so it essentially sounds like Smith thinks James is a bit sensitive when it comes to getting hit. He even reiterated that his doubts in the four-time NBA MVP have nothing to do with his athleticism or skills, just his "willingness to absorb punishment below the waist."
"He don't want no parts of that," Smith added.
It appears he isn't the only one unsure of James' NFL potential, either.
Other stars have their doubts about LeBron James' NFL chances
Smith isn't alone in doubting James' NFL potential.
Former Pro Bowl receiver Keyshawn Johnson also said this on First Take: "LeBron James doesn't know what it feels like to get hit in the chin going across the middle."
He added that James was bigger than everyone in high school, but strength and size both increase in college and then even more so in the pros.
NFL analyst Mina Kimes, on the other hand, thinks that playing a position like tight end is more challenging than people think.
"People act like the tight end position is easy and that anyone can do it … it's a very complicated position," Kimes said on First Take.
Pro Football Hall of Fame quarterback Peyton Manning, however, showed excitement when thinking about throwing to James in the end zone.
"I would've thrown so many touchdowns to LeBron down there in the end zone; put him out wide, throw the fade, jump ball; I would've thrown 75 touchdowns," Manning said on Monday Night Football.
Whether he would have actually been great in the NFL or not, we will never know. But us LeBron fans can still dream of what it would have been like to watch him catch passes from Peyton Manning or Tom Brady in the pros.
Like Sportscasting on Facebook. Follow us on Twitter @sportscasting19.
RELATED: LeBron James Doesn't Have the 'Type of Toughness' Needed to Play in the NFL, According to a Pro Football Hall of Famer