Stephen Curry Is a $130 Million NBA Superstar, but His Son Thought He Was a Pro Athlete in a Completely Different Sport
We're in an era of the NBA where some legendary players have changed the game for the better. Among those all-time greats in the league today is Stephen Curry, who has had a tremendous amount of success with the Golden State Warriors. He is a three-time NBA champion, two-time NBA MVP, and a big reason why so many teams shoot more 3-pointers in the game today.
However, despite all of his basketball success, Curry's son apparently thought he was a pro athlete in a completely different sport.
Stephen Curry is a $130 million NBA superstar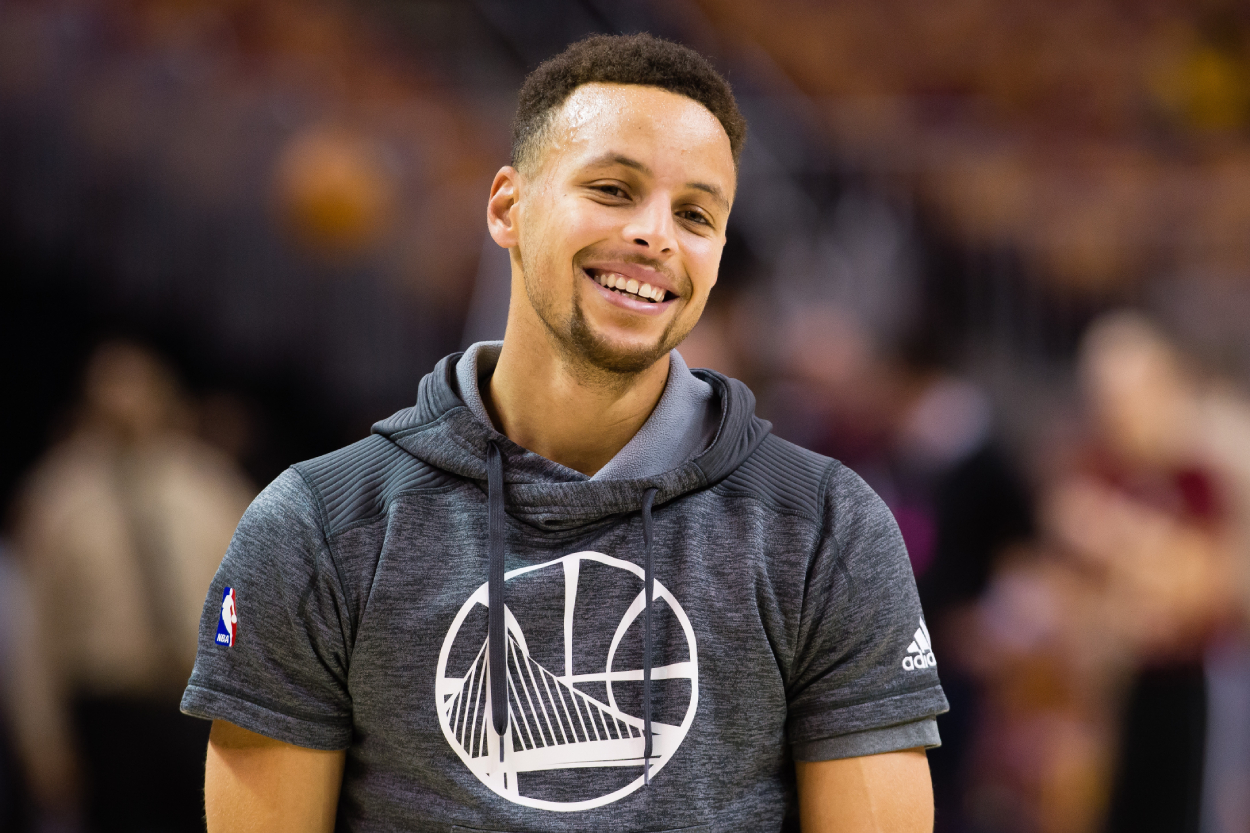 Curry's NBA success hasn't just made him one of the most famous athletes in the world, but it has also helped him become extremely wealthy. 
Curry has made an estimated $208.9 million on the court in his career and is making over $40 million with the Warriors in 2020-21, according to Spotrac. His superstardom, though, has also helped him become successful off the court, as he earns just about the same amount of cash through endorsements as he does in his NBA salary, according to Forbes.
Because of this, Celebrity Net Worth estimates that Curry has a $130 million net worth.
His son thought he was a pro golfer
Curry's basketball success is the reason he's one of the NBA's wealthiest stars. However, his two-year-old son, Canon, thought he was a pro in an entirely different sport: golf.
"For the longest time, he thought his dad was a golfer because of the pandemic, and there was no basketball in season," Curry's wife, Ayesha Curry, said on the May 7 episode of The Ellen Degeneres Show. "So, he's just now realizing that his dad and his uncles play basketball. So, that's been new and exciting for us."
Of course, with the pandemic keeping the Warriors off the court for months last year, you can't really blame the kid. The fact Curry is also an avid golfer, though, probably made things even more confusing. In 2017 and 2018, Curry played in the Ellie Mae Classic. He also competed with Phil Mickelson, Charles Barkley, and Peyton Manning in The Match in 2020.
"There was always that question," Curry said in 2020, according to Bleacher Report. "If I had to put as much time into golf as I did basketball, could I have made it? We'll never know, but it's always competed in terms of my attention."
So, Curry's love for golf and the COVID-19 pandemic make it pretty understandable why Canon thought his dad was a pro golfer. Once he gets a little older, though, he'll learn just how special of a basketball player his dad is.
Stephen Curry has had a legendary NBA career with the Warriors
Whenever his career comes to an end, Curry will be considered as one of the greatest guards — and potentially the best shooter — of all time.
Curry is a seven-time NBA All-Star and a two-time NBA MVP. He also led the NBA in scoring in 2015-16 with 30.1 points per game, and his 2,822 career 3-pointers (as of May 11, 2021) are second in NBA history.
The Warriors have also had some legendary teams because of Curry. He and Golden State appeared in five straight NBA Finals from 2014-15 through 2018-19, and they won three NBA titles.
While his team may not be as dominant as it used to be, Curry is having a career year with the Warriors in 2020-21, as he is leading the NBA in scoring again with a career-high 31.9 points per game. He is also recording 5.7 assists and a career-high 5.5 rebounds. Overall in his career, Curry is averaging 24.2 points, 6.5 assists, and 1.7 steals.
If he had focused on it, Curry might have become a talented golfer. However, it's hard to imagine him ever being a better golfer than he is a basketball player.
Stats courtesy of Basketball Reference