Stephen Curry Is About to Become the All-Time Leader in 3-Point Makes, and Even the Current Record-Holder Admits Steph 'Operates Somewhat in a Lane of His Own'
As of Dec. 3, 2021, Stephen Curry sits on 2,940 3-point makes over his 12-plus years with the Golden State Warriors. With another 34 threes, he'll become the NBA's all-time leader.
Curry is widely considered the greatest shooter of all time; even the current record-holder admits Steph is in "a lane of his own."
As he prepares to pass Ray Allen's record of 2,973 threes, the sharpshooter from Davidson received nothing but praise and admiration from the Class of 2018 Hall of Famer.
Stephen Curry will soon pass Ray Allen to become the NBA's leader in 3-point makes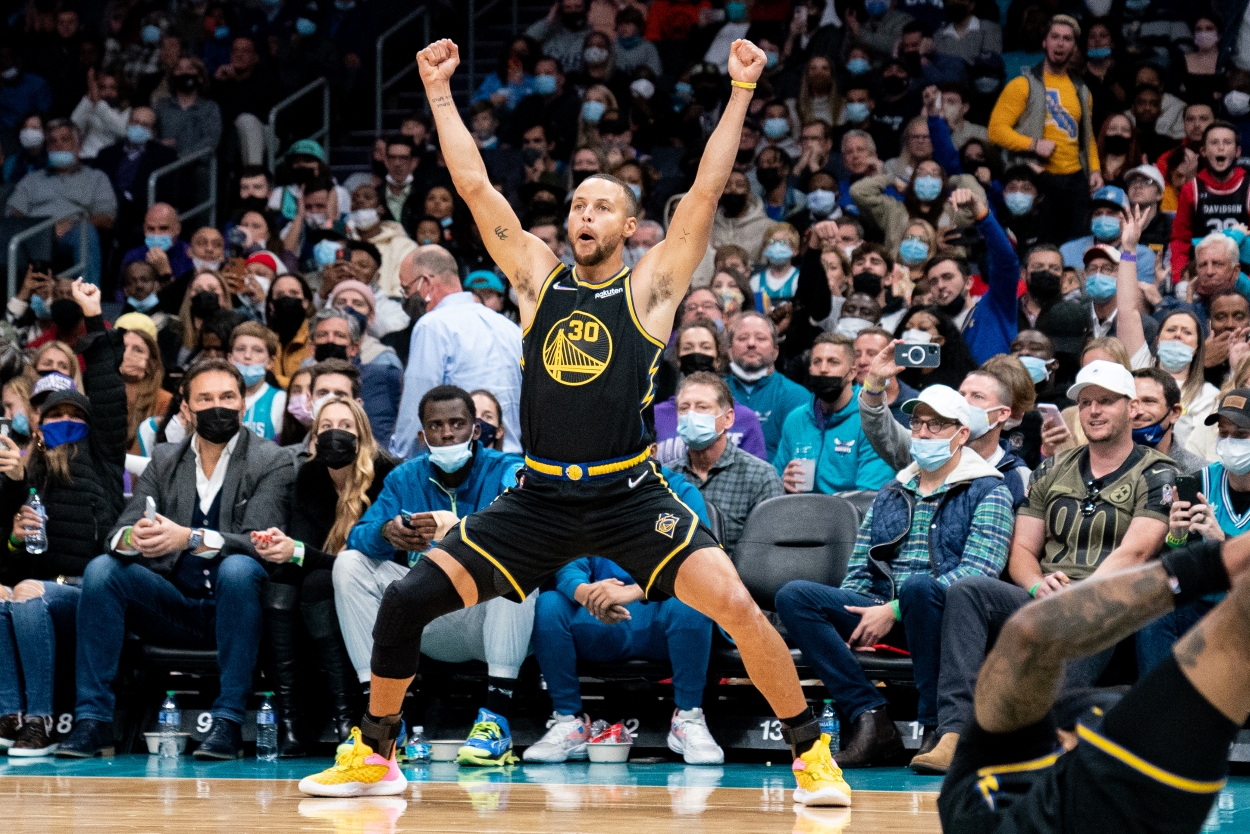 Steph is averaging 5.4 threes per game this season. If he keeps hitting bombs at that pace, he'll pass Allen in 6.3 games. Since that's obviously not a real thing, he is set to pass Ray-Ray seven games from now.
That would be on Tuesday, Dec. 14, against the Knicks in Madison Square Garden. (It would be more fitting if he waited one more game when Golden State plays in Boston, where Allen won his first NBA title.)
Chef Curry is cooking at an average of 27.8 points through the Warriors' first 20 games, putting him second in the league behind Kevin Durant's 28.6.
He's attempting the most threes per game out of anyone in the league (13.1) but has the highest percentage (41.2) of anyone putting up more than seven shots from deep per night. (The Brooklyn Nets' Patty Mills is hitting 47.8% on 6.6 threes per game).
Essentially, Stephen Curry is dominating the league's 3-point shooting stats thus far in 2021-22.
And now he's on pace to officially become the NBA's greatest 3-point shooter.
Curry will soon break Allen's record, but the two-time champion tossed nothing but praise his way
The UConn great knows his record is about to be broken. By the time Steph retires, it will be demolished.
Still, he can't help but recognize and appreciate Curry's greatness. He's already experienced breaking the record (previously held by Reggie Miller), so Allen personally understands the feeling and what it means.
He admitted he's happy for Steph in a story on NBCSports:
I'm happy for him and his family because it's something that you get to say that you did, something that you accomplished. In your time playing in this league, with all the great players that have come, you get to say that I was one of the best, if not the best, to ever do it.

People have compared him to myself and to Reggie and to other past shooters, great shooters, in the NBA. But he really – and I've said this before – he really operates somewhat in a lane of his own.

This is not about what I decide or how I feel. I'm just proud and happy that he has done the job of playing in this league and creating young people and a great fan base where he is continually pushing the narrative of what great basketball looks like and set the bar. A different bar.

Ray Allen on Steph Curry breaking his all-time 3-point makes record
The humility Allen displayed is a class act from the former Milwaukee, Seattle, Boston, and Miami star.
Golden State's franchise superstar has plenty of time left to make it rain
Stephen Curry is about to bypass Allen's stats. What's even more incredible is that Steph is also third in career 3-point attempts and seventh in 3-point percentage all-time.
So not only is he making threes at an all-time clip, but he's shooting them at an all-time percentage despite letting them fly at an all-time pace.
But at age 33, barring a catastrophic injury (knock on wood), there's no reason the two-time MVP can't continue to drain shots from deep for another handful of seasons. Shooting is usually the last thing to dissipate as players age.
Maybe he won't be able to fly around screens the way he does now, but Curry's unlimited range will undoubtedly help his shooting longevity.
The Baby-Faced Assassin is already, statistically, the most excellent 3-point shooter in NBA history. And he still has more time to make all his records just about unbreakable.
All statistics courtesy of NBA.com.