Stephen Curry Has Achieved an Unprecedented Milestone at His Alma Mater, Davidson College
Steph Curry is now accepted as a basketball immortal whose influence on the game will be felt for generations. His journey to this level of the sport's pantheon is only believable because we all saw it with our own eyes.
The legend started at Davidson College, a mid-major school in North Carolina that Curry put on the map with his record-setting performances. His arrival was not a big deal. It allowed him to develop at his own pace and participate in cringy viral videos like a normal student. 
Eventually, it became clear that Curry could lift the school to sporting highs they could've never imagined before or after him — although he still had to fulfill class requirements to get his jersey retired. 
Stephen Curry participated in traditional college activities like a normal student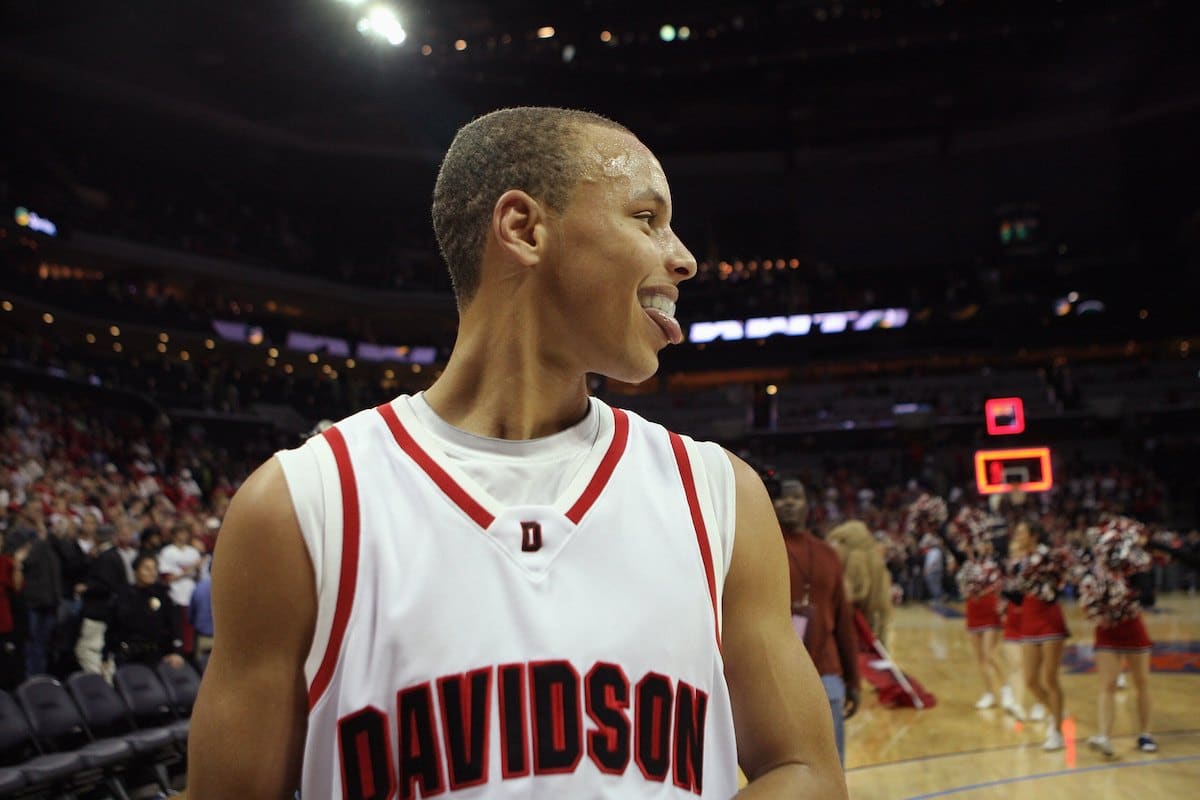 Curry was viewed as an average prospect coming out of high school. Despite his pedigree as the son of an NBA player, he could not get any scholarship offers from major universities (or Virginia Tech). They saw his string bean frame and assumed he'd be pushed around when facing tougher competition.
The coach who showed the most faith in him was Davidson's Bob McKillop. He followed Curry early on and was convinced there was something there. Another person who had faith was his future wife Ayesha. According to Biography, she met Steph in church when they were 14 and moved back to Charlotte from LA while he was in college. 
Curry was far from a local celebrity when he enrolled. "Those first months, he was just known as Dell Curry's kid," explained Marshall Oelsen, who lived in the same dorm as Curry during his freshman year, according to The New York Times. 
Being an unheralded recruit had its benefits. Unlike most basketball prodigies with at least one eye on the NBA draft during their short stint at college, Curry had the time to get involved in the typical aspects of higher education.
He majored in sociology and was a willing participant in "I Love Commons," a parody of one-hit wonder Asher Roth's "I Love College" about the communal space at Davidson where everyone hung out at the end of the day. 
It is a truly bizarre video to watch in 2022. The nature of the "rapping" is tough to sit through. It's wild to think the guy rhyming about tater tots is now the face of the NBA.
As awkward as "I Love Commons" is, the fact that Curry appears in it is a testament to his humility and love for Davidson. Instead of behaving like the big man on campus, he actively made decisions to involve himself with the rest of the student body. 
Steph Curry is the best player in Davidson history, but he didn't get his jersey retired until last month
Curry's college career started rough. But he quickly began to rewrite the record books at Davidson. He is the school's all-time leader in points and three-point field goals. He twice became the Southern Conference's Player of the Year. Curry's greatness carried them to the NCAA Tournament all three years he was in college, the highlight being a spellbinding run to the Elite Eight in his sophomore season. 
Given what he did for the school, it seems odd that he only had his number retired this summer. But that accolade required Curry to accomplish one more task: getting his degree. Davidson long reserved jersey or number retirements for graduates. But they changed the rule in 2019, not so subtly making things easier for their star alumni.
But Curry preferred to do things the traditional way. He completed his final classes online while leading the Warriors to another championship bid. He attained his bachelor's degree in sociology in May. 
Davidson and Curry's mutual affection was fully displayed in the massive celebration the school put together for him. Steph received a full graduation ceremony just for himself. After that, he was inducted into the Davidson Sports Hall of Fame. Finally, his No. 30 was placed in the rafters, the first number to be retired in school history. (Other jerseys have been retired, but their numbers are still in circulation.)
Curry wasn't sure if he was ready for the NBA
As much self-belief as Curry always had in himself, he couldn't have imagined that his life in the NBA would've gone this well. In a write-up for The Athletic (subscription required), Marcus Thompson recalls how Curry was torn about going to the league or staying in college. He even cried over the decision with Ayesha. 
It sounds insane now. But there were serious questions about whether Curry could pull this off on a higher stage. It's easy (and fun) to laugh at the Minnesota Timberwolves for drafting two point guards who weren't Steph Curry in the 2009 draft. But can you blame GMs for not being able to see the future in hindsight?
Curry's game has shades of stars like Steve Nash, Reggie Miller, and Pete Maravich. But there is no precedent for his total skillset. It's somewhat understandable that organizations couldn't fathom that a modestly athletic 6'3 guard would tip the league on its axis. 
After overcoming serious ankle injuries early in his career, Curry went to another stratosphere. He became one of the 10 best players in league history. His shooting prowess changed the math of the sport and helped redefined what a "good shot" looks like. Golden State's success is not just based on his talent, but also on Steph's steady leadership in an era where superstar drama is seemingly inevitable for most franchises. 
Would all of this have happened if Steph didn't go to Davidson? Maybe, but his experiences there shaped him into the man he is today.  
RELATED: Shaquille O'Neal Places Steph Curry Alongside Michael Jordan and Kobe Bryant as a Player With His Own Category