Stephen Curry Adamantly Lobbies For Andrew Wiggins to Be an All-Star
Stephen Curry remains the headliner and MVP candidate for a Golden State Warriors team with the best record in the NBA. But he's probably gotten more credit than he's deserved, relative to Andrew Wiggins and some of the other critical contributors on the Dubs roster.
For all his brilliance, Curry is shooting just over 43% from the field. His 23.6 player efficiency rating (PER) is his lowest dating back to the 2012-13 season, not counting a 2019-20 campaign in which he played just five games. Yet the Warriors are still running rampant on the rest of the league.
Steph understands other guys on his team are playing at a high level. He's been especially praiseworthy of Wiggins, whose career has been reborn in the Bay Area.
Andrew Wiggins is a perfect co-star for Stephen Curry
Andrew Wiggins always had scoring upside. That three-level proficiency and exceptional athleticism made him the No. 1 overall pick in the 2014 NBA Draft. But his development as a defender and perimeter shooter in Golden State defines his success alongside Stephen Curry and the rest of his Warriors teammates.
Wiggins is shooting a career-high 43.4% from beyond the arc on a healthy 5.4 attempts per contest. He has made himself into a terrific spot-up guy who can punish teams from the left corner or on the wings. If defenders rush to close out, he can get to the rim off the bounce.
The Canadian's improvements from deep have an enormous impact on Golden State's motion offense. Opposing defenses cannot afford to help too much off Wiggins on drives, allowing Draymond Green and Curry to get into the paint and make plays.
But while Wiggins gives the Dubs an added scoring boost, he's been all the more impressive defensively. With Klay Thompson sidelined, the 26-year-old takes on the most challenging assignments. He has a positive RAPTOR rating on that end, per FiveThirtyEight.
Wiggins has been a winning individual, both in terms of box plus-minus and value over replacement player (VORP). Curry believes the swingman deserves an All-Star nod.
Curry believes Wiggins deserves All-Star recognition
How poetic would it be for Wiggins to get an All-Star nod at the place where it (technically) all began?
The former Kansas star got drafted by the Cleveland Cavaliers. It was only when the Cavs saw an opportunity to acquire Kevin Love — following the return of LeBron James — that Cleveland dealt Wiggins to the Minnesota Timberwolves.
Now, with 2022 All-Star Weekend set to be held in Cleveland, Stephen Curry feels his running mate belongs on the roster.
Curry sang Wiggins' praises (h/t Connor Letourneau of the San Francisco Chronicle) after the Warriors swingman scored 25 points in Saturday's win over the Utah Jazz. The Baby-Faced Assassin appears adamant about boosting his teammates' credentials.
"I don't want to get ahead of myself, but No. 22 should be in Cleveland this year with the way he's hooping."

–Stephen Curry on Andrew Wiggins
Voting for the 2022 All-Star Game opened on Christmas Day and runs through Jan. 22. Fan votes count twice on scheduled "2-for-1" days. Three of those remain.
Players such as Curry and Wiggins will get the first glimpse of their respective statuses with the first voting update on Jan. 6. Dubs Nation is likely to show out for their guys, particularly with Steph lauding Wig as an All-Star.
Getting some love from the fans would probably feel nice. However, the new 3-point king and Wiggins probably prefer to get a ring come June. How will they respond when Thompson makes his return to the lineup?
Klay Thompson's return to the rotation will force Curry, Wiggins, and the Warriors to adapt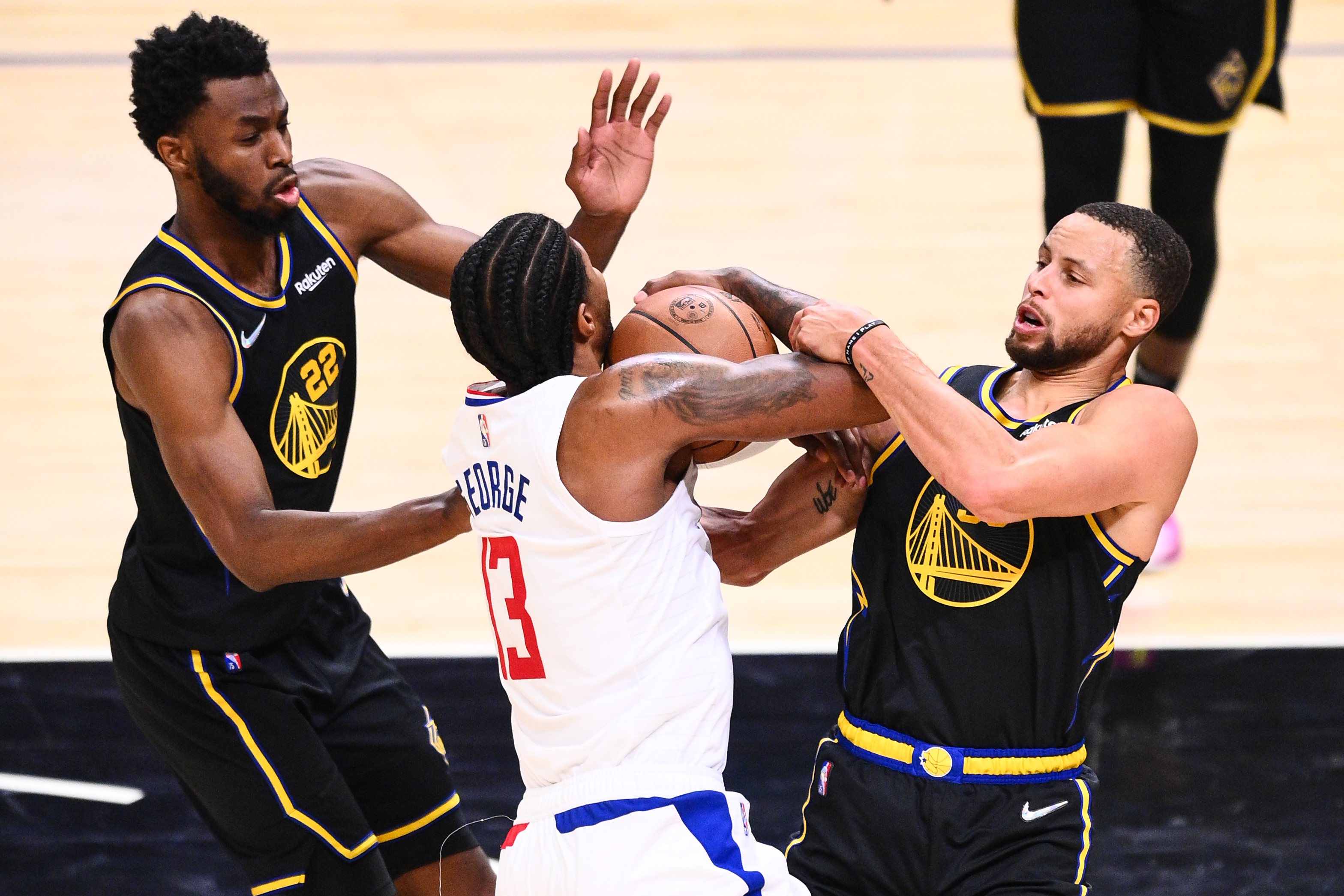 Curry, Wiggins, and others have all issued warnings to the rest of the NBA about how good the Warriors can be when Klay Thompson makes his long-awaited season debut. Still, Golden State needs to exhibit patience.
Thompson hasn't played competitively in well over two years now. He'll need to get acclimated to game speed, and the Dubs will have to acclimate themselves to him as he adjusts.
This might seem easy for Curry. Steph has never had much difficulty adapting his offense or the pace of his game in a way that best suits the team. But Thompson's insertion into the starting five might necessitate more from Wiggins over time.
Golden State might prefer to keep Wiggins on the opposing team's best wing players so as to ease Klay back into the mix. However, Thompson could eventually demand those assignments. Additionally, Klay's steady off-ball movement could impact the spacing, which could mean Wiggins will need to do more as a cutter rather than a spot-up rover.
However, true All-Star-caliber players find ways to make their teams better. If Curry is right about Wiggins, then the 2014-15 Rookie of the Year should maintain his high level of play when Thompson returns.
Stats courtesy of Basketball Reference unless otherwise noted.